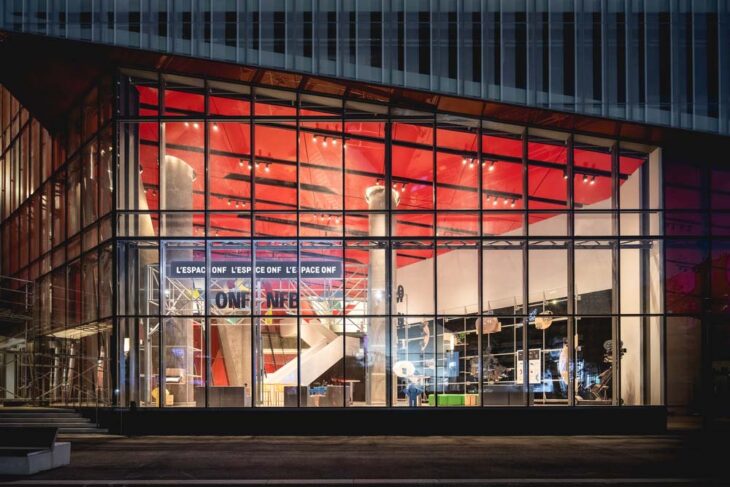 The National Film Board, or NFB, is undergoing a significant transformation as it outfits its studios and offices inside Îlot Balmoral, the iconic, bright-red structure next to the Quartier des Spectacles. The NFB is located on the first level, which has a window that is accessible to the public to promote more interaction with residents and visitors. The setting gives a third space concept that is perfect for both experts and newcomers to the film business and that helps people understand the work being produced by the NFB. Taktik Design was commissioned bring the project to life.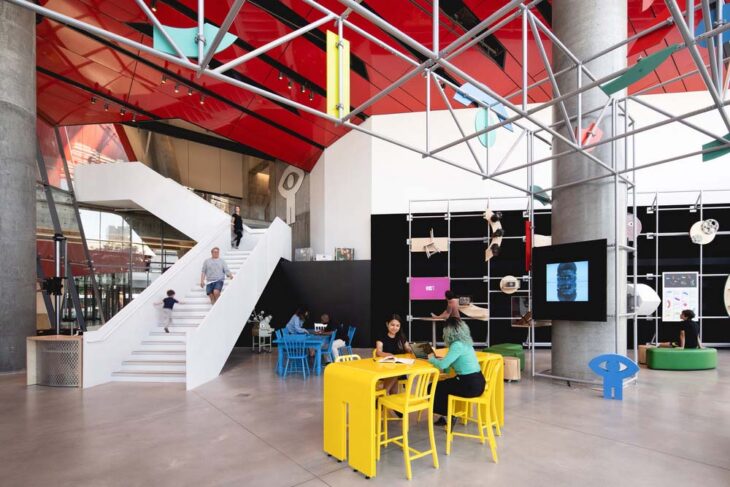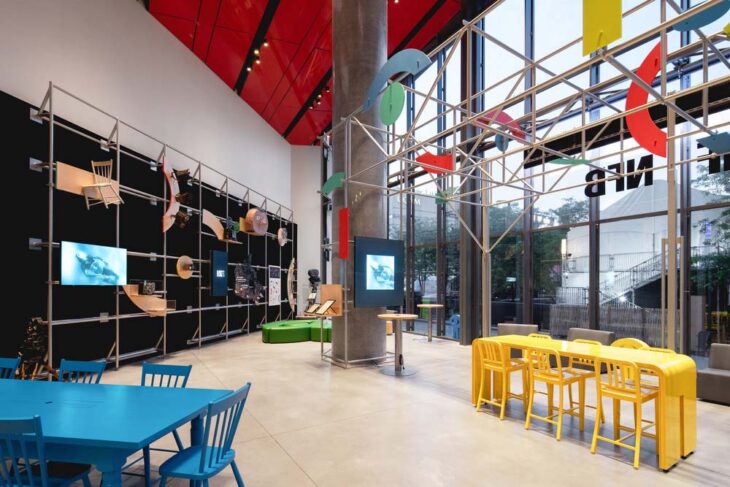 The objective was to create a flexible space that encourages creativity in a setting that can host conferences and opening-night receptions for films, an exhibition area for NFB artifacts and temporary installations, a media library, a viewing room for learning about the NFB's film content, and a "real time" broadcasting studio showcasing the work of film creators in a variety of studios across C. Identifying the institution's identity to base the story on presented the most hurdle in this endeavor.
The architects designed a vibrant, diverse setting that complements the organization's wide range of artistic endeavors while also producing a warm and flexible area. The color palette was developed around the red ceiling's distinctively strong and dramatic qualities, and additional materials, colors, and textures were chosen to provide balance in such a big area. As a result, the furniture is either painted in vibrant colors or is decorated in strong, neutral tones.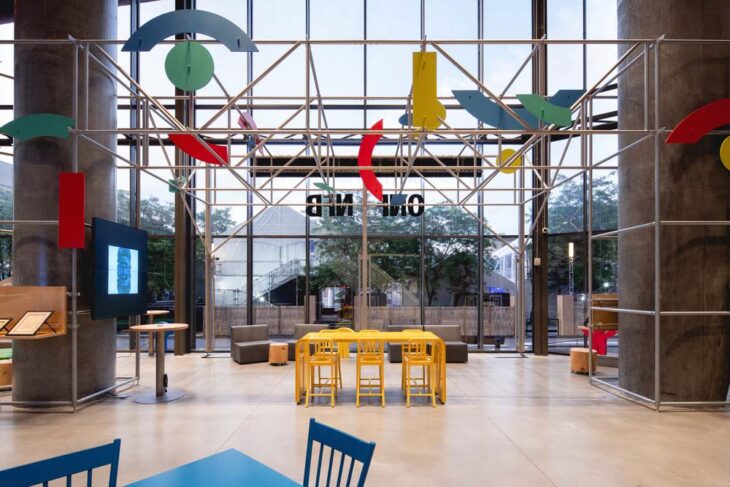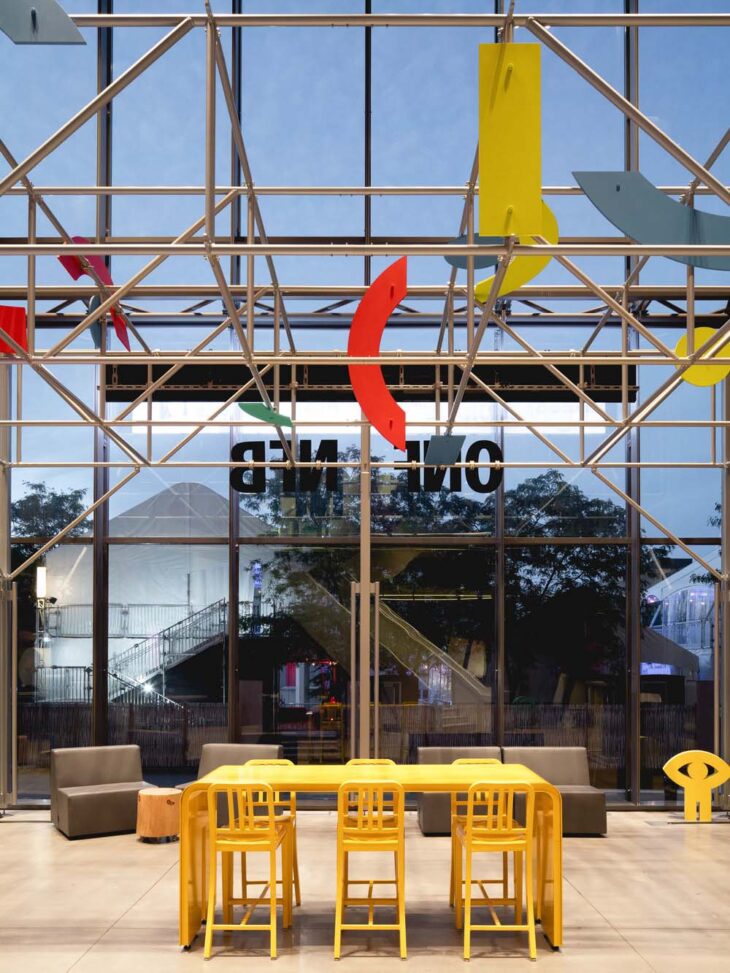 The space is adaptable and offers a variety of ergonomic options for a variety of people. As a result, one may easily complete tasks inside the area or simply explore the NFB's delights at their own time.
The furniture was either carefully chosen or locally sourced and produced with eco-friendly, recycled materials in order to respect the LEED value of the building. The uniquely designed furniture pays homage to the NFB's history and tradition and was totally conceptualized by Taktik Design and produced by artisans in Montreal. A blue colonial table, which alludes to conventional Canadian furniture, symbolizes the past.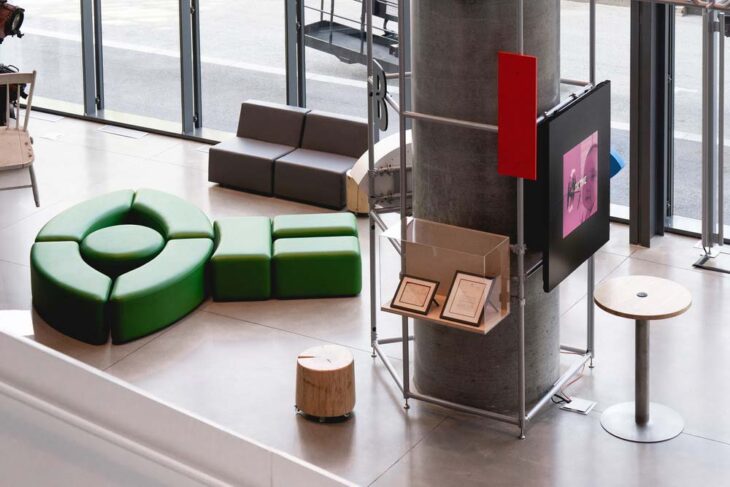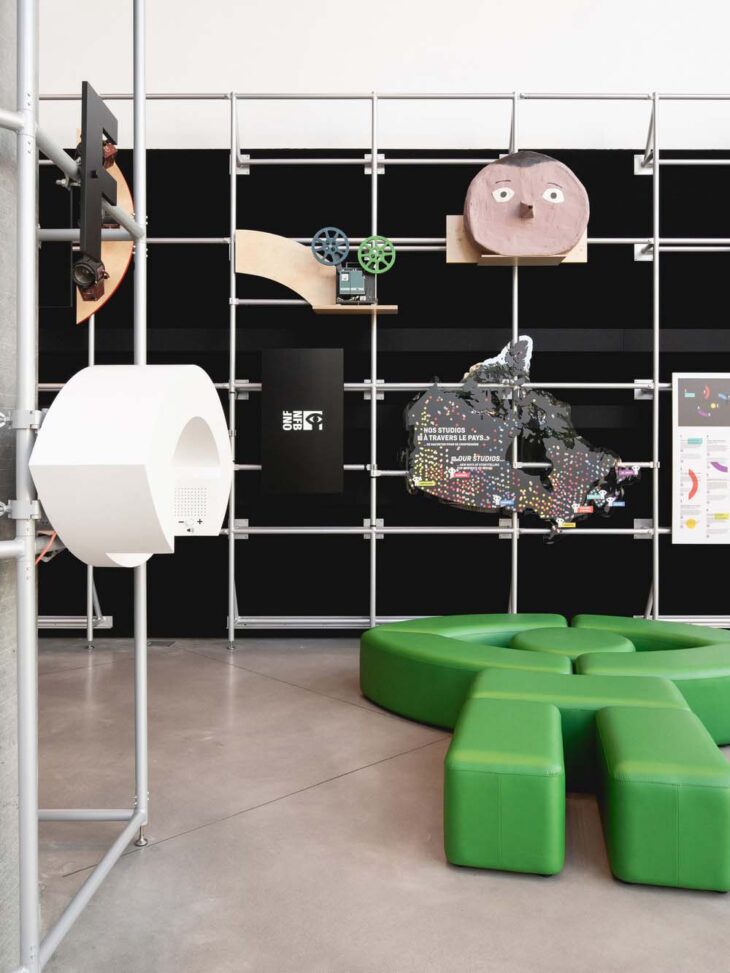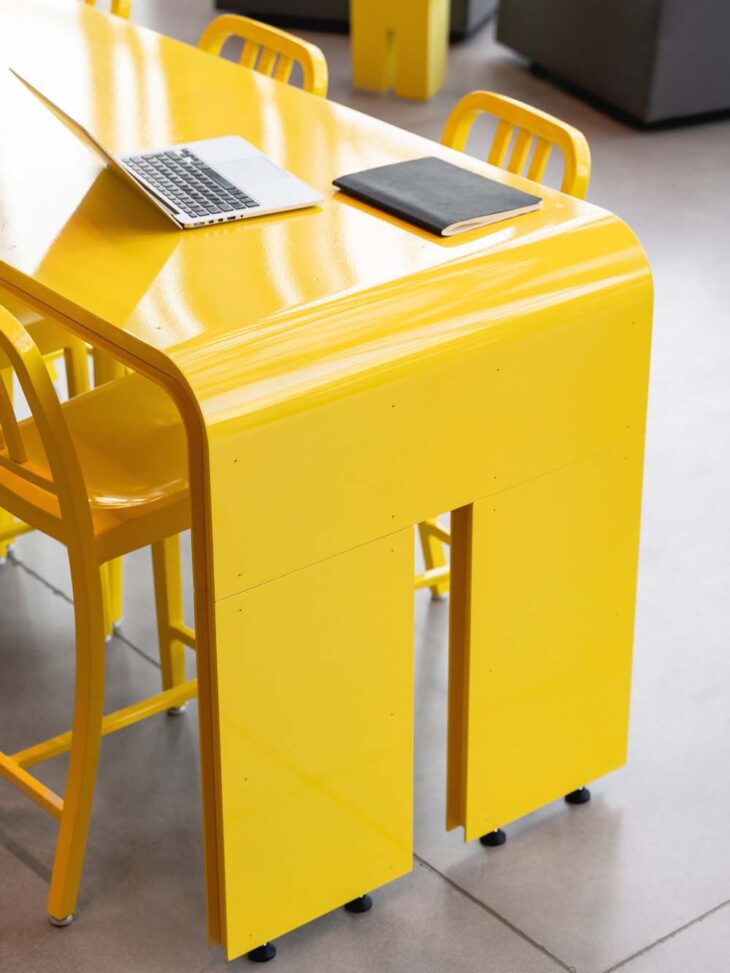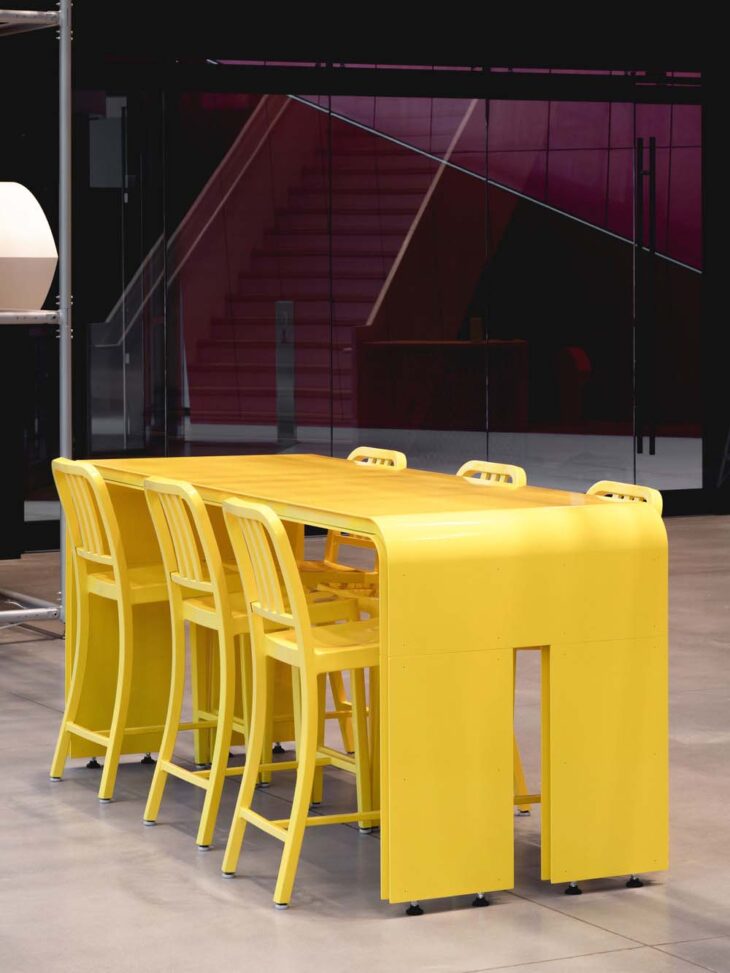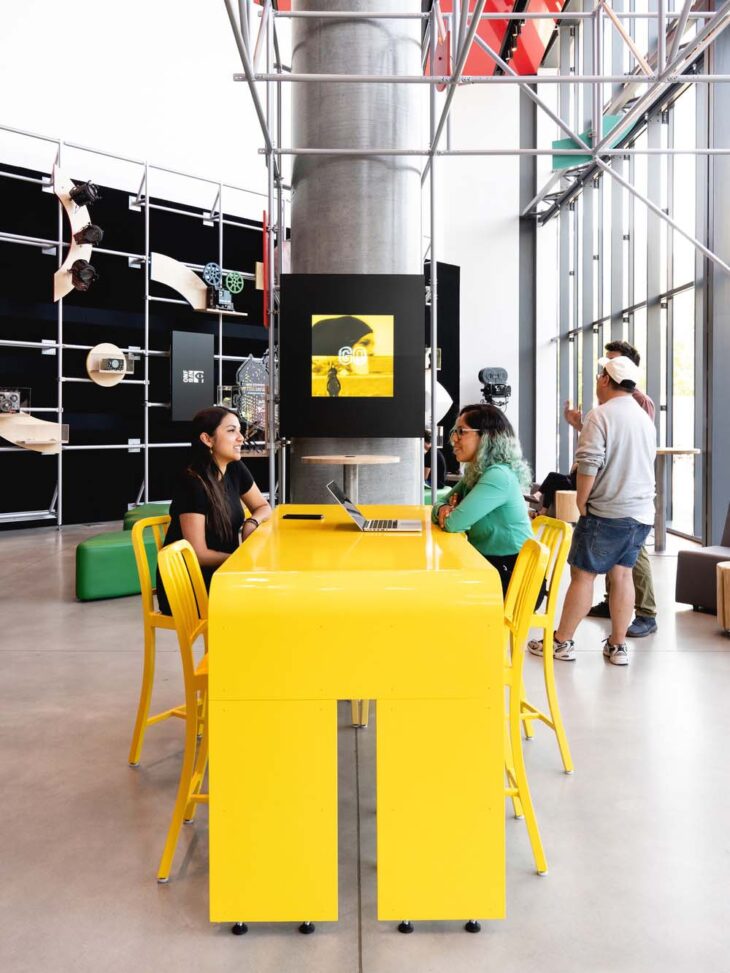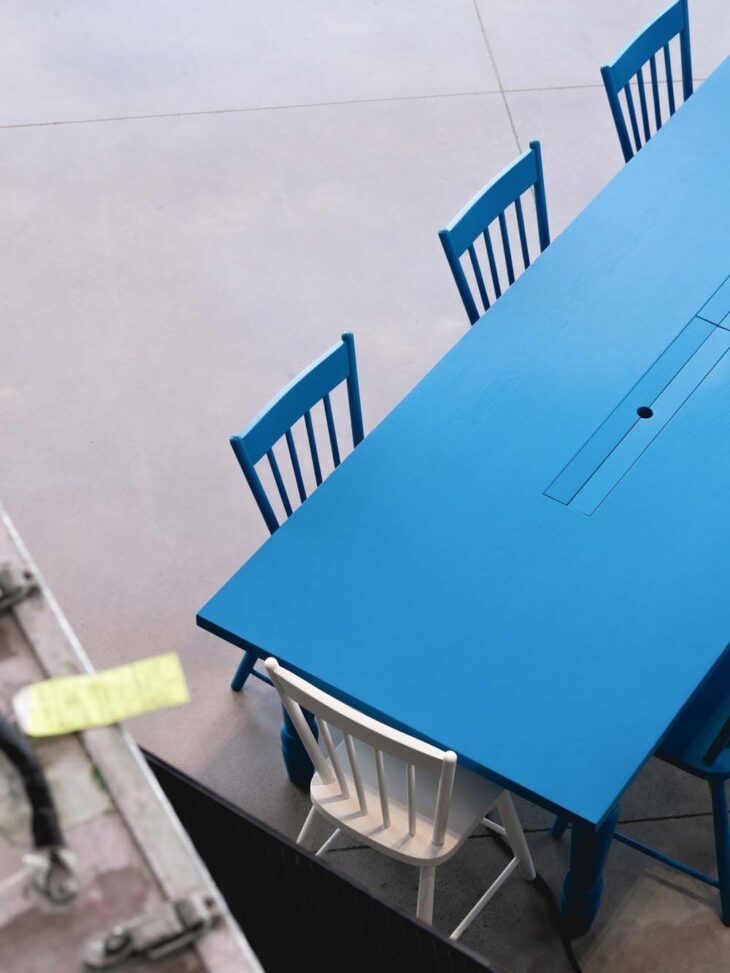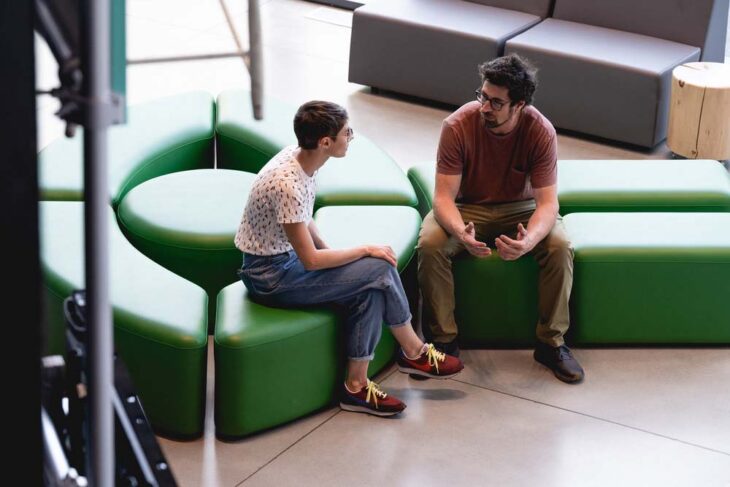 Replicas of the blue and white McLaren chair, which became well-known in the Oscar-winning movie "Once Upon a Chair," surround it. Modular green vinyl seats, whose color is symbolic of the institution's first logo, serve as an illustration of the present. Depending on how the seats are arranged, either an accurate or distorted image of the logo is created. A brilliant yellow table made of welded aluminum that reinterprets the iconic human figure logo of the NFB by just using the leg component of the design conjures up the future. Simple furnishings like high tables, logs on wheels, and sofas with removable cushions also improve the area. The structures made of aluminum tubes enable the hanging of screens, antiques, listening posts, and other objects.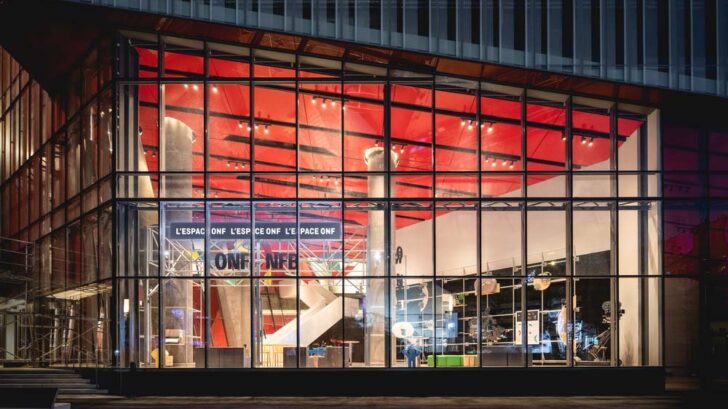 Project information
Location: Montréal, Québec
Project end date: 2020
Area: 2430 sq. ft
Client: National Film Board
Designer/Project manager: Andrée-Ann Daniels
Collaborator: Nicola Tardif-Bourdages
Photograph: Raphaël Thibodeau
Suppliers
Integrated and custom furniture: Taktik Design
Upholstered seats: Perez Furniture
Foam logos: Nordesco
Find more projects by Taktik Design: taktikdesign.com