External Reference designed "Escaleras y Mirador Vela", a new architecture and urban planning project on the Barceloneta seafront, creating a new balcony overlooking the Mediterranean as a unique viewing platform over the city, and connecting the Passeig del Mare Nostrum with Plaça de la Rosa dels Vents in Barceloneta.
The project comprises a walkable façade with an elevated walkway ascending +9.30 meters and a 48-step reinforced concrete staircase that spans an 8.50-meter height difference over a linear distance of 48.45 meters. The project improves the public access of the area around the W Hotel and is located within the framework of the PlanEspecial for the Nova Bocana of the Port of Barcelona.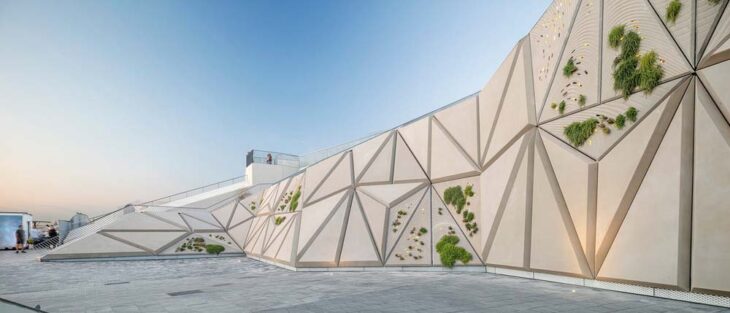 "This project, on one hand is inevitable, and on the other, very representative. The culmination of Passeig del Mare Nostrum with a walkable façade is proposed as a fundamental element that reconfigures the city's relationship with the sea."
Carmelo Zappulla, founder of External Reference
The proposal interprets a unique port context, where the strong sea currents coexist with a distinctive concentration of people and users who engage in a variety of daily outdoor and leisure activities. The connection forms a new interaction with the W Hotel.
The design was envisioned as a tectonic feature whose morphology was inspired by the salt crystal formations that occur in the little Mediterranean water reservoirs and are caught by the flaws and accidents of the sea rocks. Based on this occurrence, the staircase "crystallizes" in the niche that already exists at the point where the Barcelona seaside promenade meets the massive seawall that shields it from the tidal surge of the Mediterranean.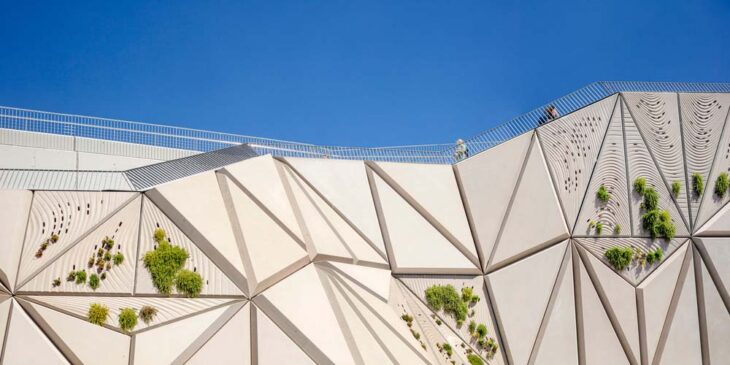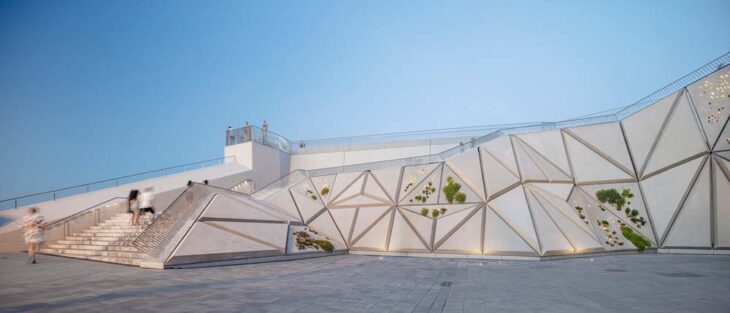 "We have designed a unique place for the city, and a space where you can not only appreciate looking towards the horizon of the sea, but where you can also discover new viewpoints of Barcelona, the great protagonist of the project. We believe that the path will act as a catalyst that transforms the dynamics between the square and the promenade which, although adjacent spaces, until now had separate activities. They are now dialogic parts of a chain of discoveries and experiences that pass through Escaleras y Mirador Vela."
Carmelo Zappulla
"Escaleras y Mirador Vela" is developed as a sculpture between the old façade that opens up to the promenade and the new seawall, inviting the public to experience a new urban space that projects towards the sea and creates a balcony overlooking the city and the Mediterranean. The brand-new promenade is an artificial concrete building. Triangular concrete bio-receptive panels with low-maintenance plants and a lighting system are used to cover the new façade it forms towards the coastal promenade. The panels' design promotes the surface development of natural plants and was optimized using parametric techniques (Lobularia Maritima, Lampranthus Spectabilis, and Drosanthemum Floribundum).
Project information
Location: Passeig Maritim Barceloneta
Barcelona, Spain
Client: Nova Bocana
Completion: June 2022
Gross Floor Area: 1030sqm
Architect: External Reference
Architects Project Director: Carmelo Zappulla
Team Leader: Sebastian Amorelli
Design Team: Carmelo Zappulla, Sebastian Amorelli, Ilaria Rampazzo, Ivan Marchuk, Stefano Fontolan
Project Management: Pigra engineering
Civil Engineers: Josep Lluis Blanch, Pigra engineering
General Contractor: Construcia
Photographe: Adrià Goula
Find more projects by External Reference: externalreference.com