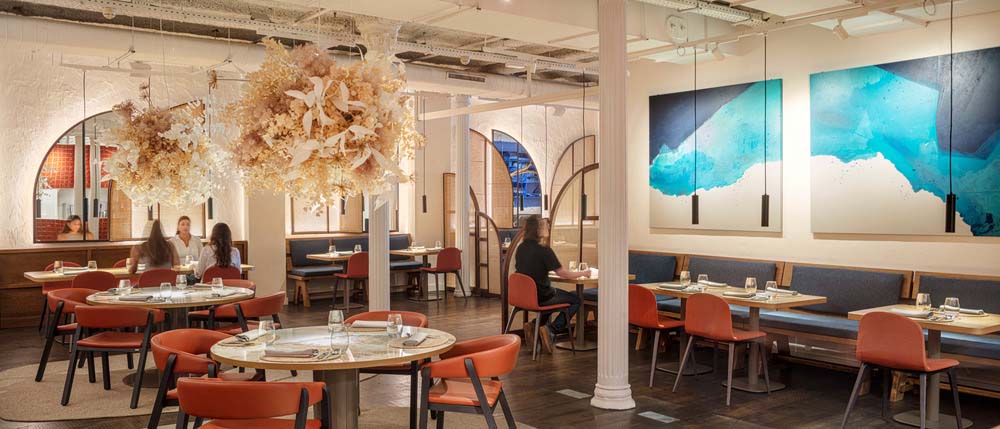 El Equipo Creativo has recently completed works on Compartir Restaurant in Barcelona, Spain. The goal of Compartir's chefs was to infuse their new gastronomic concept in Barcelona with the flavor of the Mediterranean village of Cadaques, where they opened their first restaurant. The artistic vibe of Dali's village is reflected in its slate streets, blue windows that look out onto the Sea, rocking boats in the bay, and wicker handicraft that invades its streets. The design by El Equipo Creativo attempts to capture this scenic atmosphere while being reimagined from a modern urban viewpoint.
Design
The restaurant is situated in a historic building in the Eixample District that features a stunning steel building that dates from the turn of the 20th century. One of those locations where one might picture a neighborhood art gallery filled with large abstract artworks.
Three blue abstract "windows" facing the Mediterranean Sea—one sculptural, one pictorial, and one made of fabric—preside over a large white area in the designers' vision.
A unique local artist was given the chance to work with each of these "windows," and together they produced unique pieces especially for the restaurant.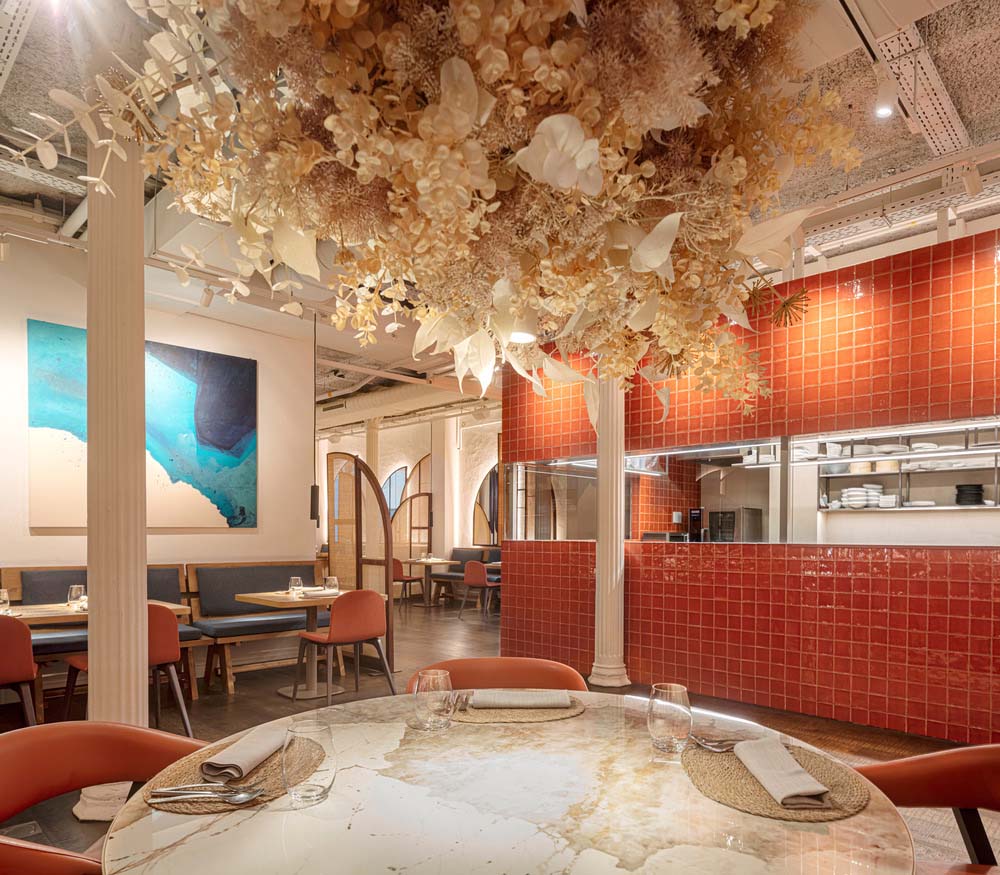 Functionality
A pleasant contrast is created by the curved designs of the mirrors and wicker partitions, which also provide seclusion for the tables, one of the chef's top goals. They imitate the harbor of Cadaques by creating an abstract seascape of sails and ships.
The geometries of the bars and kitchens are straightforward and striking, and they serve as energy hubs that activate the various parts of the restaurant.
Materiality & sustainability
The design process was accompanied by in-depth research on the customary and regional building practices and supplies used along the Spanish Mediterranean coast, particularly those used in Cadaques. The use of materials like wicker, stucco, ceramic tiles, slate stone, etc. is reinterpreted from a contemporary standpoint to create fresh and unexpected designs.
The goal was to give the interiors a pleasant, light materiality, which was achieved by using white, textured surfaces with a generally handmade feel. The restaurant and the Cadaqués architectural landscape are connected by various natural elements. The natural terracotta tile color, in contrast to the abstract and intense blue of the windows, the grey tone of the slate stone, and its application in "trencads" (traditional Mediterranean technique), create a powerful set that can be read almost pictorially and are intended to dialogue with the exquisite color and texture compositions of the dishes at Compartir Restaurant.
All materials were locally resourced, and all design elements were locally produced, which avoided long transports helping the planet. Collaborating with small local brands, construction companies, artists, and artisans was the best option to streamline all processes and work collaboratively.
Project information
Location: C. de Valencia, 225, 08007 Barcelona
Client: Oriol Castro, Eduard Xatruch y Mateu Casañas, Nil Dulcet
Floor Area: 400 m2
Concept and Interior Design: EL EQUIPO CREATIVO
Partners: Oliver Franz Schmidt + Natali Canas del Pozo + Lucas Echeveste Lacy
Team leaders: Daniel Trujillo, Ricard Fabregat
Design collaborators
Lighting Design: MMaslighting
Find more projects by El Equipo Creativo: elequipocreativo.com