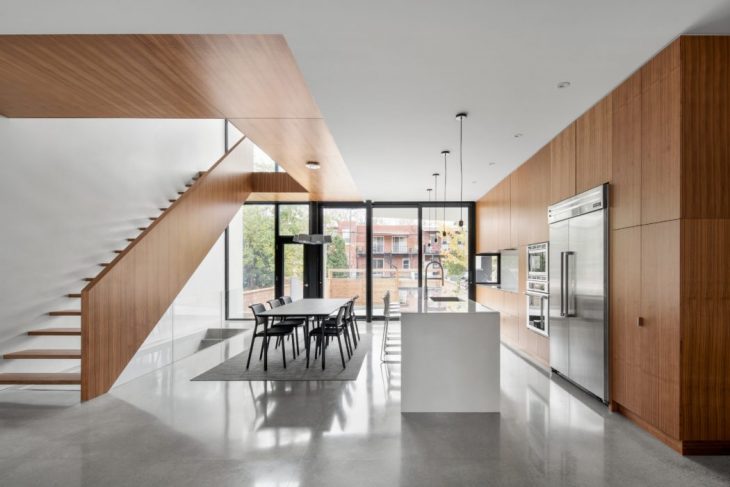 Architecture Microclimat designed this two-story family residence located in Montreal, Canada, in 2016. Take a look at the complete story after the jump.

From the architects: The clients, a couple with two children, noticed this abandoned property on 1st Avenue. Facing a neighbourhood park in Rosemont, an area prized for its green spaces and tight-knit community, it was the perfect setting for a new build. With its anthracite-coloured brick facade and discrete openings, including a slightly elevated double entrance that allows natural light to brighten up a lower-level rental unit and create a modulated yard, the new home coolly inserts itself into the neighbourhood.
Continuous surfaces
As you step foot through the door, your eye is drawn to the back of the home, where the kitchen and living spaces extend outside thanks to impressive windows that frame the backyard. A kitchen counter naturally flows onto the terrace, visually and concretely uniting the two spaces. Cantilever overhangs in white parging shelter the counter from the elements throughout the seasons and offer a signature look to the back of the building.
The fluid transition from one space to the next continues throughout the home with a double height open space. United by a central wooden stairway and glass railing, it invites even more natural light into the home. The white walls and ceilings, as well as the polished concrete floors brighten up the space, whereas the wood paneling on the stairway adds warmth to the minimalist design, and draws the eye up the stairs to the bedrooms.
The modern home inserts itself respectfully within the traditional Montreal neighbourhood that welcomes it. The architects' work reflects a movement to artfully transform the residential landscape, a devotedness to make the most of open space and natural light. As such, the 1st Avenue home is one with the exterior, rather than being closed off on itself against the sun, rain, wind, and snow–always present, but better controlled.
Photography by Adrien Williams
Find more projects by Architecture Microclimat: http://www.microclimat.ca/fr/