Israeli design studio Anderman Architects has recently completed works on Pixel House, an innovative private residence featuring a stunning gradient wall.
A while ago, in the year 2017, we promised new clients of ours that we know how to do a "gradient wall". One that starts sealed but fades and disappears into nothing… into the air. In hindsight, we promised quite quickly, not knowing the adventure that promise will take us.
The characteristic wall feature aims to provide the bottom floor more privacy from the neighbor next door while maintaining good lighting levels.
In the months and years since we have sweated a lot over that promise. We sweated because it took hundreds of work hours to develop the fading system. We sweated because putting that fantasy into a budgetary constraint is nearly impossible. We sweated because we understood that although physics and photoshop both start with the letter P, that's all the similarities they share.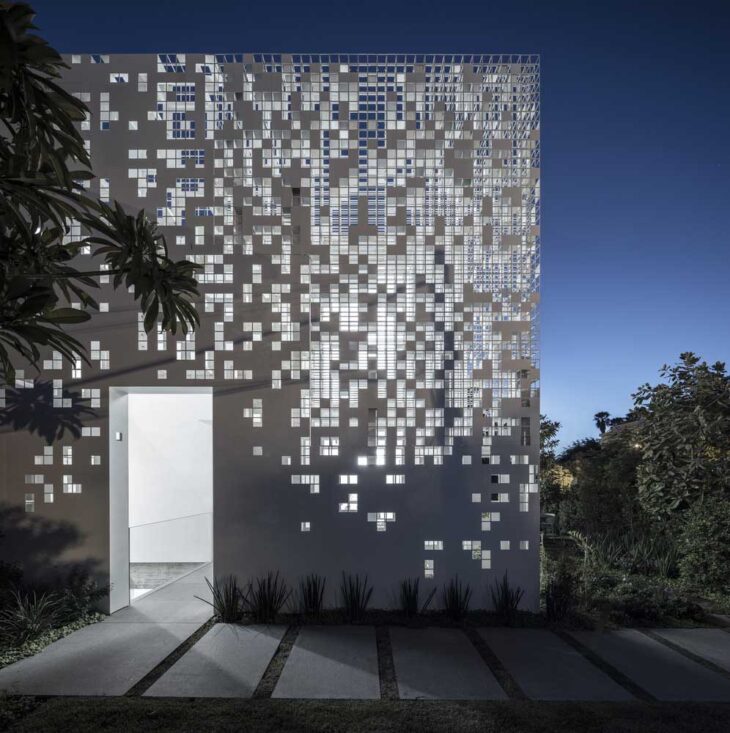 As a result, the light floods the interiors, creating a distinct pattern that adds a new dimension to the minimalist atmosphere and the various designer furniture.
Project information
Architects: Anderman Architects
Area: 300 m²
Year: 2022
Photographs: Amit Geron
Manufacturers: T-Metal, APEX, Boffi, Parqueteam
Landscaping: Itamar Shachar-Brodesky, Itamar Landscaping LTD
Lighting: S.T. Or
Design Team: Adi Cohen, Mor Novich Shomer, Sharon Barak, Sivan Kohn
Management: HaChim Green Project
Kitchen: Boffi
Framework: T-Metal
City: Tel Aviv-Yafo
Country: Israel
Find more interesting projects by Anderman Architects: www.anderman.co.il