When architecture studio Mesura was commissioned to enlarge an existing summer house near Elche, in the Alicante region, the end product came across as a strong union between design and functionality. The owners found their family gatherings getting too large for their 1980's home. And with social and family life being deeply entranced in Spanish culture, a completely new structure has been annexed to the original one.
Casa IV has been built as a unified space, making room for large communal areas, both inside and outside, thus suiting more numerous family meetings. Also, a better connection with the natural landscape has been established. The structure plays centre-stage to the plot of land, as it tries to eliminate any hierarchy between the interior and exterior.
The vaulted roof, for example, works as a shelter for the rooms, as does for its outdoor proximity. Freestanding walls are used as a way of separating parts of the floor space, in order to create confusion between the house and landscape. Floor-to-ceiling windows, with sliding Iroko frames make the transition with the outside and offer better air circulation.
"Along with local ceramicists, we did a study in brick compositions in order to create four lines of brick, in which brick stones were never to be cut to meet the edges."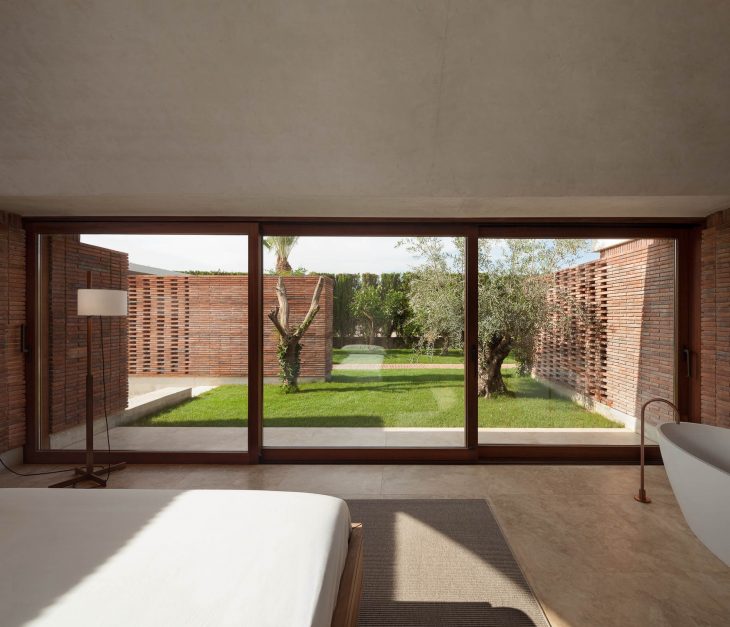 Natural ventilation is also achieved by the space between the vaulted roof and the brick walls. Air and light circulate around the bedroom and hallway areas, while some of the red ceramic walls have a continuous function, not being bound only to the interior and stretching down into the garden. Back here, part of the yard is covered in concrete and divides the property further into two. The original house together with the swimming pool on one side, the tennis court on the other.
Done with close consideration to the local landscape, Casa IV represents a modern perspective on how space can be adapted in the right way to suit its context. The functionality of the building is also portrayed in the way it is conceived to blend in with nature. The home through its generous and fluid communal areas suits the purpose of being a place where larger family gatherings take place and new lasting memories are born.
Architects: Mesura – mesura.eu
Year: Completed 2015
Location: Elche, Alicante, Spain
Photography: Teddy Iborra Wicksteed, Pedro Pegenaute
Words by Alin Kovacs @alin_kovacs