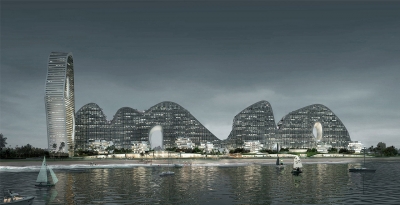 Project: Fake Hills
Designed by MAD Architects
Directors: Ma Yansong, Qun Dang
Design Team: Xue Yan, Xu Dongxin, Wang Wei, Tang Liu, Zhang Jie, Ren Xiaowei, Kristie Park, Dinah Zhang, Fernie Lai, Fu Changri, Zheng Tao
Site Area: 109 203 sqm
Building Area: 492 369 sqm
Building Height: groundscraper-106 m; Tower-194 m
Location: Beihai, China
Website: www.i-mad.com
Fake Hills is a project shaped by the always innovative Mad Architects, presenting a new outlook on residential architecture.
From the Architects:
The vast majority of development in China's new cities takes the form of residential housing, often standardized and cheap to guarantee a quick return for investment. Is it possible to build high-density, economically viable housing that is also architecturally innovative?

This development is located on the coastal city of Beihai, south of China, on a 800 meter long, narrow oceanfront site. The fundamental geometry of the scheme combines two common yet opposite architecture typology, the high rise and groundscraper, producing an undulating building typology, resulting in a form of a hill. The geometry of the architecture maximizes potential views for the residents; the continuous platform along the roof becomes the public spaces, with gardens, tennis courts and swimming pools on top of the man-made hills. Each opening in the building allows the sea breezes to pass through and creating ocean views from the interior.

Aiming for a high-density solution and a new landmark for the city, Fake Hills provides a heightened experience of the coastline and an opportunity for unhindered interaction with the city and the vast nature ahead it faces.