gmb. has recently completed work on this stunning private residence on the edge of the woodland in Dbravka, a neighborhood in Bratislava. The home is situated in the plot's center, giving it immediate access to the entry from the public road. The house's location in the falling terrain also affords it direct access to views of the Little Carpathians and Dubravka below.
The goal was to create a house that, by its scale and visual style, blends in with its surroundings. Recognizing its materiality is a key characteristic. The interior and exterior concrete and hardwood surfaces flow into one another and provide visual continuity, generating a distinct composition of cubic masses.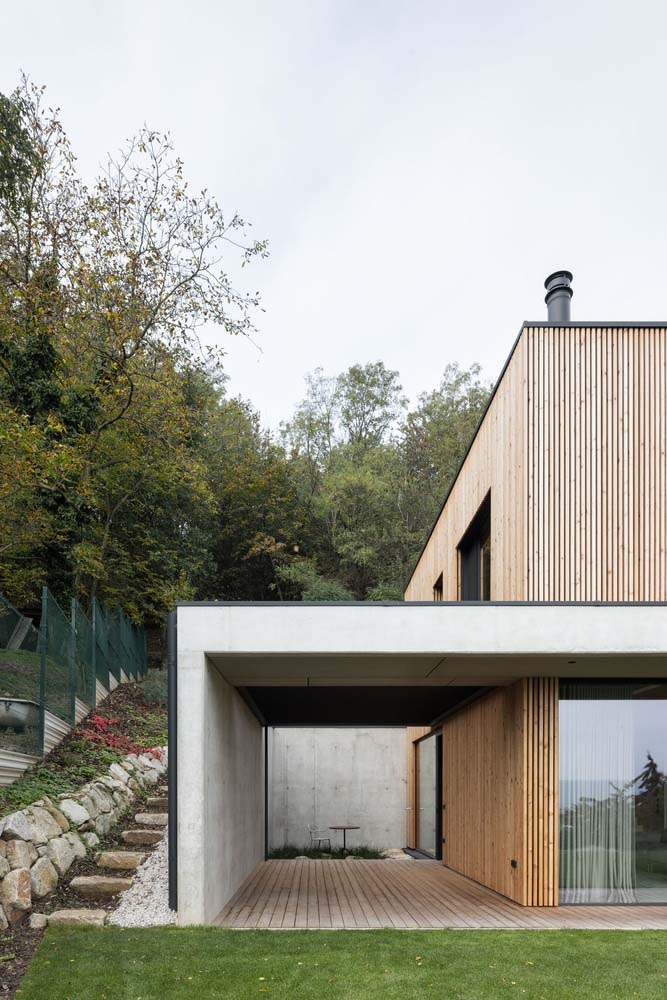 The home is built using prefabricated CLT panelled items fitted inside a reinforced concrete foundation tub that is buried transversely in the ground. The terrace and the garage are divided by the asymmetrical arrangement of the house within the tub. An exterior pathway covered by a canopy encircles the object and connects these exterior spaces longitudinally.
The room is divided vertically into "day and night" halves. The space of the carport leads to the entryway. The entrance area provides access to the workroom, technical room, and hygiene areas.
The living room, which is open along its entire length to the east side and also visually connects with the external atrium through the dining room, is reached directly from the entrance area. A gallery provides a vertical opening to the dining room area.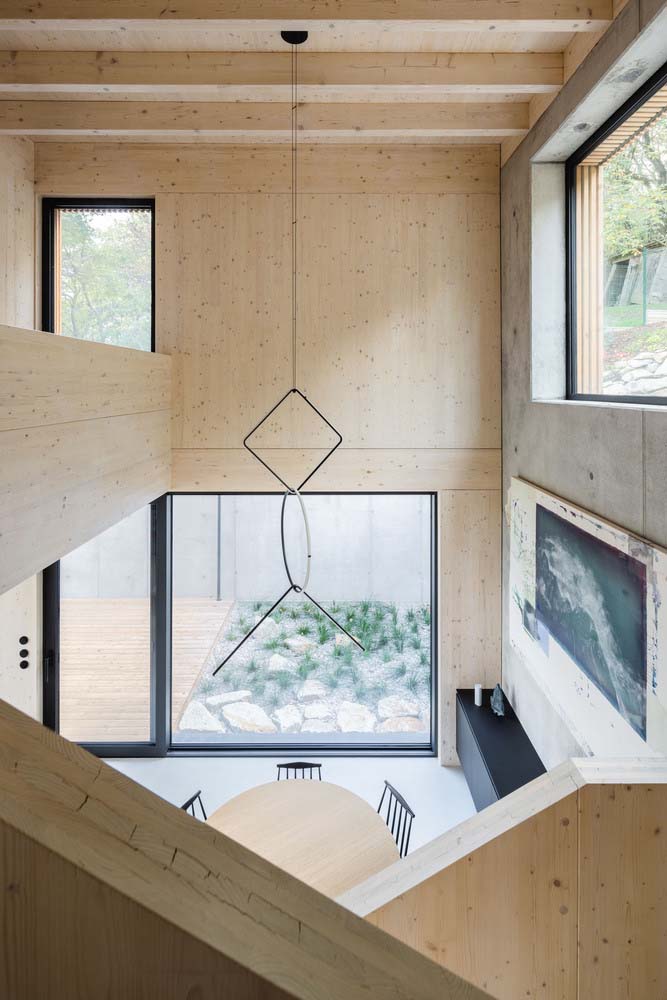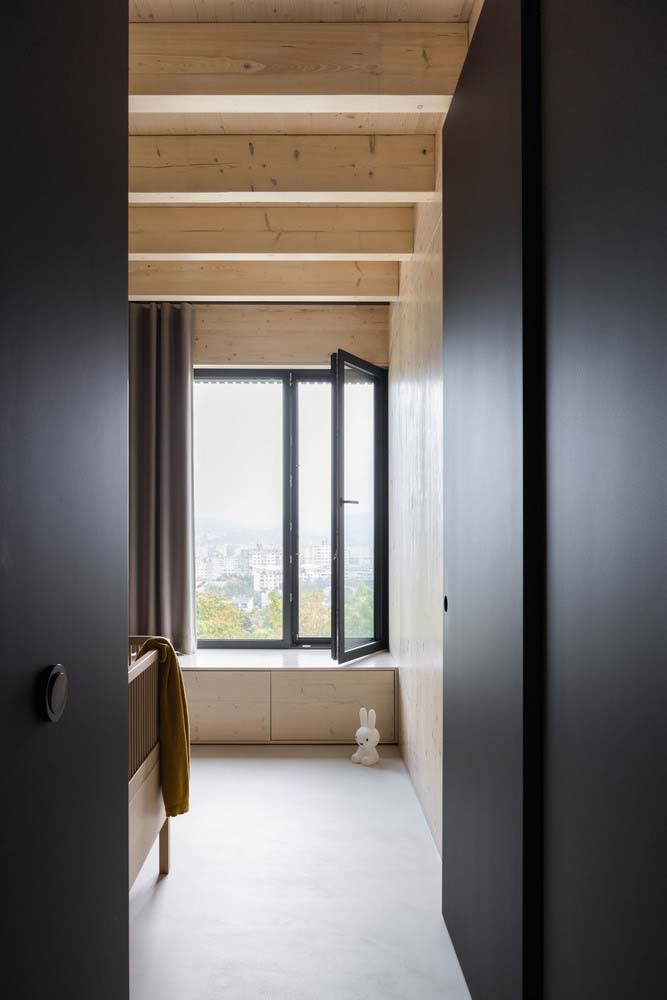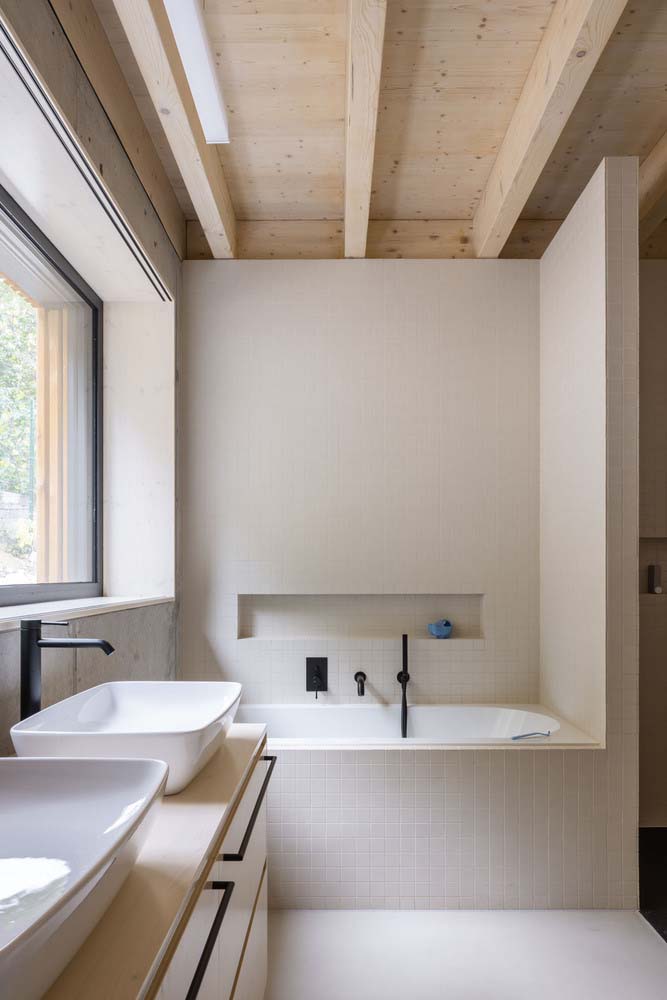 The daytime portion of the building, which is east-oriented, receives southern and western light through the gallery and atrium, changing the ambiance throughout the day. A bedroom space with a separate wardrobe, toilet, and bathroom that looks into the forest through a panoramic window is located on the upper floor. The children's rooms are oriented to the east and south and offer basic amenities.
Project information
Architects: gmb.
Area: 1233 m²
Year: 2022
Photographs: Matej Hakár
Manufacturers: Hansgrohe, Artemide, Axor, FLOS, HAY, Slovaktual, Villeroy & Boch
General Contractor: USPORNE DREVODOMY
City: Bratislava
Country: Slovakia
Find more projects by gmb. – www.gmbarchitekt.com