MDAMMM in collaboration with The Black House Studio have recently completed work on The Black House in the outskirts of Sant Cugat, Spain. The single-family home the owners had just purchased was unremarkable and unattractive; the vertical faces were exposed brick in ochre tones, and all other parts exhibited various grey tones and finishes. The idea was to maintain volume while making everything dark.
The garden's unusual V-shaped geometry could be seen on the ground plan, however its enclosures did not clearly define it. In spite of this, the interior design was accurate and suited the needs of the client. The architects redesigned the existing volume without changing it, keeping in mind that the finishes and colors of the original materials had become dated and were therefore what we would need to adapt and modernize.
The intervention put the remainder in the background and focuses on the aspects that were worth preserving. The four main components around which the reform is organized are capillarity, verticality, and accents on openings.
In order to improve the relationship with the surrounding vegetation, all project elements were colored black while maintaining the project's volume. In order to give the building a double skin, enormous projecting sheet metal angular frames were added to the openings. These frames project above vertical lathing with hollow portions. The concept appears to be almost reduced to a simple, monochromatic visual sign.
The sections' varying lengths and cadences were used to emphasize and multiply the façades' many more vertical planes than the original design.
The building as a whole is made richer by the division of the components from the façade, which also makes it lighter and more adaptable. The sun's movement affects how the shadows are cast during the day, and inside illumination illuminates it at night when there is no daylight.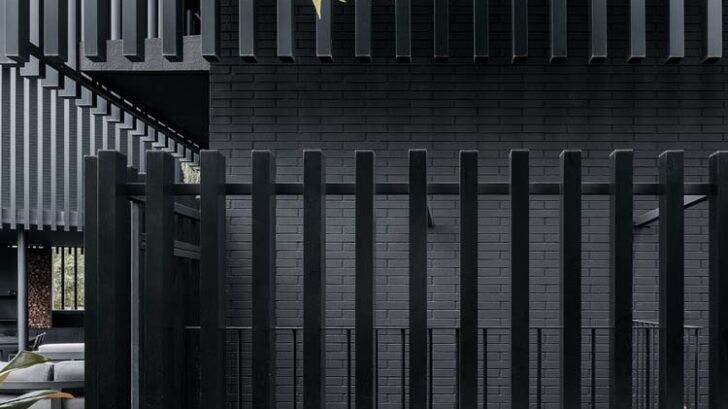 Project information
Architects: MDAMMM, The Black House Studio – mdammm.com
Area: 785 m²
Year: 2022
Lead Architects: Marc Duran, Alba Masides, Margarita Masides
Country: Spain