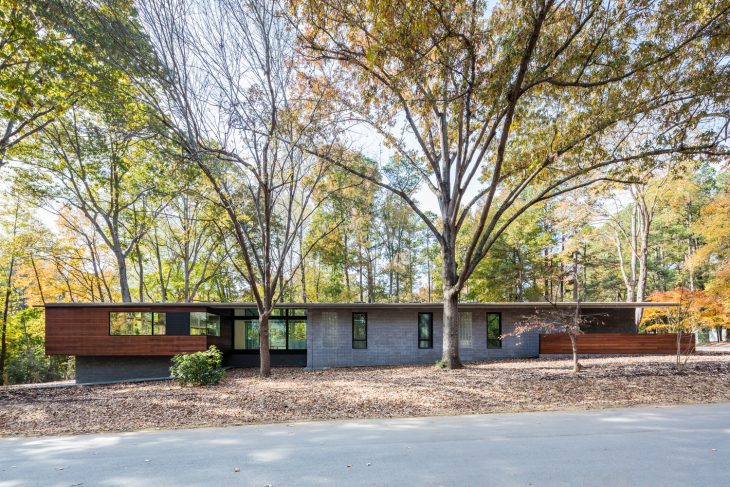 In Situ Studio designed this inspiring one-storey private residence located in Cary, United States, in 2017. Take a look at the complete story after the jump.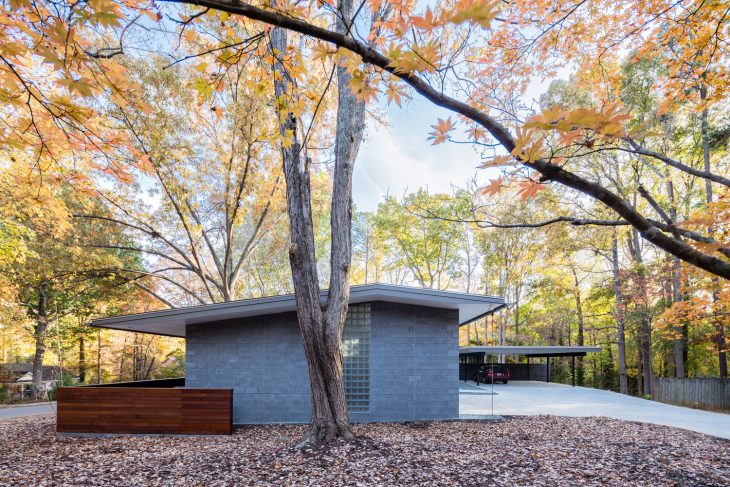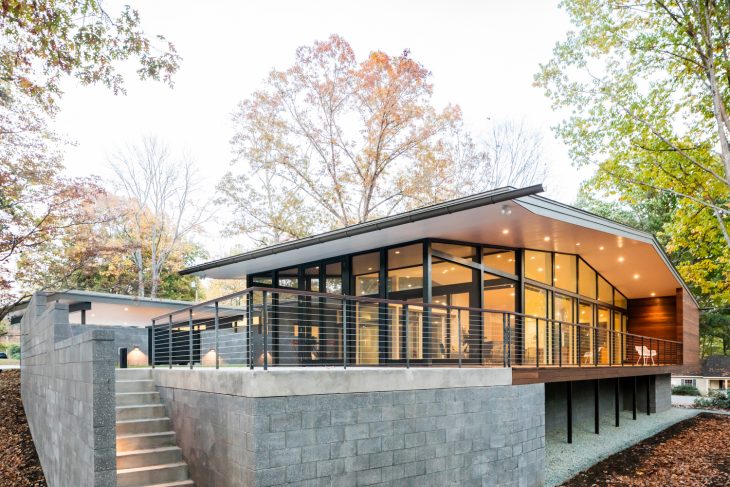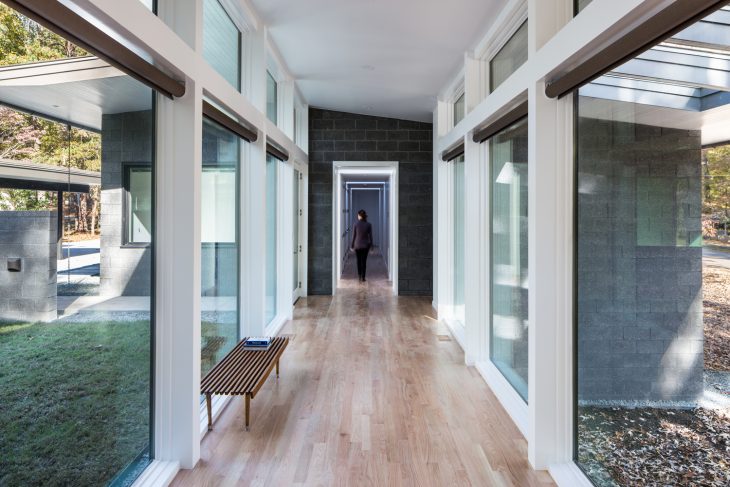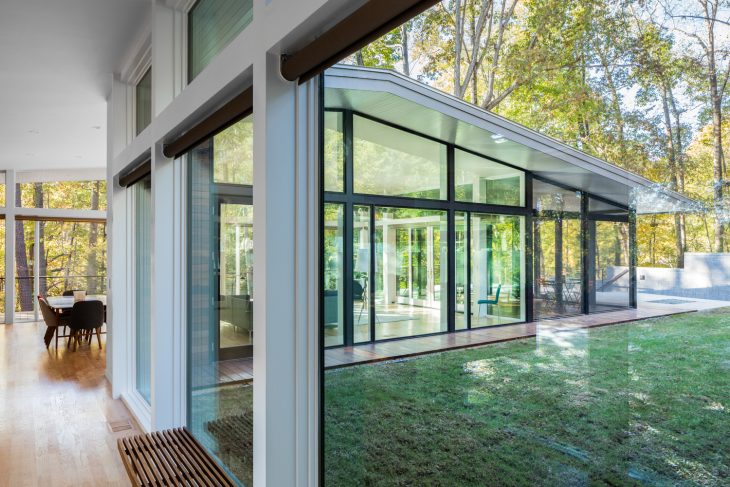 From the architects: The Trull Residence is on a small corner lot in the suburbs. The lot is long north to south, with driveway access from the north and southern views of a forest and pond. The main view of the house from the street is from the east. The house is divided into two pieces – a solid sleeping volume and an open living pavilion – connected by a glass entry hall. A walled lawn, patio, screened porch, and south-facing deck surround the living pavilion on three sides, forming a network of private outdoor spaces overlooking the forest and pond.
Our clients wanted a relatively large, single level house with expansive, constructed outdoor spaces. They are also very private people. Both of these priorities were at odds with the small corner lot they had purchased. The house relates to the street in an opposite manner to neighboring houses. Private and support spaces – bedrooms, bathrooms, office, laundry, and a large workshop – are in a solid volume at the street corner. Primary living spaces are in a glass pavilion at the back corner, overlooking the forest and pond and screened from the street by the private volumes. The main entry is not on the street, but is located at the center of the site, between the private and public volumes, accessing the house from the rear into a glass hall that connects the private and public spaces. The east façade reveals these distinct parts of the house – the grounded bedroom volume to the north, the glass connecting hall offering a glimpse to otherwise secluded outdoor spaces, and the living pavilion lifting above the site to view the forest and pond. A thin, low roof sweeps over the entire house.
The house and outdoor spaces are built on a concrete foundation with CMU foundation walls. The bedroom volume is framed primarily with wood, and the living pavilion is made primarily of a steel frame. The roof is broad and thin, with four-foot eaves tapering to a six-inch fascia. The grounded bedroom volume, exposed foundation walls, and site walls are clad or formed with a burnished CMU, making them appear very solid. The lifted living pavilion is glass and wood, resting atop the constructed landscape and surrounded by CMU site walls. The house was carefully dimensioned so that no CMU blocks were cut during construction. Though the site falls nearly nine feet from the driveway entry to the southern end, the drive, carport, entry walk, walled yard, patio, southern deck, and all interior spaces are at the same level.
Photography by Keith Isaacs
Find more projects by In Situ Studio: www.insitustudio.us