blaq arquitectos have recently completed their latest residential project in Las Condes, Chile .The project entails an extensive renovation of a unit situated within the renowned housing complex plan that was originally developed during the 1970s in the Colon Oriente district of Santiago. The proposed plan sought to effectively integrate and mitigate the housing shortage while also addressing the issue of segregation, which had become increasingly prevalent due to the rapid demographic expansion of the period. This urban development comprises around 200 uniform, rectangular-shaped houses measuring 60 square meters each. The houses feature gable roofs and are constructed using reinforced masonry and wooden roofing. However, the lighting within the houses is suboptimal, and the height of the houses is limited to 208 cm.
The aim was to transform one of these indistinguishable units into a distinctive and customized space that reflects the client's individual interests. The proposal entails a comprehensive renovation that caters to contemporary needs while maintaining the structure's proportion and coherence with the surrounding locality. This residential project was created with a focus on optimizing space and budget for a young couple without children. The interior layout was reconfigured while preserving the existing confined masonry perimeter walls. The new design features enlarged openings and a raised laminated wood roof, supported by an iron substructure, which allows for a glazed strip around the perimeter. This design element permits natural light to enter the space between the wall and the new roof, and also accommodates a future second floor. The prefabricated laminated wood structure was expertly machined off-site, resulting in a streamlined construction process that optimized both time and cost efficiency.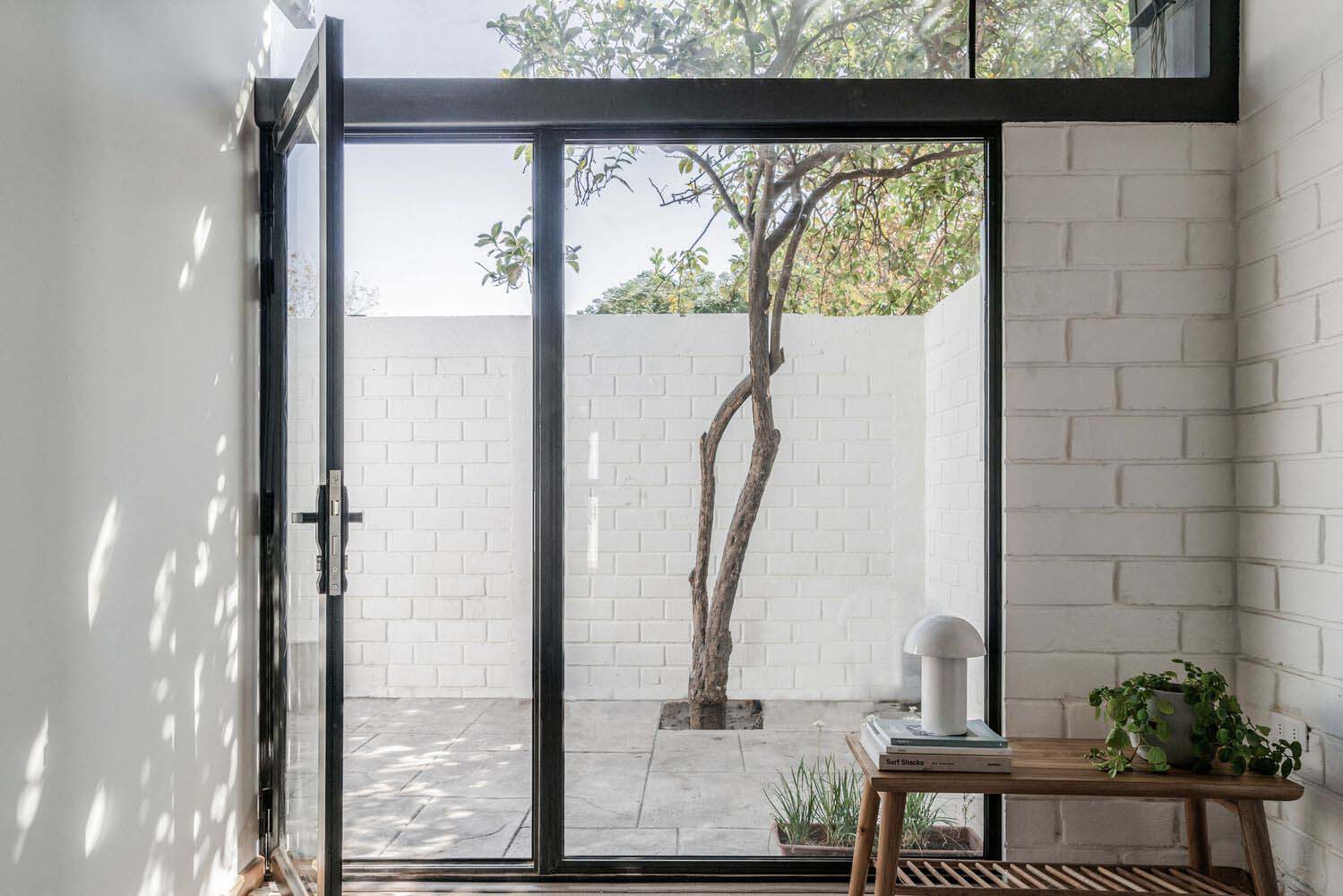 Two skylights were installed between the beams, allowing more natural light to enter the interior, and all the existing walls were painted white, including the exteriors, to increase reflectivity. Inside. The choice of natural wood for the flooring and kitchen furniture adds a sense of warmth and comfort to the space. The exposed brick perimeter was thoughtfully preserved and painted in a sandy matte color to promote a relaxing and restful atmosphere. The interior distribution is simple, with the living room and kitchen in one half, connected to the entrance, and the private spaces with access to the patio in the other half. The architectural design of the structure takes into account the possibility of a future expansion on the second floor to accommodate the growing needs of the family.
Project information
Architects: blaq arquitectos – www.blacarquitectos.com
Area: 60 m²
Year: 2022
Photographs: Macarena Whittle
Manufacturers: Budnik, FDV, Lamitech Imperial, MK, Termoalum chile
Lead Architect: Benjamin Litvak
Collaborator: Catalina Corral
City: Las Condes
Country: Chile