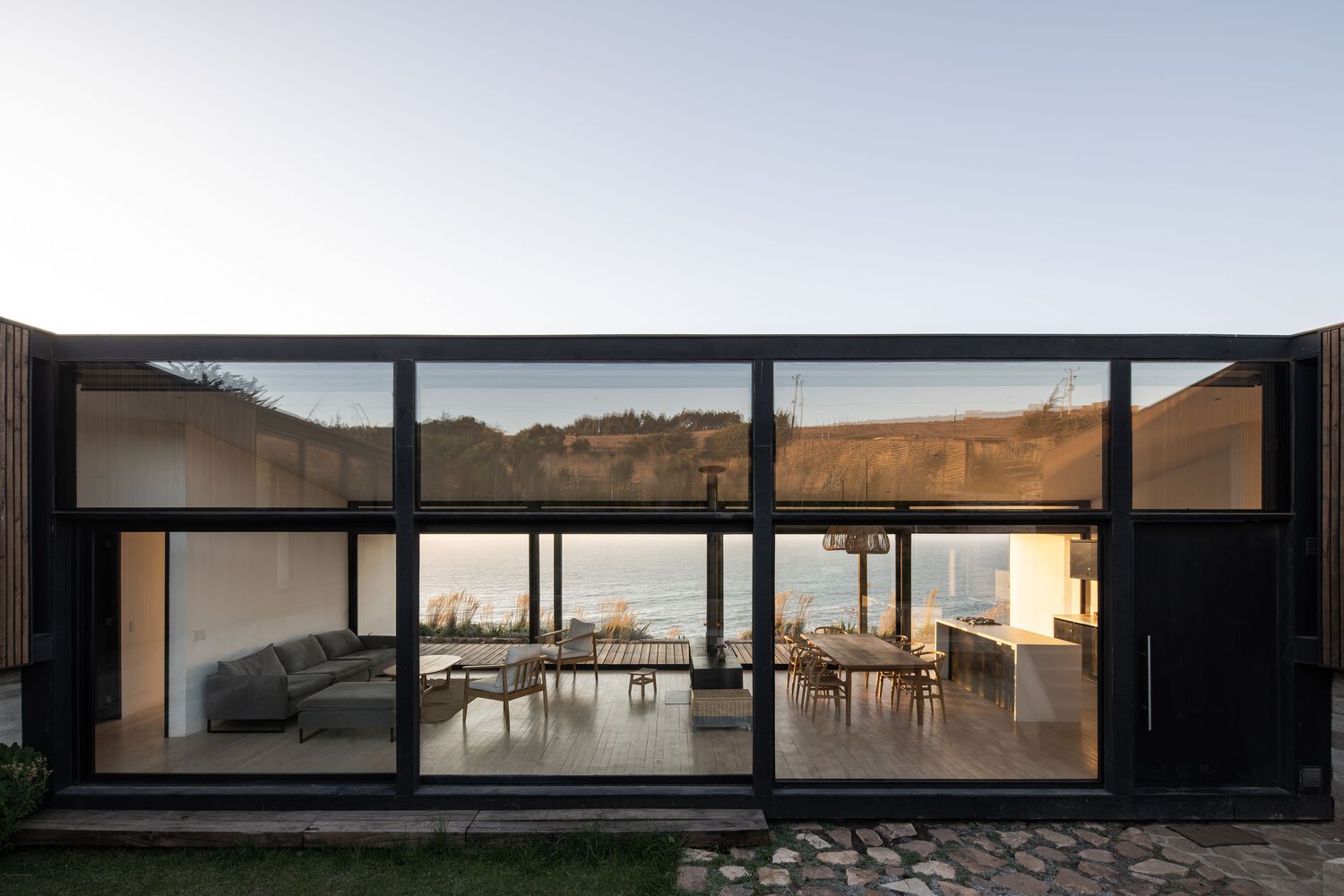 Raimundo Gutierrez Frías designed this stunning private residence in Matanzas,Chile. The house is situated in the city's northern zone, fronting the sea and a few condominium lots. The property that makes up this lot is made up of a little slope that ends at a beach and a 65-meter bluff. To protect an exterior sector from the strong south-westerly wind that predominates in the area, to maintain privacy from the neighbors on the north and south sides, and to fully utilize the sea view were the three main considerations that were decisive in the decision-making process for the general design of the house.
Thus, a "U"-shaped volume was suggested, which would be positioned so that there would be three parallel volumes: one completely permeable and parallel to the coastal edge, and two parallel and hermetic volumes on their faces towards the bordering limits.
This arrangement would result in a protected outdoor patio in the middle, which would have the unique property of being visually connected to the sea via the double-glazed common area. The two volumes perpendicular to the center axis of the home's communal areas would be divided into the remaining programmatic components (bedrooms, baths, a laundry room, and a covered parking area).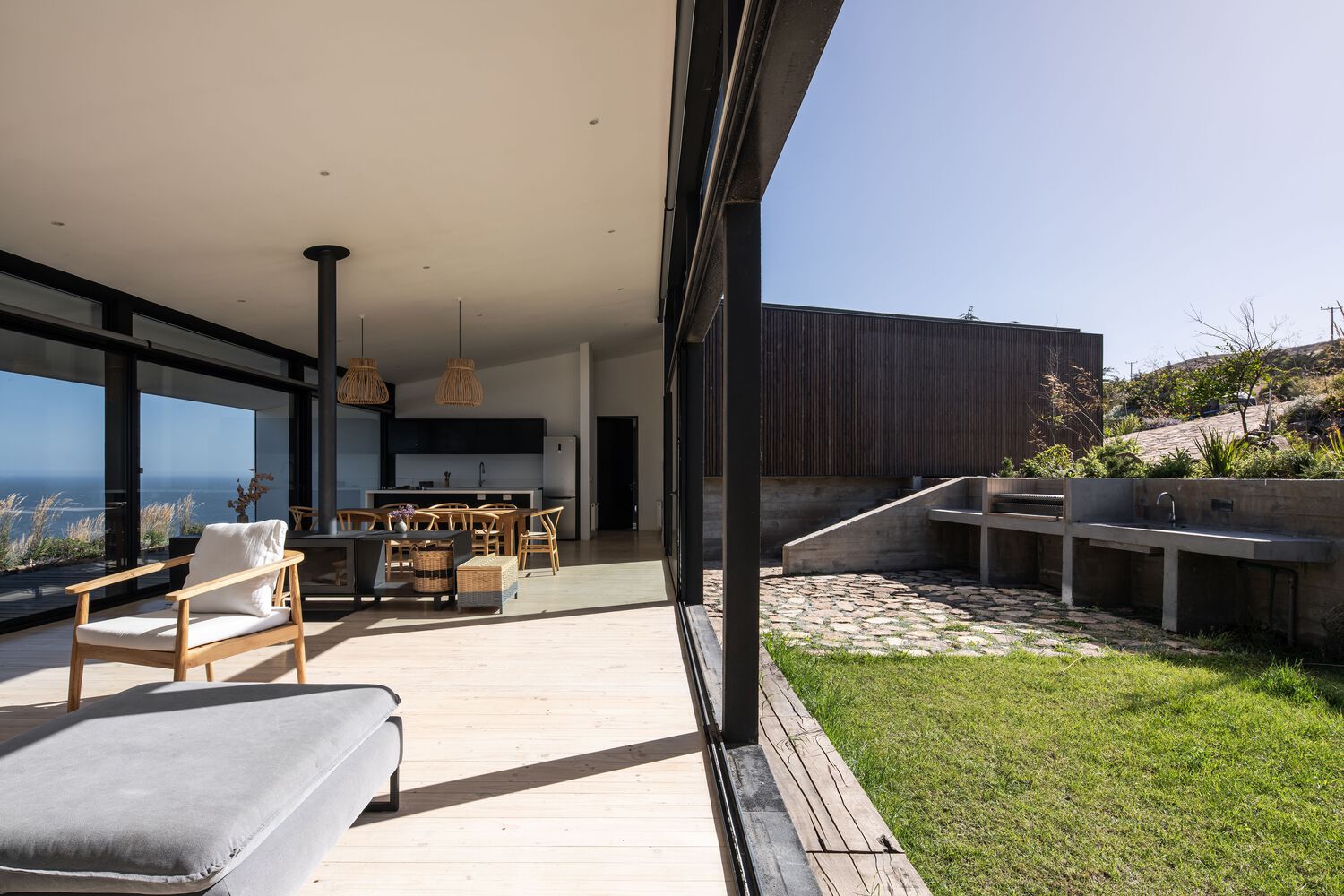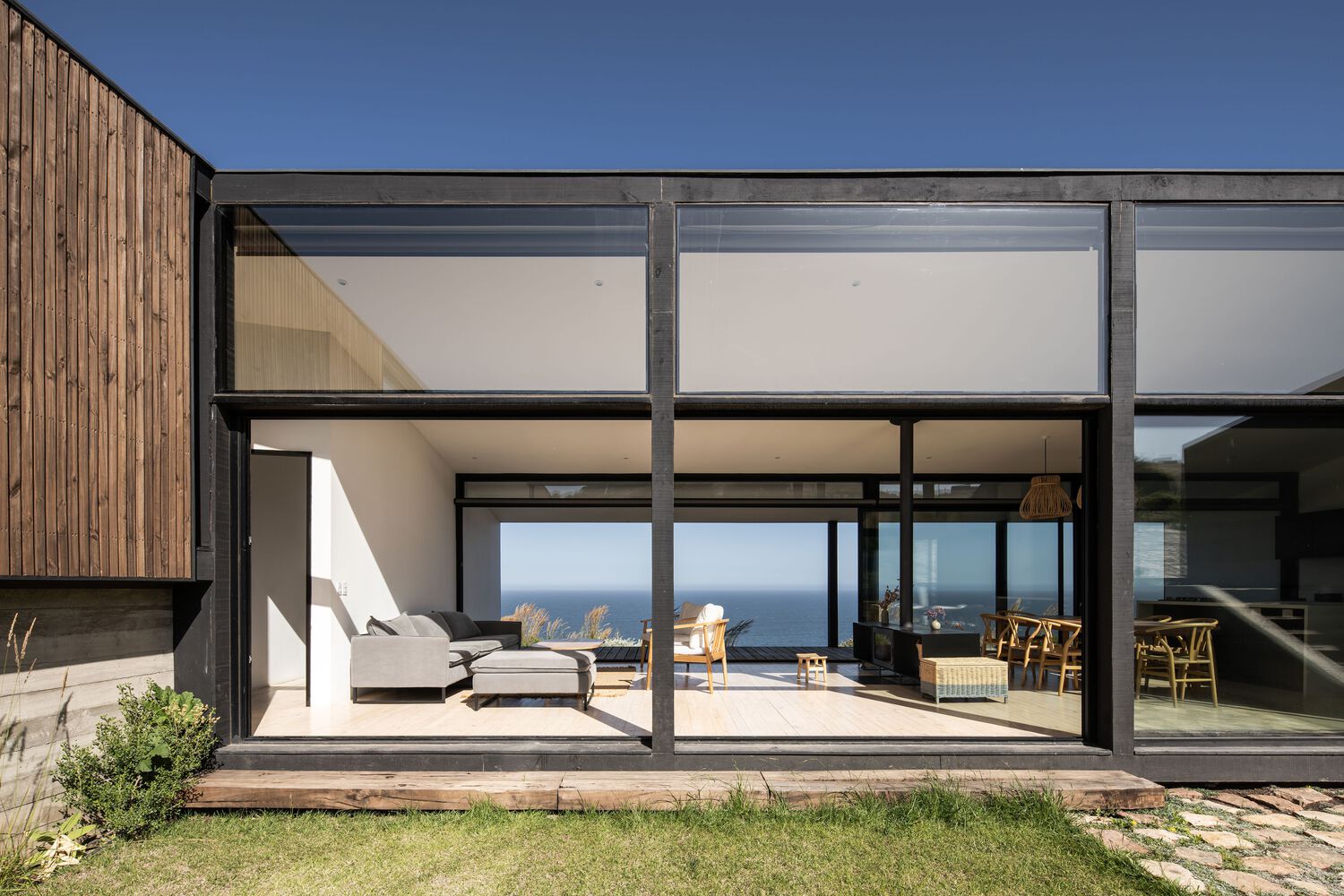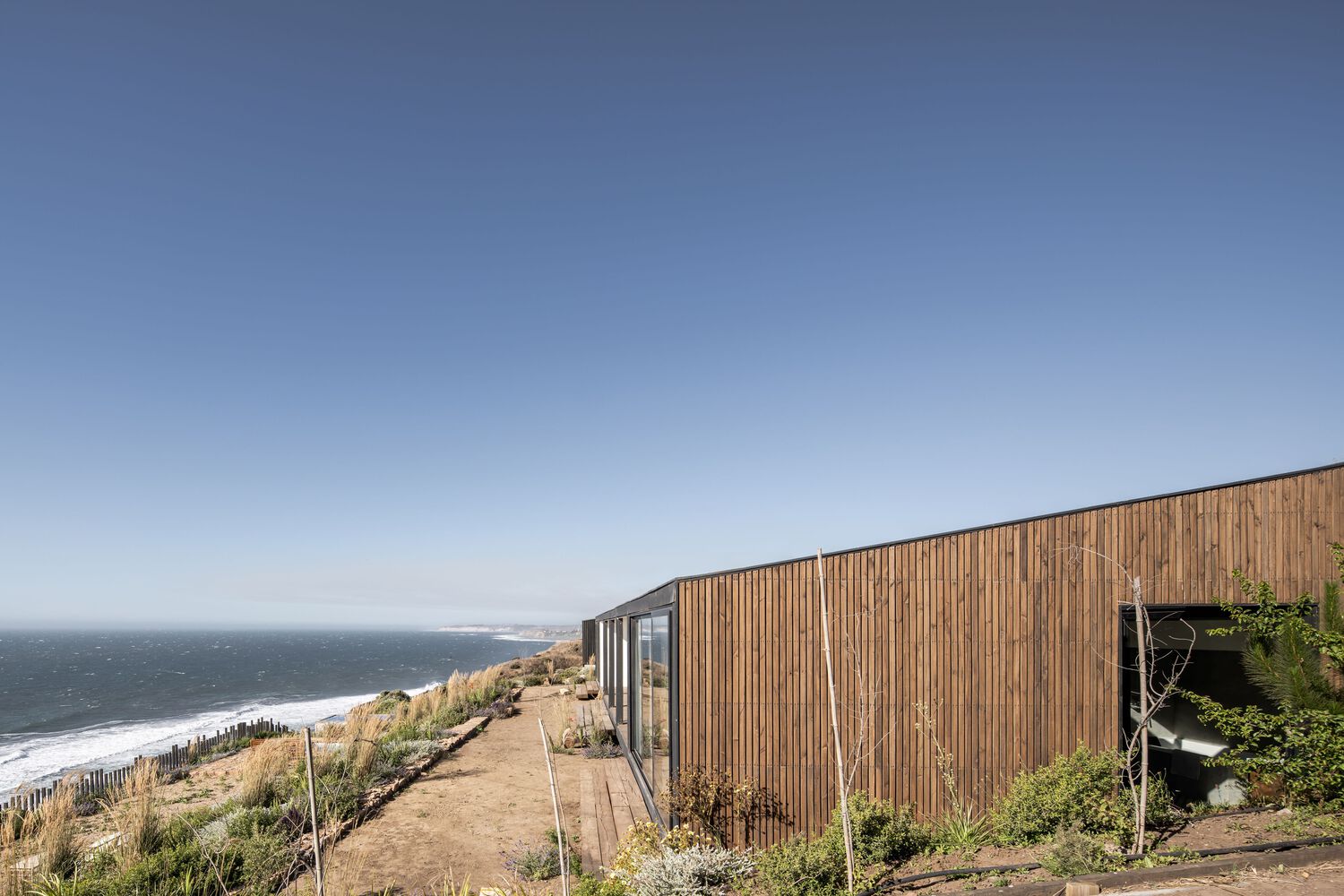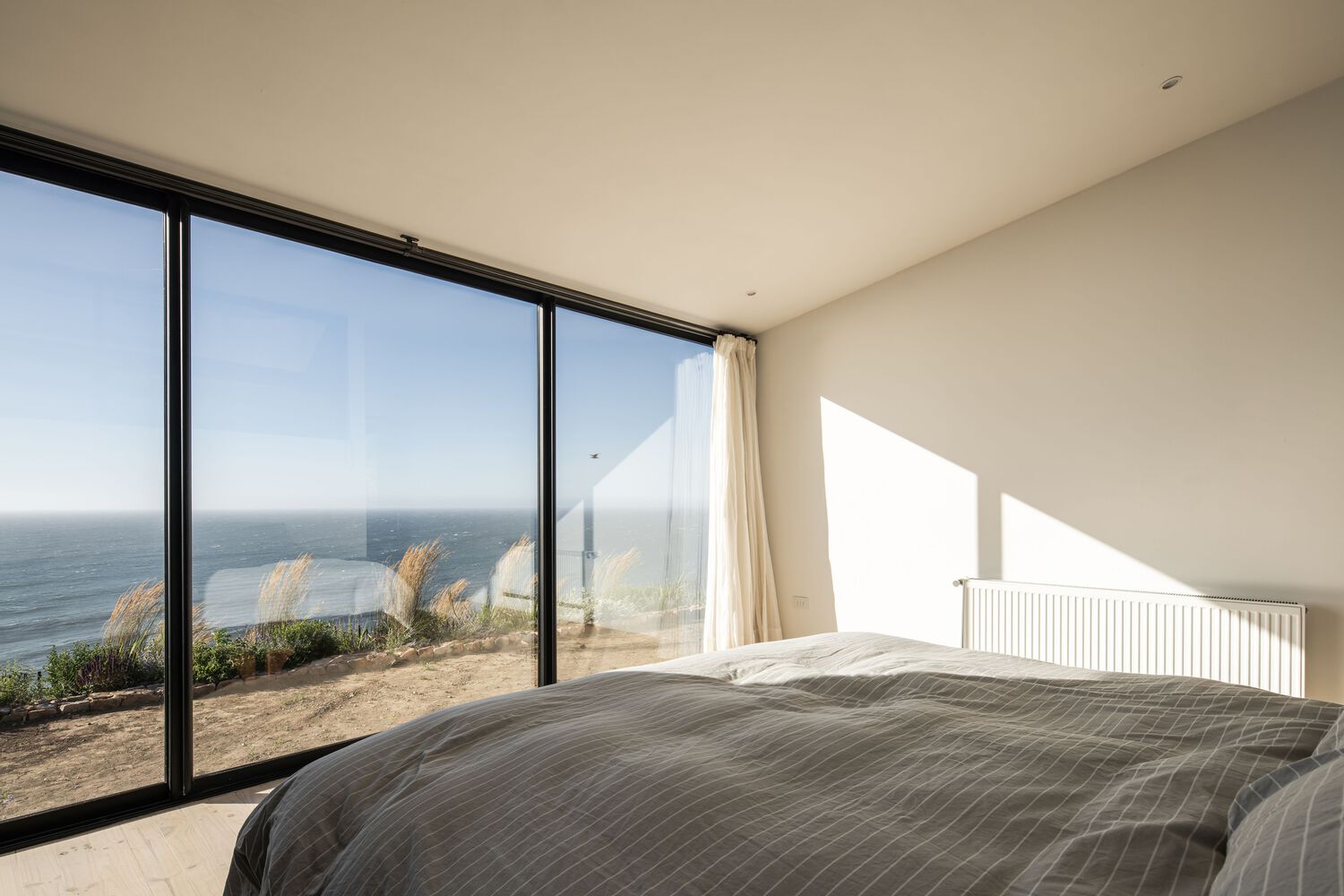 Semi-open courtyards were suggested as a solution to the building's constrained north and south facades in order to improve some rooms' lighting and ventilation. In some circumstances, these patios would also give us a view of the ocean.
The main structure of the home is made of metal framing, which allows for the construction of expansive spaces without the need for support (particularly in the common areas), while the secondary structure is made of impregnated pine. A vertical grid of 2 "x 1" impregnated brushed pine was planned as the exterior cladding; it serves as a lattice in the parking area with a roof.
Project information
Architects: Raimundo Gutierrez Frías @raimundogutierrezf
Area: 240 m²
Year: 2020
Photographs: Nico Saieh
Manufacturers: Alumadi, Duomo, Hunter Douglas, W Store, alfuego.cl
Structural Design: Joaquín Valenzuela
Sanitary Engineers: Catherin Nuñez
City: Matanzas
Country: Chile