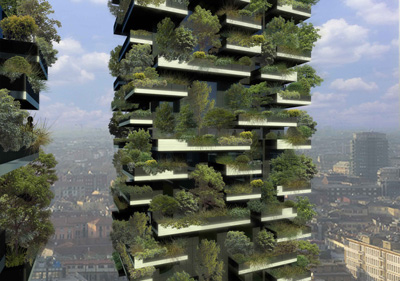 Project: Vertical Forest
Designed by Stefano Boeri Architetti
Team: Frederic de Smet (coordinator), Daniele Barillari, Julien Boitard, Matilde Cassani, Andrea Casetto, Francesca Cesa Bianchi, Inge Lengwenus, Corrado Longa, Eleanna Kotsikou, Matteo Marzi, Emanuela Messina, Andrea Sellanes, Gianni Bertoldi (coordinator), Alessandro Agosti, Andrea Casetto, Matteo Colognese, Angela Parrozzani, Stefano Onnis
Consultant for the Vegetation Project: Emanuela Borio, Laura Gatti
Client: Hines Italia
Built Area: 40.000 sqm
Location: Milan, Italy
Website: www.stefanoboeriarchitetti.net
Green concept prevails in the design for Vertical Forest tower created by Stefano Boeri Architetti. For more images and architects description continue after the jump:
From the Architects:
Bosco Verticale (Vertical Forest) is a project for metropolitan reforestation that contributes to the regeneration of the environment and urban biodiversity without the implication of expanding the city upon the territory. Bosco Verticale is a model of vertical densification of nature within the city. It is a model that operates correlated to the policies for reforestation and naturalization of the large urban and metropolitan borders (Metrosbosco). Metrobosco and Bosco Verticale are devices for the environmental survival of contemporary European cities. Together they create two modes of building links between nature and city within the territory and within the cities of contemporary Europe.
The first example of a Bosco Verticale composed of two residential towers of 110 and 76 meters height, will be realized in the centre of Milan, on the edge of the Isola neighbourhood, and will host 900 trees (each measuring 3, 6 or 9 m tall) apart from a wide range of shrubs and floral plants.
On flat land, each Bosco Verticale equals, in amount of trees, an area equal to 10.000 sqm of forest. In terms of urban densification the equivalent of an area of single family dwellings of nearly 50.000 sqm.
The Bosco Verticale is a system that optimizes, recuperates and produces energy. The Bosco Verticale aids in the creation of a microclimate and in filtering the dust particles contained in the urban environment. The diversity of the plants and their characteristics produce humidity, absorb CO2 and dust particles, producing oxygen and protect from radiation and acoustic pollution, improving the quality of living spaces and saving energy. Plant irrigation will be produced to great extent through the filtering and reuse of the grey waters produced by the building. Additionally Aeolian and photovoltaic energy systems will contribute, together with the aforementioned microclimate to increase the degree of energetic self sufficiency of the two towers. The management and maintenance of the Bosco Verticale's vegetation will be centralised and entrusted to an agency with an office counter open to the public.