Nestled on one of the bustling streets of Kashan, the White Trio House, once the temporary abode of the esteemed Iranian poet Sohrab Sepehri, stands renewed. Architects from White on White Studio undertook the challenge of revamping this historical residence that had been haphazardly extended over time for profitability, leading to a cacophony of disjointed spaces.
Drawing inspiration from its poetic legacy and addressing the multiple purposes it once served, White on White Studio has artfully segregated its various functionalities. The main street access exclusively leads to the commercial segment while the residential and office sections are accessible via the side street.
Mindful of budgetary and spatial constraints, the designers aimed to enhance the value at minimal costs. The addition of a café at ground level further underscores the intent to bridge the outdoors with the commercial interiors. This synergy is evident as the yard, a welcoming oasis in the urban tapestry, seamlessly merges with the commercial space.
The basement level posed unique challenges, primarily with illumination and ventilation. With no explicit purpose designated to this space, the architects ingeniously fashioned a sunken courtyard crowned with a trillium-dropped ceiling to address these concerns.
The first floor, Sepehri's erstwhile residence, is a delicate blend of function and sentiment. A strategically placed wall subtly redirects visitors' attention to the poet, albeit briefly. This floor's design, while utilitarian, pays homage to Sepehri's visual artistry. An opening in the ceiling illuminates a room, casting ephemeral tree shadows — reminiscent of Sepehri's works — that dance across the walls and floor, dynamically shifting with the day's progression.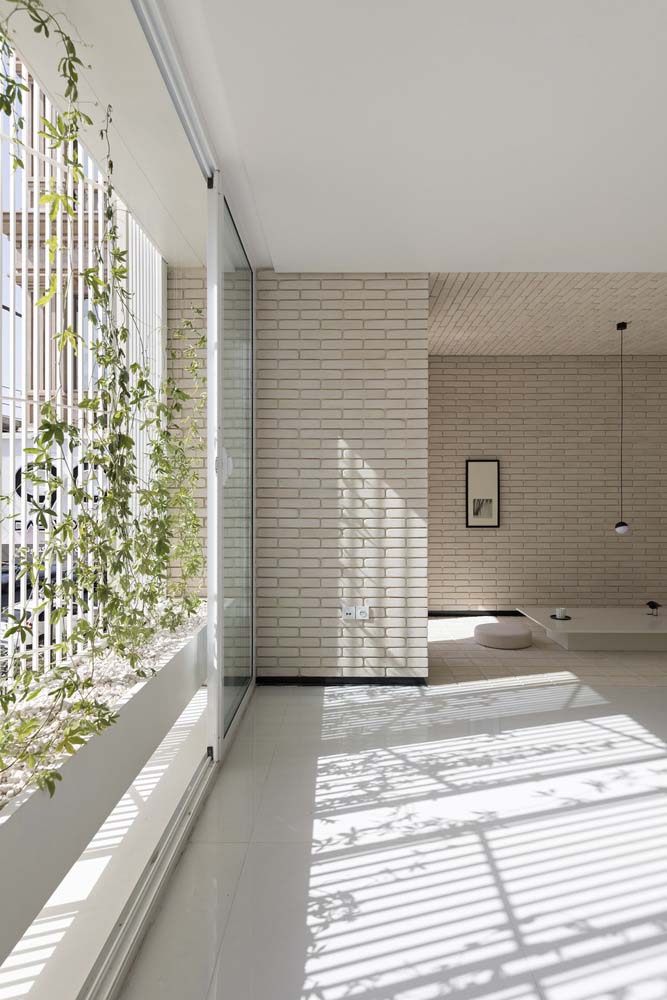 Despite the intricate detailing, there's a palpable minimalist ethos underpinning the entire project. Every element, whether structural, functional, or decorative, converges harmoniously, mirroring the coherence both inside and out.
Project information
Architects: White on White Studio @white.on.white_studio
Area: 240 m²
Year: 2022
Photographs: Mohammad Hassan Ettefagh
Lead Architects: Ruhollah Rasooli, Faezeh Arefnazari
Construction: Hossein Khodaverdian
City: Kashan
Country: Iran