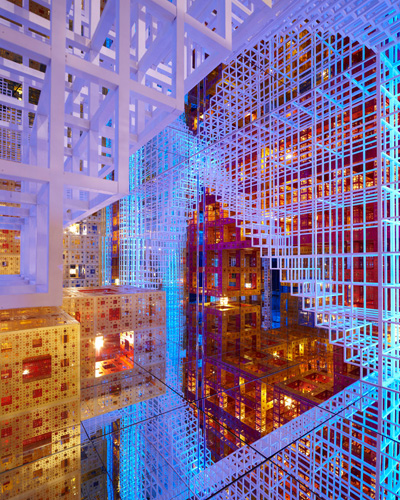 Project: "Beyond Infinity" Installation
Designed by Serge Salat
Location: Westgate mall, Shanghai, China
Client: Buick cars
Beyond Infinity Installation is work of French artist Serge Salat, installed at Shanghai's Westage Mall the installation is also used as an automobile showroom. Sponsor of the project is Buick, for more continue after the jump:
About Design:
Measuring 12.45 by 10.8 meters at a height of 3.8 meters, the structure is completely closed, composed of a steel infrastructure with honeycomb aluminum panels covered in mirrors. Internally, the space is designed around the trigram of the yi king, utilizing spatial techniques traditional of suzhou gardens as a means of framing the visitor experience as a 'mystical journey' through abstracted chinese courtyards. Painted wooden grids and steps lend additional structure, while the fractal objects are composed of wooden frames covered with punched aluminum anodized panels.
"Beyond Infinity" is designed as 'a mystical journey, in which the visitor progresses into the reflected layers of dreams endlessly nested in each other.' Salat notes specifically: 'Entering the work is also entering the world of the dream of the red mansion transposed to the 21st century', referencing the classical chinese novel by cao xueqin.
Source Designboom. *