A circular saw counts among the most dangerous pieces of equipment you can use in the home. While these devices are incredibly useful, they also have the ability to inflict life-changing injury upon those who don't take sufficient care. If you're taking advantage of the enforced lockdown to perform a little bit of DIY, then you'll want to take particular care to avoid a trip to your local A&E, where coronavirus will surely be rife.
With all of that said, there's no reason to avoid using the circular saw – provided that you do so carefully. Let's take a look at how you might get the best from this powerful piece of machinery.
Read more after the jump: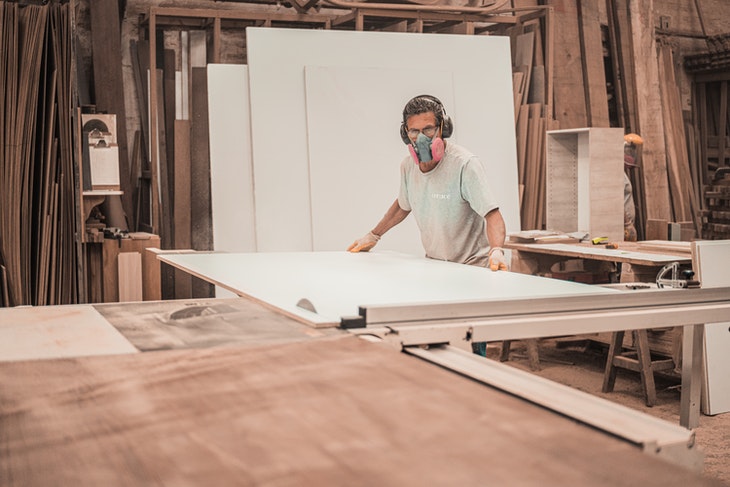 A Note on Blade Guards
At the top of your saw is a protective shield called a blade guard. This is there to prevent you from touching (or falling on) the blade from the top. It's not a substitute for basic safety and caution, however. It's also important to note that there isn't a blade guard on the underside, so make sure that there's an empty space beneath.
How much power do I need?
The power you need in your saw will depend on the sort of timber you're cutting. The thicker the wood, and the denser the grain, then more power you'll need. Timber is a material made from thousands of tiny fibres which can easily bind a blade that doesn't have the power to push through. Moreover, an underpowered motor will heat up rapidly and eventually burn out. As such, investing in a high-wattage saw of 1500w or more will typically pay off in the long run. At the same time, you'll also want to limit the depth of your saw to reduce the risk of binding and other problems.
What blades do I need?
The cleaner the cut you're looking to produce, the finer the teeth of the blade will need to be. At one end of the scale is a ripping blade, which comes with great big ferocious teeth; at the other is a fine-toothed blade with ninety-six or more teeth. If you try to slice thin, delicate pieces of wood, like laminate, with a coarse blade, then it'll be torn to pieces. On the other hand, if you try to slice a big piece of wood with a thin blade, you could easily be there for quite awhile. Select the blade that's appropriate for the job – and make sure it's sharp!
Do I need a guide?
If you're looking to create super-straight cuts without stress and hassle, you'll need a guide for the blade. This is effectively a long piece of material that restricts the lateral movement of the blade in one direction. When you come to cut, you'll just need to line up the timber and go. Of course, a solution of this kind isn't a substitute for a proper table-saw, but it's a great deal cheaper, and it will allow you to achieve respectable results without spending a great deal over the odds.
What Else should I consider?
The tidiness of your workspace will help you to avoid accidents. Keep an eye on trailing cables, and clear up any loose chippings regularly. SGS Engineering provide a handy list of tips that you'll want to keep in mind – they might save you from a nasty injury!
RELATED: How to Achieve Interior Perfection Through Some Basic DIY