Formline, Chevalier Morales, and Architecture49 have unveiled the most recent design developments for Saskatoon's new central library. The library is envisioned as a vital pillar in the reconciliation of Indigenous and Western methods of life and building in its vision, public program, design, and urban layout. The new central library in Saskatoon will be the country's first sizable public structure designed for the Reconciliation Era and beyond. The library will experiment with hands-on, practical places for people, books, media, children's theater, community cooking, sharing, and learning. It will also build bridges between spiritual and cultural ways of thinking. Discover more after the jump.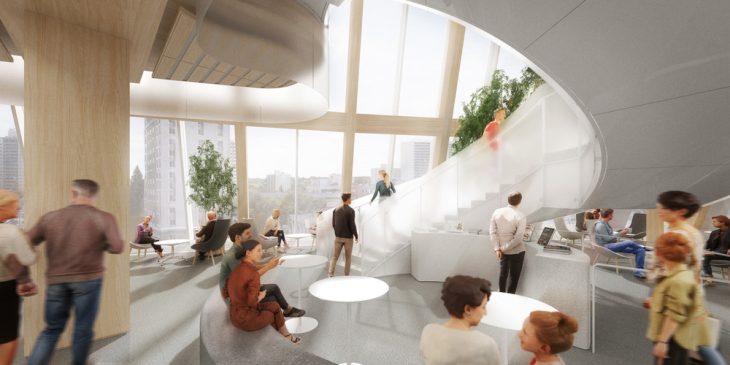 From the architects: With the highest ratio of Indigenous residents of any major Canadian city, and projections suggesting a majority Aboriginal and Métis population within 50 years, Saskatoon is the ideal location for such an ambitious library. With an Indigenous-led design team and renowned Canadian architects who specialize in contemporary library design, as well as extensive dialogue with Indigenous residents and the greater Saskatoon public, the library will provide a safe, welcoming environment for everyone. Indigenous Elders and communities will feel at home, as well as Saskatoon residents, Canadians, and international visitors.
Thoughtful urban and site design shape the 142,000 square foot library, which will play an important role in linking Saskatoon's green spaces to Remai Modern Gallery, street shops, and foot traffic along Second Avenue. Unlike other Canadian cities, Saskatoon has a lower park-to-person ratio. City-wide, there are 4.4 hectares of green space for every 1,000 residents, compared to 10 in Halifax and 42 in Calgary. This observation drives decisions on public space, building form, and cladding. 45% of the site will be landscaped public space at both the north and south ends. An oval plan geometry will allow the building to taper at the south end and shift to the west, defining a key public space for live reading, hanging out, and meeting for ceremony.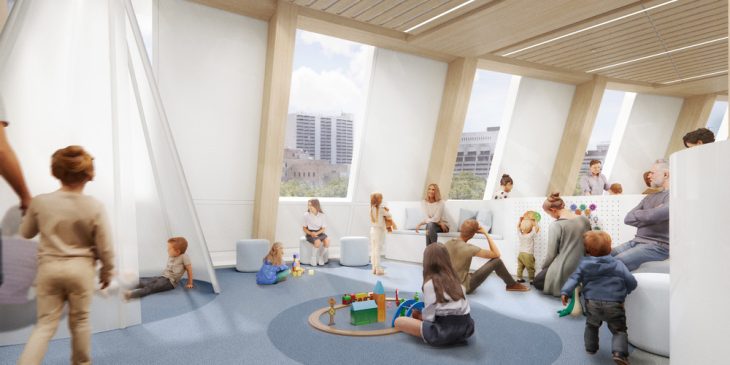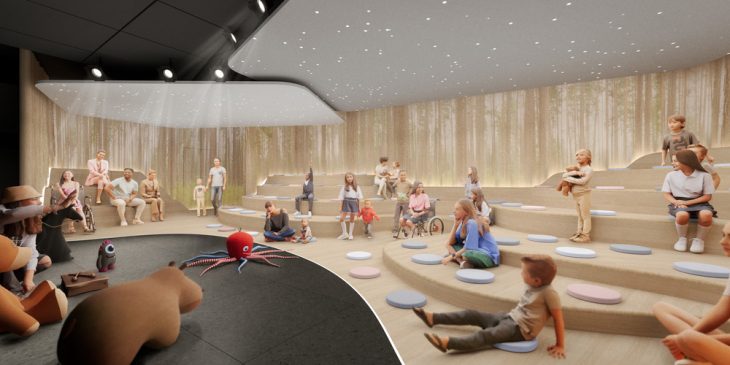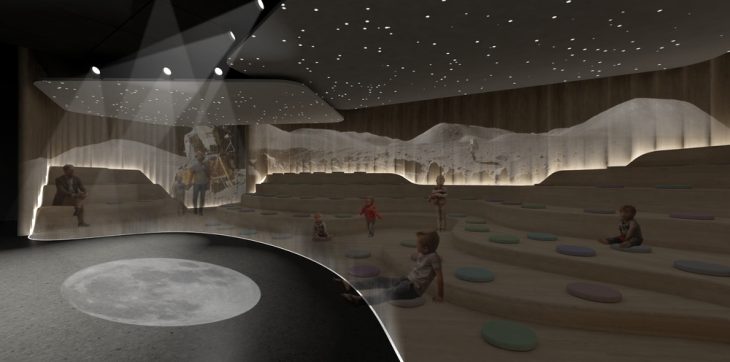 The geometry and plan strategies will be enforced in building sections along the triple-glazed perimeter windows along Second Avenue, which will step back with angled surfaces, evoking the iconic form, lightness, and luminosity of teepees. The transparent and translucent skin of the building will take advantage of and diffuse the crisp natural light of the prairies. Inspired by the Saskatchewan landscape and local architecture traditions, the library will also evoke the Métis log cabin with exposed glulam beams and a cross-laminated timber strategy that not only provides structure, but also psychic warmth.
The mass timber structure of CLT and glulam beams and columns will rise from a concrete plinth on the ground floor. Bearing on this and radiating out from the plinth are innovative glulam slab bands, set along the radii of the oval plan. The glulam bands will redefine wood construction at a large public scale. Angled glulam columns will run along the public elevation on Second Avenue, where the leaves of lapped glass panels are located, providing air intake for natural ventilation.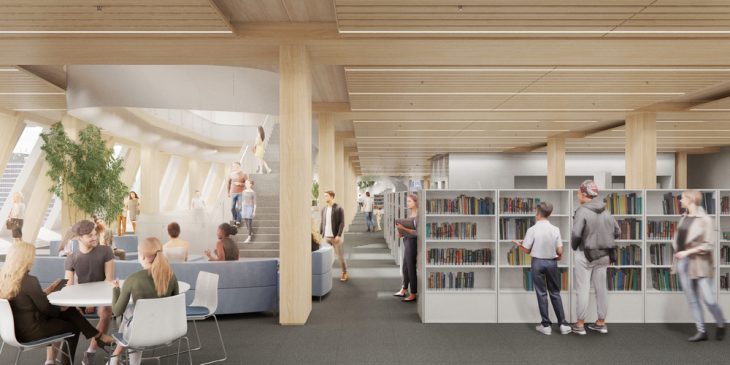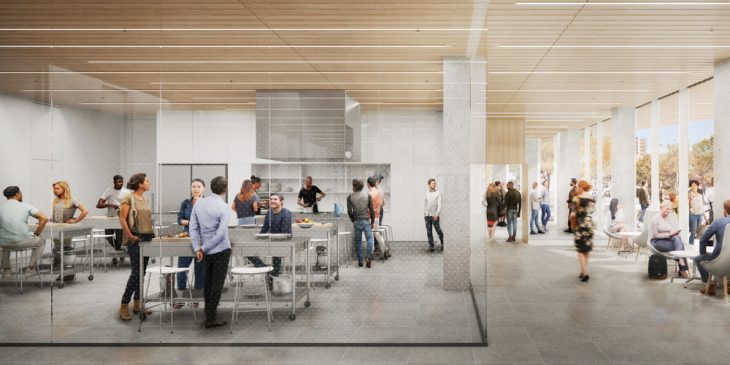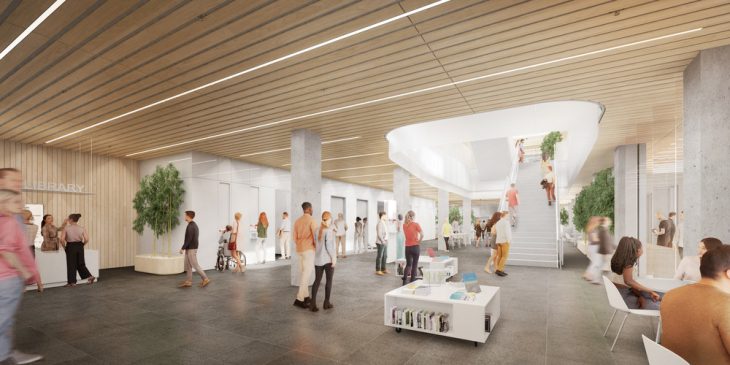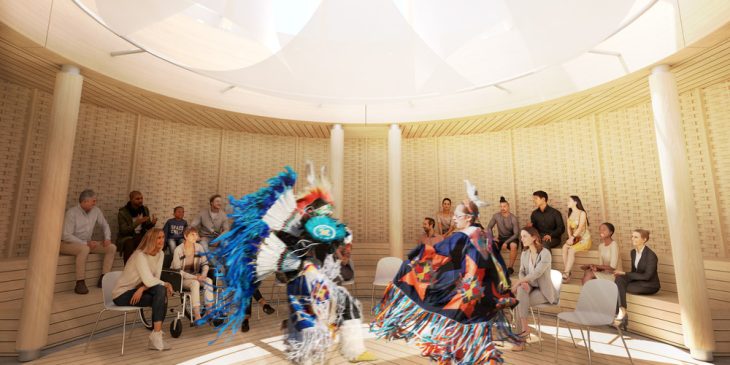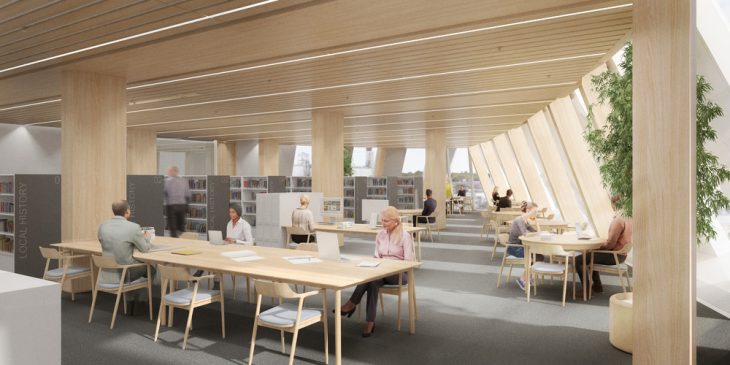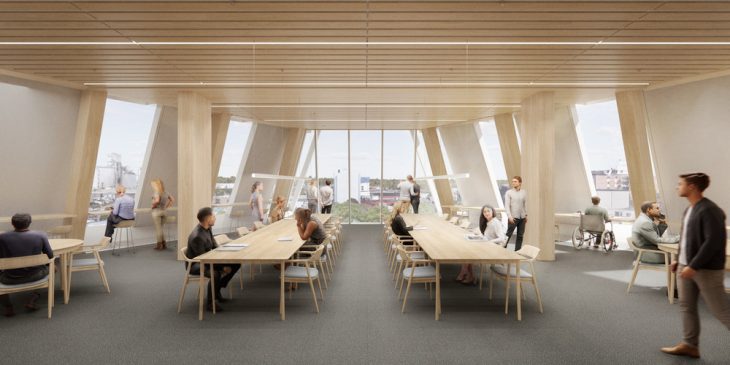 The architecture team has created major contemporary libraries throughout Quebec and brings a deep well of knowledge to decisions on the layout and interiors of Saskatoon's new central library. Clever public spaces will be arrayed throughout the building, from a children's theatre, to a community kitchen and a bright learning and sharing circle. The library will also house book and media collections, multimedia labs, and cafés. Accessible entrances, luminous staircases, floor openings, and intimate circulation spaces will intertwine, allowing visitors to move freely, find books, and meet friends. Saskatoon's new central library will showcase the best of library design and community-building for the Reconciliation Era and generations to come.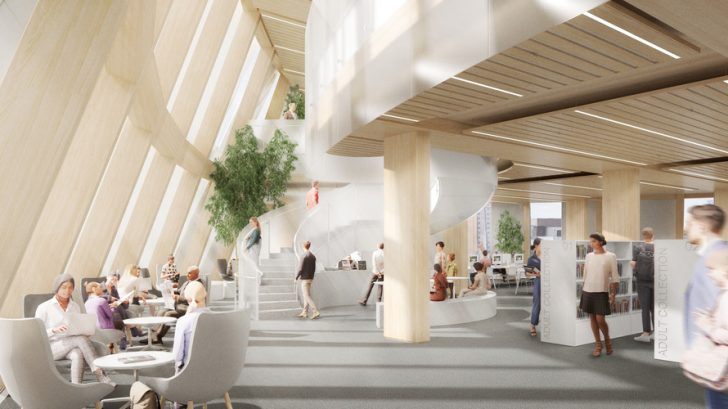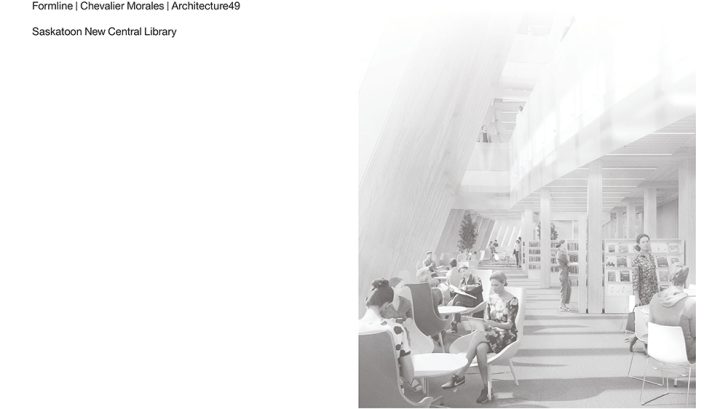 For more information visit www.formline.ca, chevaliermorales.com and architecture49.com