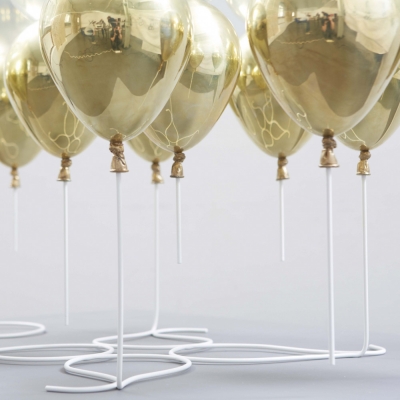 Project: The UP Coffee Table
Designed by Christopher Duffy for Duffy London
Website: www.duffylondon.com
The festive times might be couple of days behind us, but check out The UP Coffee Table designed by Christopher Duffy for Duffy London. We found this to be a perfect beginning of 2013 for us, Happy New Year everybody!
See more of the design after the jump:
From the Designer:
Duffy London design studio are pleased to introduce to you, the UP Coffee Table, designed by Christopher Duffy. Working with the illusion of levitation and buoyancy, the UP coffee table is a playful trompe l'oeil, giving the impression that a piece of glass is being suspended by small balloons.

This table is a limited edition of twenty, hand made in the UK, and designed without compromise to manufacturing processes, and so are extremely time consuming to create.

Growing old is compulsory, growing UP is optional – Bob Monkhouse.