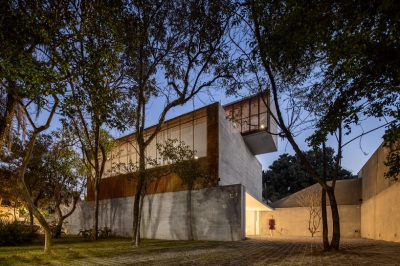 Project: Studio R
Designed by Studio MK27
Architect: Marcio Kogan
Co-Architect: Gabriel Kogan, Oswaldo Pessano
Interiors: Diana Radomysler
Team: Beatriz Meyer, Eduardo Chalabi, Eduardo Glycerio, Eduardo Gurian, Elisa Friedmann, Gabriel Kogan, Lair Reis, Luciana Antunes, Marcio Tanaka, Maria Cristina Motta, Mariana Ruzante, Mariana Simas, Samanta Cafardo, Suzana Glogowski
Collaborators: Fernando Falcon, Fabiana Cyon
Landscape Architect: Passe_Ar Verde, João Fausto Maule Filho
Structure Engineer: Leão E Associados, Eng. João Rubens Leão
General Contractor: Lock Engenharia, Eng. Marcelo Ribeiro
Air Conditioning: Grau Engenharia
Installations: Grau Engenharia
Gates: S. Naldi
Site Area: 338,15 m2
Built Area: 373,00 m2
Location: São Paulo, Brazil
Website: ultimasreportagens.com
Studio R project solution created for a location in São Paulo by Studio MK27 is marvelously shaped in three distinct volumes. The design handles the use of daylight in a contemporary way, matching the simple and modern display of the interior.
Find more images of the project after the jump:
Source Designboom. *