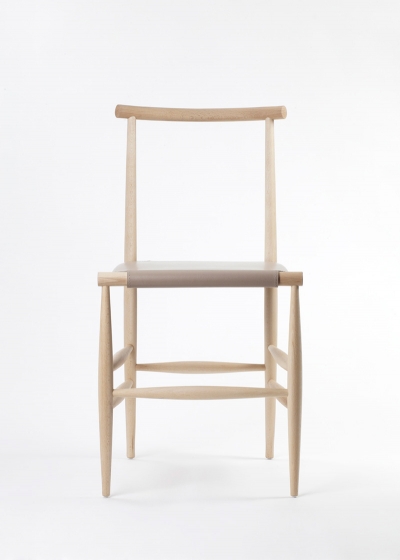 Project: "Pelleossa" Chair
Designed by Francesco Faccin for Miniforms
Website: www.francescofaccin.it & www.miniforms.eu
Photography: Andrea Basile
Designer Francesco Faccin is sharing with us his latest design, the marvelous Pelleossa chair made by Italian manufacture Miniforms.
From the Designers:
The "Pelleossa" Chair is designed by Francesco Faccin and produced by Miniforms from 2012. It is both a industrial and hand-crafted product. Hand-crafted because it is made with traditional materials and because it is definitely inspired by some great classics of Italian design of preindustrial era (the Chiavarina chair is an example for all). But it is designed with the logic of mass production, to be produced in series and to lower production costs at their minimum. The chair is in fact made with a single technology, conventional turning and "copy" turning that, indeed, copy a matrix usually made in aluminum (we used this in particular for the back and hind legs). The chair is turned with the repetition of only two diameters (30mm max and 15mm min). This optimizes the material to achieve it because you start with a constant diameter round poles that can easily be produced with standard machines. It 's very light. It's called "Pelleossa" (the word "Pelleossa" means "Skin and bones", it's like to say Skinny) because in fact is reminiscent of polished bones. "I really like bones because they are the result of a natural reduction process … and then they are a metaphor for the essential of a structure, are fairly minimal" Faccin says.