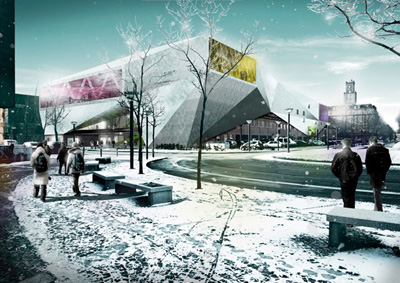 Project: Experimentarium
Designed by CEBRA
Location: Copenhagen, Denmark
Website: www.cebra.info
CEBRA designs the 6000 square meter Experimentarium winning proposal created for a location in Danish capital Copenhagen. Find out more about the project and view the equally impressive interior along with architects description after the jump:
From the Architects:
In cooperation with Wilkinson Eyre Architects, Orbicon, Die Asta and Kollision, CEBRA has won the competition for Fremtidens Experimentarium in Hellerup. The winning proposal is a strong and innovative project that expands the building volume by 6.000 m², renews the existing layout of the 16.000 m² big building and introduce an outdoor rooftop exhibition which includes a café, a garden and renewable energy installations. The building will also function as a cultural house for the Tuborg Quarter in Hellerup, and will, amongst other things, be fitted out with a new Flexible Stage that can accommodate 400 guests. The extension includes a new Exhibition Area, a new Education and Innovation Center, public workshops, a Multimedia Workshop, a new Café, a new Shop and a new Entrance Area.