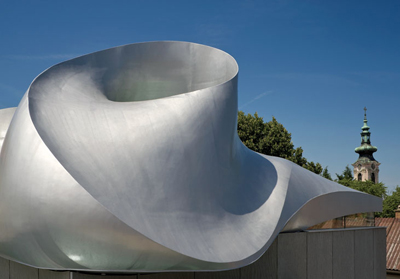 Project: Martin Luther Church
Designed by Coop Himmelb(l)au
Project Team: Steven Baites, Daniel Bolojan, Victoria Coaloa, Volker Kilian, Martin Neumann, Martin Jelinek
Project Architect: Martin Mostböck
Design Architect: Sophie-Charlotte Grell
Design Principal: Wolf D. Prix
Client: Association Freunde der Evangelischen Kirche in Hainburg/Donau
Location: Hainburg, Austria
Website: www.coop-himmelblau.at
World-renowned practice Coop Himmelb(l)au takes a modern approach while designing Martin Luther Church in the Austrian city of Hainburg on the site of a previously existing church. For more continue after the jump:
From the Architects:
On the site of a previously existing church i the center of Hainburg, Lower Austria, a protestant church with prayer hall, community hall and other spaces will be built.
On the level of form, the project is influenced on the one hand by immediately surrounding buildings. Its complex roof landscape variegates the architectural language of the saddleback roofs, which are common in the region, and of the roof of the romanesque ossuary close by. On the other hand, its individual geometry also expresses a certain spiritual symbolism, like with the prayer hall in the shape of very large table. Three skylights resting on the four legs of this table are inserted in the roof construction.
On the side of the main road the church has the most transparent and open appeal; its folded, zigzagging glass facade invites the visitor in the high prayer room. Yet its intimacy is conserved by a symbolic wooden wall, standing free just behind the glass facade. An illuminated cross-shaped opening in this wall projects the message of the church in the urban space.
From the prayer hall the visitor reaches the daylit, glass-roofed children zone and the baptistry. Behind, the community hall is situated. large folding doors between the two large halls allow to open and join the whole spatial sequence to one continuous space.
A third building component at a smaller alley is situated next to the two main halls and houses the sacristy, the pastor's office, a small kitchen and other service spaces. A disability-friendly ramp leads between the buildings to the community garden.
The fourth element of the ensemble is the delicate sculpture of the bell tower on the forecourt.