Phase Three, a key part of the regeneration of the Battersea site, has been designed by Gehry Partners and Foster + Partners and includes new homes and a new high street, known as The Electric Boulevard, in an area to the south of the landmark Battersea Power Station.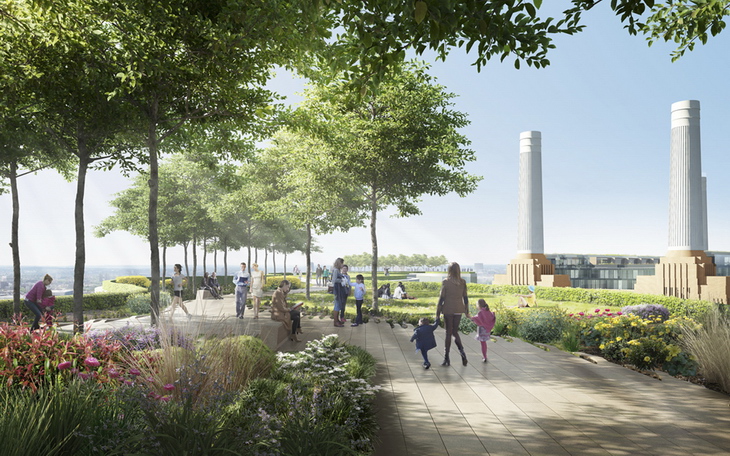 From the Architects:
The Electric Boulevard will be the main gateway to the 42-acre development, connecting the Northern Line Extension station with the Power Station. The phase includes more than 1,300 homes in a range of sizes and styles in two zones on either side of the boulevard, as well as a 160-room hotel, retail spaces, restaurants and leisure facilities.

Gehry Partners has designed the five buildings to the east of The Electric Boulevard known as "Prospect Place", which comprises around half of the planned residential units, double-height retail spaces at street level, a community park and multi-use community hub, and the distinctive "Flower" building.
Foster + Partners has designed the undulating building to the west of The Electric Boulevard called "The Skyline", which brings together the other half of the planned homes, including 103 units of affordable housing, in addition to a medical centre and 160-room hotel. Two floors of retail front on to the western side of the street, while generous breaks in the façade allow daylight to reach the public spaces below. The entire top of the building is laid out as one of London's largest roof gardens – over a quarter of a kilometre long, the garden will have views of the Power Station, river and city beyond.

Rob Tincknell, CEO of Battersea Power Station Development Company:
"We have set out to make Battersea a showcase for the world's very best architects and the designs we are unveiling today demonstrate that commitment in action. Phase Three is an important part of our plans for the Power Station site, creating a new thoroughfare which will be at the heart of the new vibrant community. We are determined to create a genuine sense of place, and developing landmark buildings in which people are proud to make their home and work in is vital to us achieving that aim."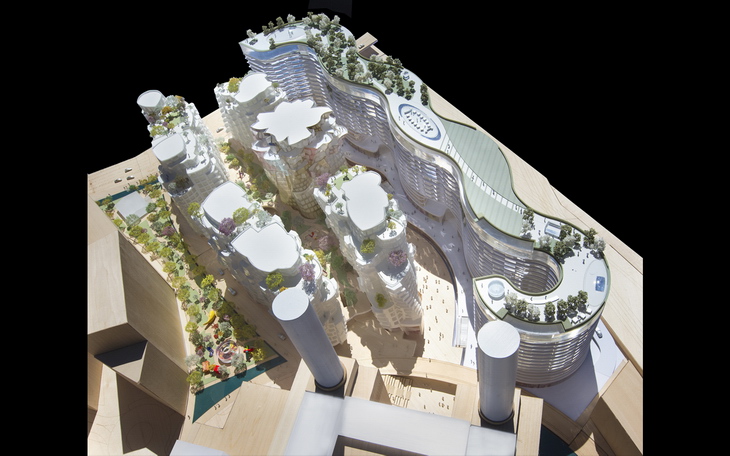 Frank Gehry, Founder of Gehry Partners:
"Our goal from the start has been to create a neighbourhood that connects into the historic fabric of the city of London, but one that has its own identity and integrity. We have tried to create humanistic environments that feel good to live in and visit."

Grant Brooker, Design Director and Senior Partner at Foster + Partners:
"We moved our own office to Wandsworth almost twenty five years ago – the Borough is very important to us, so we were absolutely delighted to be chosen by the shareholders of Battersea Power Station to be part of this inspiring regeneration project. It will transform the area and create a vibrant new district for South London that we can all be proud of."

Ed Vaizey, Culture Minister:
"Battersea Power Station is an iconic site and the unveiling of this exciting new design by Frank Gehry and Foster + Partners will ensure the development of this former industrial site will put Battersea on the world stage once again. The plans for a new high street for the capital show that London continues to attract the best in terms of architecture, design and innovation."
Project: Battersea Power Station Development
Designed by Gehry Partners, Foster + Partners
Location: London, United Kingdom
Website: www.fosterandpartners.com & www.foga.com