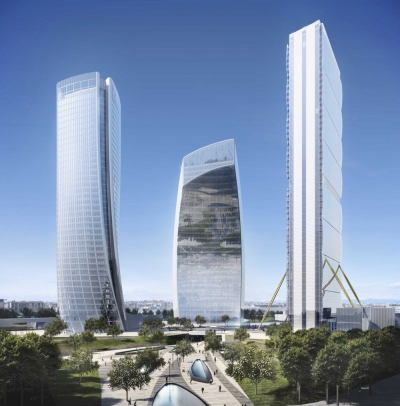 Project: Citylife in Milano
Designed by Zaha Hadid Architects
Office Tower: 65 000 m2
Retail Galleria: 25 000 m2
Housing Complex: 45 000 m2 and 300 units
Location: Milan, Italy
Website: www.zaha-hadid.com
The impressive Citylife in Milano towers project set to reshape the skyline of Italian fashion capital comes from the drawing board of the prolific Zaha Hadid Architects. Discover more of the project after the jump:
From the Architects:
The high-rise as a building typology has historically been treated as a static, fixed strategy: a technocratic engineering solution governed by specific economic factors.

For this project, in a radical departure from tradition, we investigated the urban location of the tower as a portal or gate to the FieraMilano. We explored how the passage from the site to this gate could give shape to a torsion or vortex, a sense of dynamic movement, to inspire our design approach.

Moving from the ground datum of the Piazza Porta Fiera, the retail base of the tower slowly rises and twists, providing a pedestrian ramp with a bifurcation along its length, to service the galleria. This line of torsion continues to the tower, which releases its horizontal energy into a vertical, spiraling vector from the base to its crown, finally aligning with the snaking forms of the housing across the river.

Congruent with this movement, the tower is structured as a stack of equivalent, economically efficient floor slabs that incrementally twist around a vertical axis. Developing the dynamism of the building, this twisting is algorithmically controlled, so that each floor has a different yet fractional, relational angle to the one above and below.

All lateral forces are absorbed into a conventional, central core, while a radial display of columns support vertical load.

The views and panoramas provided along the height of the office tower move dynamically, sweeping from the Piazza Firenze to the Piazza Giovanni Amendola. Viewed from a distance, the building's exterior silhouette clearly demarcates an entry gate into a new, vital FieraMilano.

The residential area has been designed with meandering lines across the park, with one of the buildings serving to transform it into a series of intimate, semi-public gardens for residents' use.