Light design can make or break the interior of your apartment, and helping you do so are design lamps. In the recent years, perhaps thanks to various architecture Instagram inspiration pages, we are seeing a massive come back of legendary design lamps. All of these lamp designs are more than fifty years old looking yet ready to look modern and cool ready for contemporary interior design.
Today, these iconic lamp designs are true investment pieces, while each can cost you several hundred to over a thousand dollars, if well preserved their prices are never dropping and thus these are true investment pieces of contemporary design.
ARCHISCENE Interior Design Editors round up five iconic design lamps you need to know about, and perhaps own: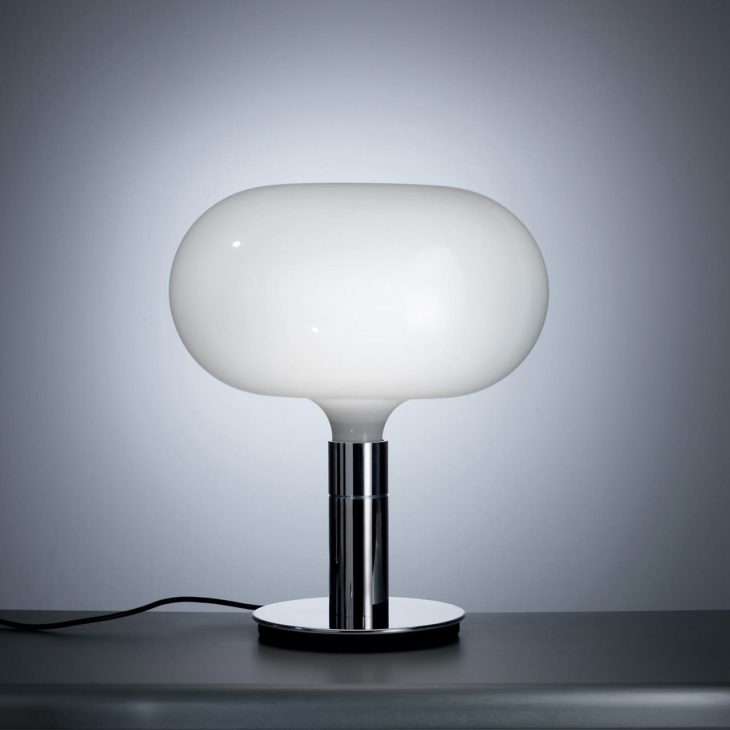 AM1N designed from Franco Albini for NEMO
AM1N is a simple table lamp with chromed metal structure, onion shaped diffuser shaped in opal white glass. The lamp comes with a dimmer attached to the cable.
This timeless lamp was designed in 1969 by Italian architect Franco Albini, Franca Helg, Antonio Piva and Marco Albini. The lamp was directly inspired by the timeless style of Bauhaus.
Approximate Pricing: 1200USD
1953 Lamp by Ostuni and Forti for OLUCE
The lamp is to this days one of the instantly recognizable lighting designed from light manufacturer Oluce. Created in 1953 the latest re-edition was dropped in 2019. This timeless model is work of
The lamp was reissued in 2019, this iconic 50s lamp design is created in two models, as a floor and table lamp, while different in their proportion and size the design is identical. The design masterfully reflects the timeless design sentiment coined in the early 1950s. Ostuni and Forti are known for their clean and linear design language successfully surviving as modern almost 70 years later since the lamp was first manufactured.
Approximate Pricing: 1500USD floor lamp; 900-1000USD table lamp