Atelier Štěpán has recently completed Winery Přátelé Pavlova (Friends of Pavlov) in Pálava, inspired by the construction of simple barns and the stunning landscape of vineyards that surrounds it. The winery integrates with the landscape by being partially immersed in the ground and having a green roof that follows the slope of the terrain. The concept addresses the relationship between current technology and ancient ideas, including natural components into the design and referencing ancient architrave and entablature in its tectonics.
"I designed the winery after my stay in the Mediterranean; it reflects the Mediterranean culture and sun. And it is a logical connection because the Romans once established vineyards in Pálava. Pavlov and wine are one and the same."
The building's design utilises natural influences (shading, roof overhangs, predominance of natural ventilation, material articulation, embedding in the terrain, water retention), complemented by a source of heat and cold.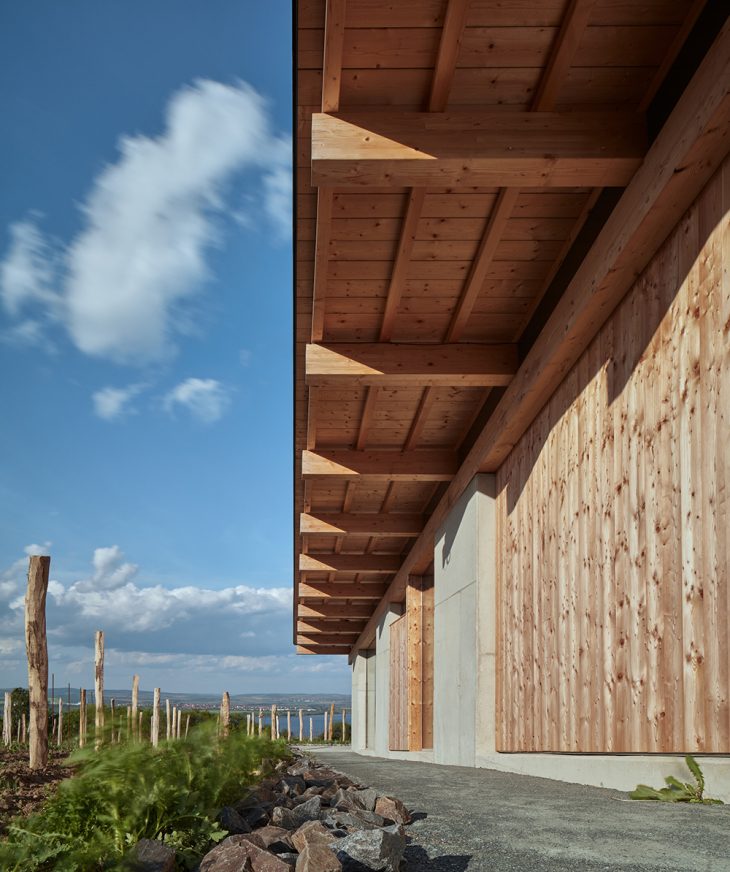 "Once, on an inspection day, while removing the building's concrete pillars' formwork, I noticed a connection between the pillars' archetypal expression and the silhouette of Děvičky Castle on the neighbouring hill. This connection was a powerful experience for me, enriched furthermore by the passion of the winery's builder Pavel Konečný (Bystroň Group). The inspection days were refreshing in such a beautiful place and with the aforementioned context."
The building's tectonics are modeled after classical entablature and architrave. A timber roof comprised of components that are piled perpendicularly is supported by cast concrete pillars with limestone as an admixture. The components get more delicate as one ascends. To seem as part of the surrounding environment from a distance, the roof itself is vegetated.
"There is beautiful traditional architecture in Pavlova. Contemporary and modern architecture has only come to Pavlov in recent years, for example in the form of the archaeopark or this winery."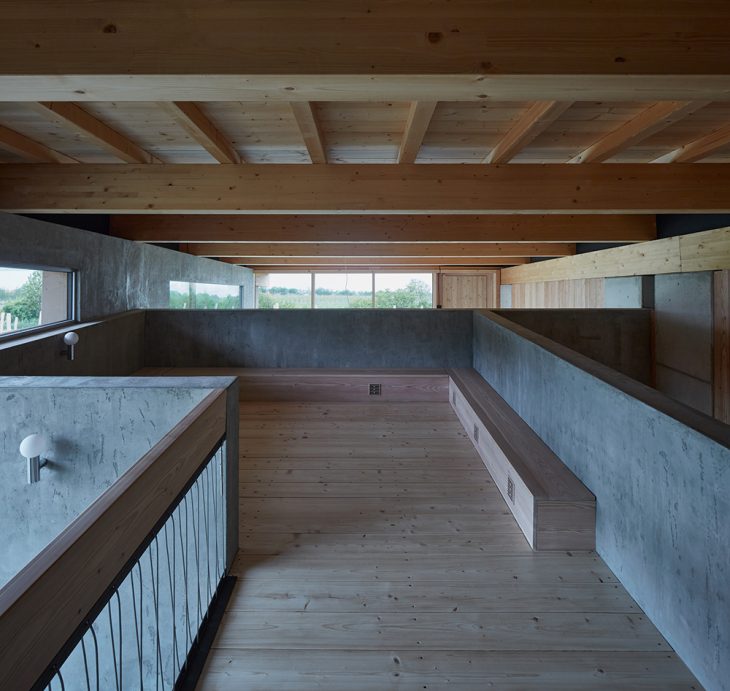 At a time when spectacular wineries are being built, this one instead turns to naturalness and straightforwardness. Visitors are given one tasting room with a view of the castle and the water. Everything else is used for wine production and storage.
Studio: Atelier Štěpán – www.atelier-stepan.cz
Author: Marek Jan Štěpán
Studio address: Kremličkova 6a, 621 00 Brno – Řečkovice, Czech Republic
Design team: Jan Vodička, Marin Kopecký, Dalibor Klusáček, Jan Martínek, Alena Dvořáčková
Project location: Slunný vrch 333, 692 01 Pavlov
Project country: Czech Republic
Project year: 2019
Completion year: 2021
Built-up Area: 720 m²
Plot size: 6500 m²
Dimensions: volume 4200 m3
Cost: 1,5 mil. €
Client: Přátelé Pavlova
Photographer: BoysPlayNice – BoysPlayNice
General contractor: Bystroň Group [Pavel Konečný]