Recently opened Hotel Adriatic in Rovinj (Croatia) was redesigned by the talented creatives at 3LHD Architects. While reshaping the interior design of the hotel the architects mixed modern design with inspiring art. The building housing the hotel was designed in 1913, and was one of the first hotel in the region.
RELATED: FIND MORE HOTELS ON ARCHISCENE
By a comprehensive reconstruction and a collective effort of creative artists from Croatia, Slovenia, Austria, Italy, Germany and France, gathered around 3LHDs concept, the hotel was transformed into a luxurious focal point of the city. Traditional, authentic historical appearance was maintained in the exterior, while the new interior designed by Studio Franić Šekoranja with 3LHD is visually lavish, eclectic, modern, classic and elegant, with an abundance of texture, shades and colours. When designing the interior concept the emphasis was placed on creating the atmosphere and aesthetics rather than the restoration of the original interior. The main characteristic of the interior are site-specific art installations, complemented with smaller works that are placed throughout the space, whose authors are well-known international artists. The entire hotel art collection consists of more than a hundred pieces of museum value which will be enjoyed by curious guests looking for a different experience. The artists and art pieces were selected by curator Vanja Žanko. The artists used various media and were united on the project by an active wish for a deeper connection with the space and activation of locality and its heritage value. The creation of site-specific art works required a constant fine-tuning and testing of their own practice from the artists, and the work on this hotel represented a true collaborative challenge for all of the participants.
Each area in the hotel was treated individually and emanates a different atmosphere: the brasserie is comfortable, in Mediterranean shades and intertwined with the scenery, black hallways are illuminated by artistic light installations leading to white and airy rooms overlooking urban life of the old town. Dark mirrors on bathroom room walls negate space and make classic rectangular ground-plans "anti-classic". – from 3LHD Architects
For more of the impressive hotel continue after the jump: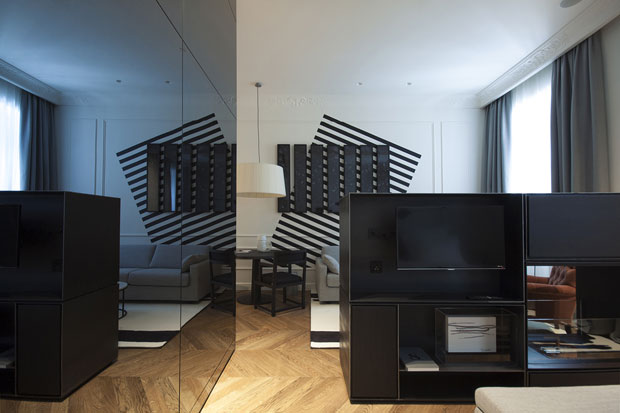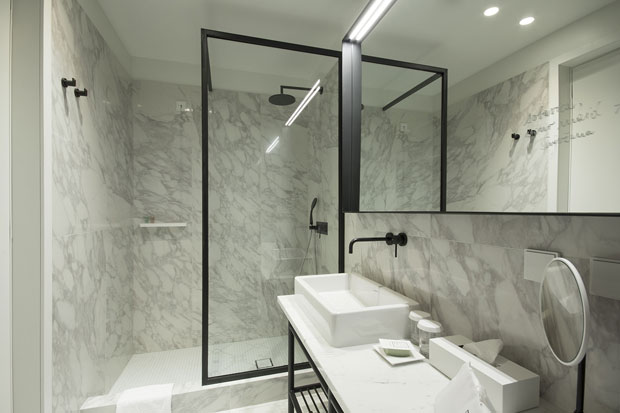 Photos above – Sinisa Gulic

Photos above Sofija Silvia
Fact sheet: Hotel Adriatic
Project number: 233
Project name: Hotel Adriatic
Program: leisure, tourism
Status: completed
Project start date: 31.03.2014.
Project end date: 01.06.2015.
Construction start date: 28.01.2015.
Construction end date: 01.07.2015.
Address: Trg maršala Tita 5
City: Rovinj
Country: Croatia
Geolocation: 45°4'54" N, 13°38'4" E
Type: commission
Site (m2): 821
Size (m2): 1911
Footprint (m2): 821
Level (m): 2.12
Client: Maistra d.d.
Budget: 3290000€
Clients' project manager: Abilia d.o.o.
Concept and architecture: Studio 3LHD
Interior design: Studio Franjić Šekoranja with Studio 3LHD
Art curator: Vanja Žanko
Participating artists: Abdelkader Benchamma, Jasmina Cibic, Igor Eškinja, Chris Goennawein, Kristina Lenard, Federico Luger, Charles Munka, Goran Petercol, Valentin Ruhry, SofijaSilvia, Saša Šekoranja, Massimo Uberti, Zlatan Vehabović, Žižić/Kožul
Project team: Saša Begović, Marko Dabrović, Tatjana Grozdanić Begović, Silvije Novak, Zorislav Petrić, Dijana Vandekar
Project team collaborators: Nives Krsnik Rister, Nevena Kuzmanić, Ivana Šajn
Staff uniforms desinged by: Studio I-GLE
Visual identity and graphic design: Lana Cavar with Marino Krstačić-Furić and Ana Tomić
Art production management: Ana Cvitaš
Curatorial assistant: Antonella Boldrin
Special projects – kitchen: Zoran Divjak (Dekode d.o.o.)
Bill of quantities: Ivana Trobić, Renato Gulić (FOREL projekt)
Structural engineering: Krešimir Tarnik, Valentino Obajdin (Ured ovlaštenog inženjera građevinarstva Krešimir Tarnik)
Mechanical installations: Igor Karačić, Katica Pocrnja (Eksperterm)
Plumbing and drainage: Ivan Vajdić, Davorin Gržan, Suzana Nuić (Eksperterm)
Sprinkler installation: Branimir Samac (Sprinkler d.o.o.)
Elevators: Rok Pietri (Lift Modus d.o.o.)
Fire safety, health&safety project: Josip Radeljić, Milan Carević, Matija Žerjav (Inspekting d.o.o.)
Lighting: Ninoslav Kušter (ORTOFORMA)
Site supervision: Ramus d.o.o.
Main contractor: Radnik d.d.
Subcontractors: Bistra d.o.o. (construction), TM Elektroinstalacije d.o.o. (electrical installations), Instalomont Termocentar d.o.o. (mechanical installations), Vrh d.o.o. (plumbing and drainage), Adrion d.o.o. (finishing works), Ariš Jarc d.o.o. (carpentry), Internova d.o.o. (carpentry and custom made fittings), Apin sustavi d.o.o. (sprinkler)
Official web page www.3lhd.com.