ANTIPATIO project shared with us by Drozdov&Partners architecture office based in Kharkiv, Ukraine. Located also in Kharkiv is the project the architects shared with us, an impressive 130 square meter house built on a challenging location. The project was realized back in 2004 by architect Oleg Drozdov, dominant materials are aerated concrete blocks, pine, and profiled sheeting.
RELATED: Find more houses in our ArchiSCENE HOUSING Archive
The hilly landscape of Kharkov has a great influence on its urban structure. As a result, some the most challenging slopes have retained their rural character, although they are located in the immediate vicinity of the city center. "Anti patio" house was built in this kind of neighborhood. The terraced plot lies on the eastern slope of the hill, enjoying a 15-km panoramic view of the city. The steep relief determined a laconic arrangement of three "containers" (60 m2 each). The guest "container" is located on the lower terrace, while the upper terrace is occupied by two other "containers". The wooden bedroom "container" leans on the slope and on the metal common area "container".The wooden deck with an elongated rectangular swimming pool unites the cubic volumes into one single system. Though the house has two floors, it actually consists of one single room. Maximum openness of inner premises enables natural cross-ventilation. Besides, it is very convenient in case of having a lot of guests around at a time, and is especially welcome in hot summer. The two floors are closely interconnected. The ground floor serves as a day-time zone which has a direct access to the garden. The kitchen, the living room and the terrace with the swimming form the core where most daily activities take place. Although the ground floor is divided into zones, it still remains one common integrated space, with only one barrier – a partition wall, which holds a fitted home theatre on the side of the living room, and a cabinet with a sink and a working surface on the side of the kitchen. The laconic character of the exterior is preserved in the interior of the house. Thedécorisreducedtominimum and is mainly represented by its construction materials. – from Drozdov&Partners
All photos by Andrey Avdeenko. For more of the project continue after the jump: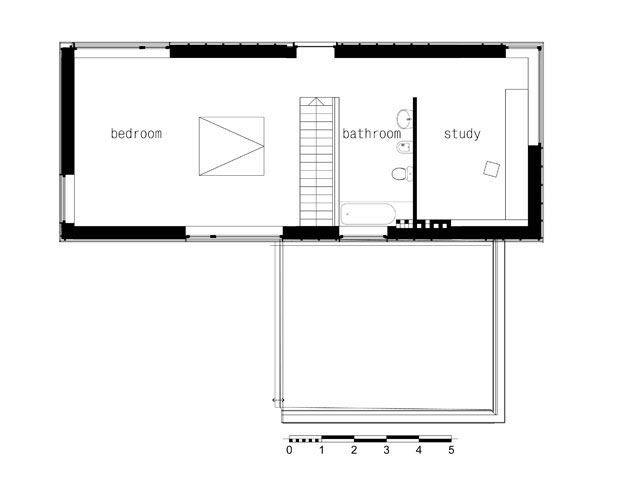 Further reading drozdov-partners.com.