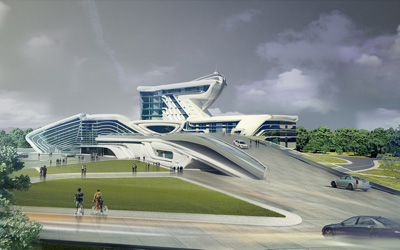 Project: Center for Development of Innovative Transportation Technologies
Designed by KO+KO Architects
Location: Kyiv, Ukraine
Latest shining example of parametricism in architecture comes with KO+KO Architects design of Center for Development of Innovative Transportation Technologies in Ukraine. For more images and architects description continue after the jump:
About the Project:
The basis of the architectural scenario is constituted by the principles of biomechanics. This style affixes to relation between form and function dynamically playful character, allocates structural elements as key details of the architectural plot. The style appealed to illustrate the basic idea of perception of the edifice – as huge living mechanism. Biorhythm of the mechanism includes an entire network of factories that produce new ideas, concepts, innovative technologies, which eventually become brought into reality. It expressively demonstrates a fact of reconciliation of chaos and order, "orderly chaos."
Seminal principles that define the specific form of the building:
– Demolition of actual standards with directed blast (creating chaos).
– Ordering of fragments
– Flowing the form through bionic impact
The left wing of the building has a courtyard with the economic turn pocket for easy movement of freight cars. Through the first branch the one can contemplate a provision of urban amenities, which also serve as a resting-place (in addition, it is close to the projected subway station). The first branch will actually serve as a transit point for visitors, yet the central axis of the building will serve as the main access to the facility. It separates the general layout on mentioned car park and provision of urban amenities. Car park is designed for 140 vehicles with a possible extension and provision of separate facilities for disabled people at the top. The new building will become a prominent symbol of the quay. It can be regarded as a stand-alone edifice or as a part built in accordance with the principles of sustainable development of the future "City Center".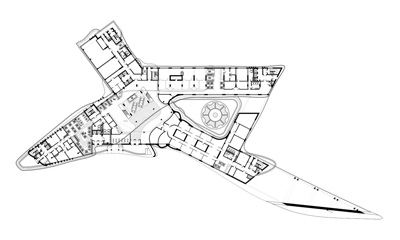 Despite the complexity of the volume, the Center fulfills a simple thought-out function. Initially, staff and visitors enter into the central atrium, which also performs as an exhibition space. From the public area there is a convenient access to the offices and conference rooms, auditoriums and restaurants, which can be accessed using the atrium elevators.
The Center for Development of Innovative Transportation Technologies has a symbolic meaning. It absorbed light energy, life energy, energy of breakthrough, caught the mood which should inspire our country to new solutions, new architecture, new life.
Source ArchDaily. *