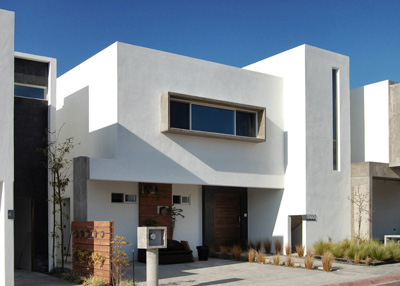 Project: Privet
Designed by T38 Studio
Project Team: Alfonso Medina Rangel, Alfonso Medina Ocampo, María José López, Rita Rangel, Mauricio Kuri, Oscar González, Alfredo Zertuche, Lucía Arroyo, Alina Castañeda, Roberto Pacheco
Collaborators: Adriana Medina, Sara Díaz, Sharlinee Ceniceros
Construction: Taller38
Site Surface: 6290 m2
Built Surface: 4500 m2
Location: Tijuana, México
Website: t38studio.com
T38 Studio shares with us their work on the contemporary shaped Privet project in Tijuana, giving a modern but warm sentiment to a family home unit. Discover more images and project info after the jump:
From the Architects:
Located on a 70,000 sq. ft. site in Tijuana, México, Privet is comprised by 18 single family homes that are designed to create unity and harmony in they're blending of building and landscape. There is a park in which people gather, which was one of the main objectives of the project, to create a community, it includes art installations by Jorge Mendez Blake and Emanuel Tovar. Due to the outburst of violence that has engulfed the city in the last couple of years, Tijuana is an endless cityscape of garage doors, fences and gates, which is why the divisions between the houses in Privet are made by vertical green walls of succulent plants.

The houses range range from 2400 sq. ft. to 2650 sq. ft. and the program is similar in all of them. On the first floor is a dining room, living room and kitchen with a family room, and on the second floor is a t.v. room and 3 bedrooms each one with they're own bathroom.