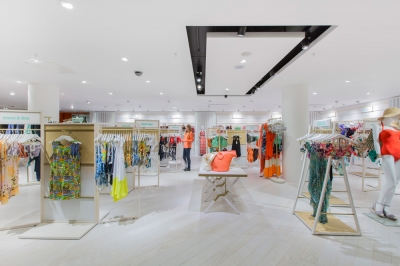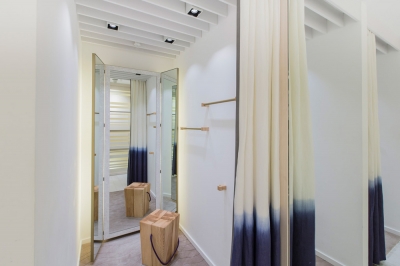 Project: Selfridges Beachwear Store
Designed by gpstudio
Location: London, United ingdom
Website: www.gpstudio.uk.com
Selfridges Beachwear Store's interior design gets a revamp with the help of the prolific architects at gpstudio and their specialist retail design consultancy.
From the Architects:
gpstudio, the specialist retail design consultancy, has completed its brief to help Selfridges give its Oxford Street 'Beachware' department a make-over. The store is now open, bringing some summer sunshine to Oxford Street in the winter months.
The new concept epitomises the spirit and duality of Hippie Chic meets Glam Tropez, making use of materials and fabrics which convey a sense of beach life. The space incorporates a lounge area for customers to relax alongside the product displays, and also has a dedicated accessories section.
The layout of the space is reminiscent of iconic beach promenades made famous by the beaches of Copacabana whilst the materials palette evokes the simplicity and glamour of the Rivieria. The design incorporates vibrant colours and rich textures against a neutral backdrop, as well as playing with the idea of contrast between light and shadow.
The idea of contrast has also guided the choice of materials, where raw outdoor finishes have been offset with luxurious details, fabric and movement. The pale palette of soft white planks and a sun-bleached floor provide a neutral backdrop for the colourful products, with warmer timbers used in the display units.
Gregor Jackson, Partner at gpstudio, says, "This was an exciting opportunity to create an entirely new space within one of London's most eminent stores. Our design transports the customer to the beach clubs of St Tropez whilst staying true to the department store's key values. The design captures the essence of beach life and brings a little sunshine to Oxford Street."
Sebastian Manes, Director of Womenswear and Accessories at Selfridges, explains his vision for the new department,"We have created our largest ever beachwear offer as, more and more, ladies lifestyles involve travel all year round. The new space offers the best fashion selection sourced from Australia, South America, Miami and the UK. The space is clean, which allows the product to be visible but with texture so it feels warm at the same time. It represents our edit of the very best beachwear in the world."