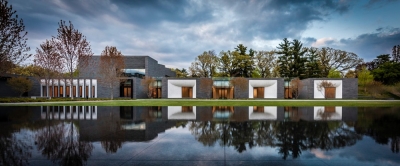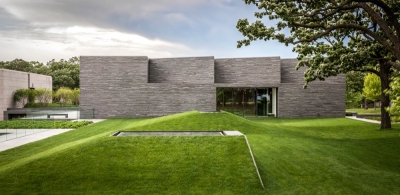 Project: Lakewood Garden Mausoleum
Designed by HGA
Area: 3 520 sqf
Location: 3600 Hennepin Avenue, Minneapolis, Minnesota, USA
Website: hga.com
Lakewood Garden Mausoleum is work of HGA architects, located in Minneapolis, Minnesota, it marvelously provides the long lost serenity with it's elegant design and green landscape.
From the Architects:
Built into the hillside to preserve the cemetery's pastoral quality, this elegantly simple design quietly embraces the landscape while offering a contemplative interior experience. The 24,000-square-foot, two-level mausoleum includes six crypt rooms, six columbaria rooms, three family crypt rooms, committal room, and support spaces. Clad in rough-textured gray granite and white mosaic-marble, the mausoleum unfolds horizontally on its site within three smaller pods that recall the many family mausoleums throughout the historic cemetery. Inside, light filters through skylights and lantern-windows to strengthen the relationship between the spiritual and the earth-bound.