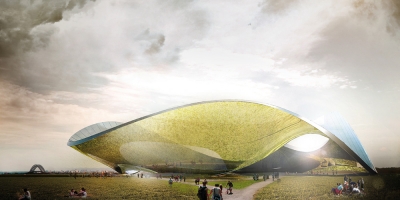 Project: Solar Loop
Designed by Paolo Venturella & MenoMenoPiu Architects
Design Team: Paolo Venturella, Gilberto Bonelli, Alessandro Balducci, Rocco Valantines, Mario Emanuele Salini, Pietro Bodria
Energy Technology: Thin Film Photovoltaic
Annual Capacity: 10 000 megawatt-hours
Location: FreshKills Park, New York City, New York, USA
Website: www.paoloventurella.it
MenoMenoPiu Architects share with us their project for Solar Loop pavilion designed in collaboration with Paolo Venturella studio. Shape of the building directly influenced by solar diagrams allows maximum exposure to the southern solar rays, resulting in an annual capacity of 10 000 megawatt-hours.
Discover more images as well as the architect's description after the jump: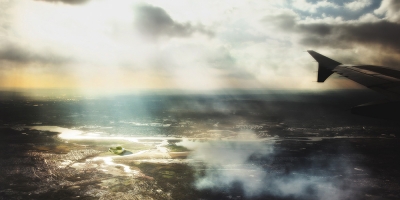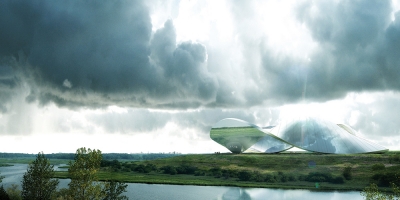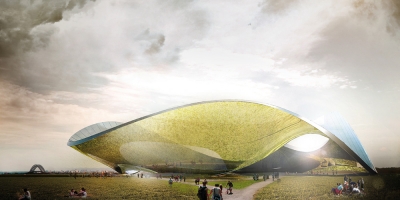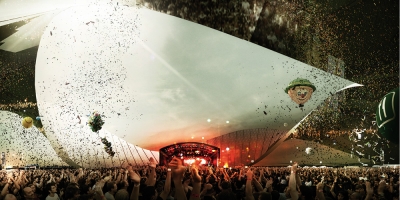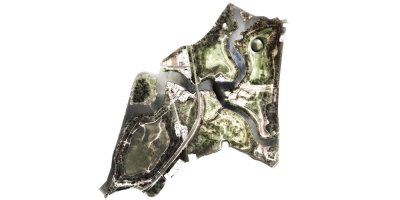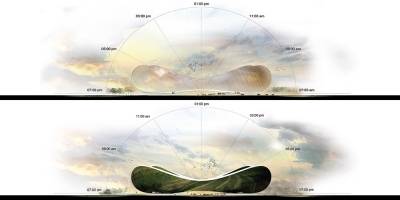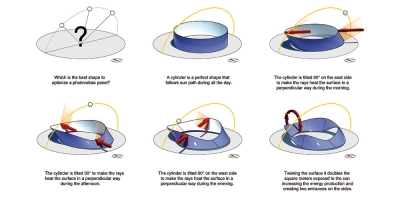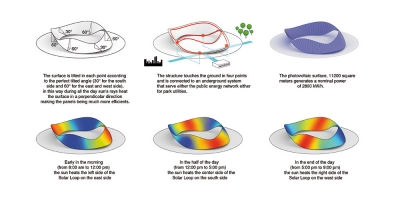 From the Architects:
The aim of the "Solar Loop" is to expose more surface as possible to the southern solar rays. The shape comes directly from the solar diagrams, and deals easily with the sun following it with the best angle almost like a frozen artificial sunflower.
The aesthetic of the sculpture is the result of this dialogue that becomes synthesis between the solar power and Freshkills park.
This landmark will organize the park life inside and outside.
Potentially it could be thought as a no-dimension element that could be multiplied in different sizes on the park's needs, to yield energy and living spaces.
Thinking in small it could be a shelter, thinking in big could be an arena to organize medium/big events inside such as concerts, sport events, speeches ; ready to be the new reference point for the park's visitors.
The "Solar Loop" is composed by two different surfaces that twist one into the other. The first one is the photovoltaic surface always exposed to the sun with the more performative angle, the second is the mirrored surface that reflects all the surrounding to multiply the spectacularity of the landscape as a single either multiple landmark.
The Freshkills' East area is the most sunny part of the park all the year long, and the easiest accessed park visually connected with the Manhattan Skyline.
"A solar catalyst, a crowd and cultural catalyst, it will be the park's nest".