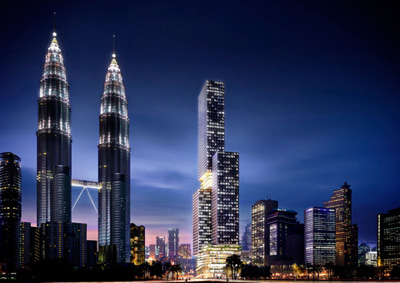 Project: Skyscraper Angkasa Raya
Designed by Buro Ole Scheeren
Design Architect: Buro Ole Scheeren, Hong Kong/Beijing
Client: Aurora Tower at KLCC Sdn Bhd
Construction Area: approx. 165,000 sqm
GFA: 90,000 sqm
Height: 268 meters; 65 Floors above ground
Location: Kuala Lumpur City Center, Malaysia
Website: www.buro-os.com
Skyscraper Angkasa Raya design in the Kuala Lumpur City Center located near the famed Petronas Twins Towers is work of Buro Ole Scheeren. For more images and their description of the project continue after the jump:
From the Architects:
Angkasa Raya, situated directly across from the well-known Petronas Twin Towers in the heart of Kuala Lumpur City Centre (KLCC), presents a new typology in high-rise skyscraper design that overtly expresses the inhabitation of diverse urban activities in a tropical environment and captures the vibrancy of the city's multifaceted culture.
Angkasa Raya is comprised of five distinct elements – three floating elevated tower blocks and two multi-level zones of open horizontal slabs – that are autonomous yet connected to one another in a uniquely stacked and shifting configuration of varied functional and urban typologies. Rather than competing with the Twin Towers in the form of another "twin" or blending into the surrounding context of singular towers on a podium, Angkasa Raya offers a new contemporary reading of the capital city and stands as an icon of the harmonious and dynamic balance of Malaysia's cultural multiplicity and diversity.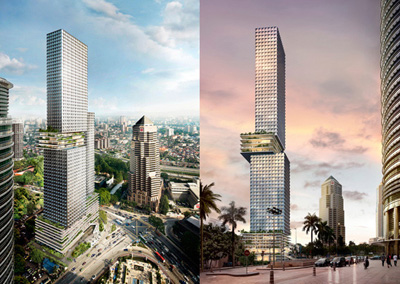 At a height of 268 meters over 64 floors, and 165,000 square meters of construction area, Angkasa Raya accommodates Premium Offices, a luxury Hotel, and high-end Service Residences. Each function occupies one of the three rectangular volumes which, through their mutual support and delicate balance, generate a unity that is both multiple and symbiotic.
The "Ground Levels", a series of open horizontal slabs, bring urban life into the building and unfold two interconnected spirals of vehicular and pedestrian circulation, mixing signature retail, restaurants/cafes, a food court, and prayer rooms with abundant outdoor greenery and urban streetscape. The plural trajectories weave through the open levels and offer multiple street-like experiences of interconnected urban activities, injecting public spaces into the heart of the building.
At the virtual intersection between the three tower blocks, 120 meters above the city, are four levels of tropical greenery and metropolitan activity: the Sky Levels. Catapulting the public energy of the Ground Levels skywards, a signature bar and restaurant with outdoor dining terraces, an infinity edge pool, as well as a multi-function banquet hall, business lounges and meeting rooms offer premium work and leisure space in a lush environment with spectacular elevated views of the dramatic skyline.