Project: Grane Museum Visitor Center
Designed by Huus Og Heim
Location: Grane, Nordland, Norway
Client: Hegeland Museum
Website: huusogheim.no
Huus Og Heim's proposal for the Grane Museum Visitor Center brings a very unique solution, besides the 500 square meter museum the desire was to develop an accompanying site with cabins along the river Vefsna.
For more images and architects description continue after the jump: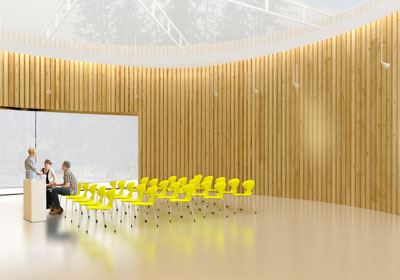 The proposal is a simple circular building volume that opens to the south, where the facade is dazzled with stacked firewood. the area has great need for a unifying grip. Using the museum and the programs related to museum operations as an anchor for the various sub-areas the situation can be improved. The concept aims to establish programs along the country yard and extend the path so that it forms a natural loop. Parking, camping and the exhibition area is anchored to the central building.
The museum building is performed with high environmental ambitions, and the applications enclosed in a circular energy efficient climate shell. The direction of resolving building form underscores the museum's function as a unifying grip for the whole area. Built courtyard path incorporated into the building.