ZIKZAK Architects have recently completed work on their latest office project in Prague, Czech Republic. The workspace concept is centered on a contemporary and streamlined design aesthetic, characterized by the integration of vibrant hues, luminous neon illumination, and sleek metallic finishes. The design team has meticulously crafted a captivating narrative, weaving together elements that revolve around the captivating image of a lightning-fast warrior. This motif takes center stage within the interior composition, creating a dynamic and visually striking experience. The main communication zones are adorned with encrypted references to the key character, subtly weaving his presence into the architectural fabric. This is achieved through the strategic incorporation of lighting elements, which serve as a tangible embodiment of his essence. The initiation of the adept combatant commences within the confines of the reception area.
Situated in close proximity to the reception desk, a well-appointed relaxation area beckons both employees and office guests with its inviting ambiance. The space showcases carefully curated accent decorative elements that add a touch of sophistication and visual interest. The selection of comfortable furniture enhances the overall ambiance, ensuring a harmonious blend of style and comfort.
The ubiquitous presence of the lightning-fast warrior archetype is evident throughout various contexts. It presents an unexpected assault of visually stunning effects. The theme is beautifully showcased in the lighting design, where slender LED profiles, carefully crafted neon compositions, and striking volumetric fixtures take center stage. Additionally, character lamps tastefully adorn various areas within the office, further enhancing the overall aesthetic. Each individual piece exudes a distinct artistic essence, brimming with imagination and unparalleled uniqueness.
The workspace exudes a serene ambiance, carefully curated to foster optimal focus and concentration among employees. The absence of excessively vibrant and attention-grabbing elements ensures a tranquil environment conducive to productivity. Within this curated collection, one can discover an array of modular furniture pieces, exuding a harmonious blend of form and function. These versatile creations effortlessly adapt to various spatial configurations, allowing for a seamless integration into any interior design scheme. Complementing these exquisite furnishings are the soft poufs, which not only provide a touch of elegance but also offer a comfortable seating option. Additionally, the inclusion of sound-insulated phone booths ensures a serene and private communication experience, shielding users from external disturbances. In the meeting rooms, the main character's presence is artfully conveyed through a captivating interplay of vibrant and saturated colors, thoughtfully curated textures, and distinctive lighting elements.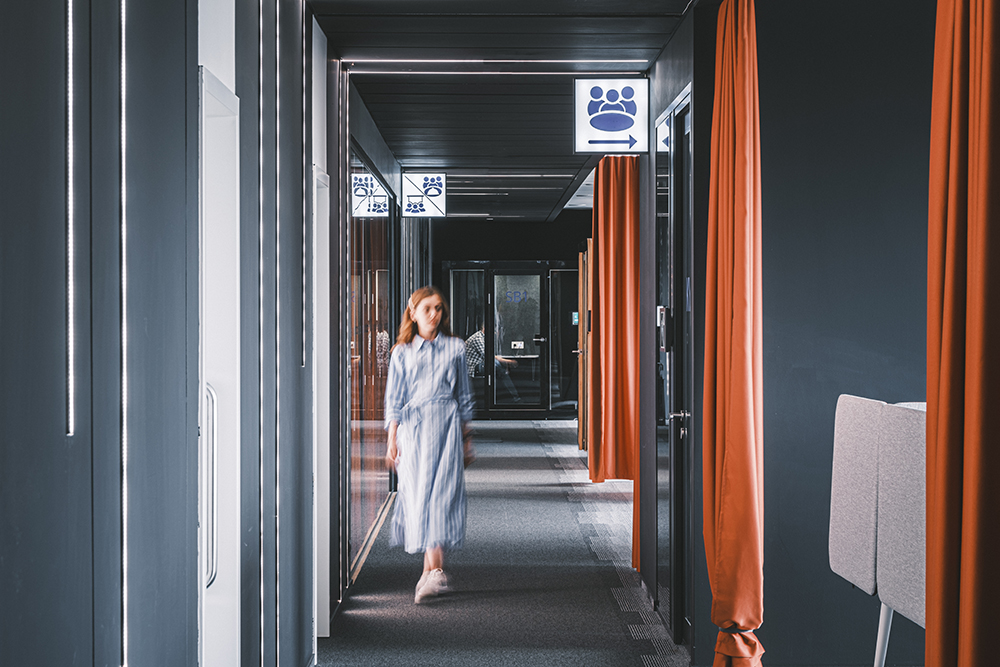 The textile curtains fulfill a dual purpose as aesthetically pleasing embellishments and effective visual dividers, delineating distinct zones within the office space. With their transformative nature, these architectural elements imbue spaces with a sense of profound change. Moreover, the fabric utilized possesses highly desirable acoustic properties, further enhancing the overall sensory experience within the designed environment. The vibrant accent conference zone is a spacious multifunctional area that offers versatility for a range of purposes, including lunch breaks, collective brainstorming sessions, and work presentations.
The office spaces have been thoughtfully designed with a focus on ergonomics and meticulous planning. A designated section of the space has been allocated for the purpose of accommodating lockers, thereby offering convenient storage solutions. The employees' personal belongings are thoughtfully accommodated within elegantly crafted, meticulously numbered compartments that have been purposefully designed for this very function.
ZIKZAK Architects skillfully transformed the client's vision of a functional and stylish office into a tangible reality. The resulting space goes beyond mere workspace, serving as a source of motivation, inspiration, creativity, and rejuvenation for the entire team. The adept guardian perpetually ensures the preservation of both the ergonomic well-being and operational efficiency of each and every employee.
Project information
Project name: Prague Office "Chromatic"
Interior design: ZIKZAK Architects
Project team: A. Apostu, V. Boychuk, M. Ternova
Principal architect: Anastasia Apostu
Design team: V. Boychuk
Project location: Prague
Project area: 737 sq m
Design year: 2023
Completion year: 2023
Client: IT company
Photographer: Prokop Laichter