The Genesis Corporation, a leading IT company known for its innovative approach to business, has partnered with ZIKZAK Architects to create a cutting-edge workspace that blends functionality, aesthetics, and technology. The result is the stunning Office for Genesis, a 2500 square meter workspace designed to inspire continuous improvement and promote work efficiency among its employees.
In an era where adaptability and skill enhancement are paramount, Genesis recognized the need for a workspace that encourages forward movement and skill development among its staff. To meet this demand, the company turned to ZIKZAK Architects, renowned for their ability to marry modern innovation with minimalist design.
The interior design of the Genesis office is a testament to this partnership. It seamlessly integrates industrial elements and minimalist aesthetics, combining natural materials and shades with bold, contrasting accents. The strategic use of black elements in furniture and lighting provides a sense of clarity and concentration while navigating the office space. A vibrant, sunny yellow hue, featured in walls, lighting fixtures, and even showers, infuses the workspace with energy and positivity.
One distinctive aspect of the office is its cabinet system layout, a rarity in modern office design. The heart of the space is the striking branded reception area, leading to a diverse transit zone with working and service areas strategically positioned along it. This approach enhances communication between different departments and maximizes natural lighting in each working zone. To optimize space further, entrances to cabinets are recessed, eliminating potential obstacles in the corridors.
Meeting rooms in the Genesis office showcase a variety of designs, catering to different moods and work requirements. Employees can choose from conservative minimalist gray rooms or vibrant cobalt blue-accented spaces. Some meeting room walls feature creative illustrations, ranging from humorous youth graffiti to playful references to classical frescoes. For brainstorming sessions, marker coatings on the walls allow for on-the-spot idea sharing and visualization.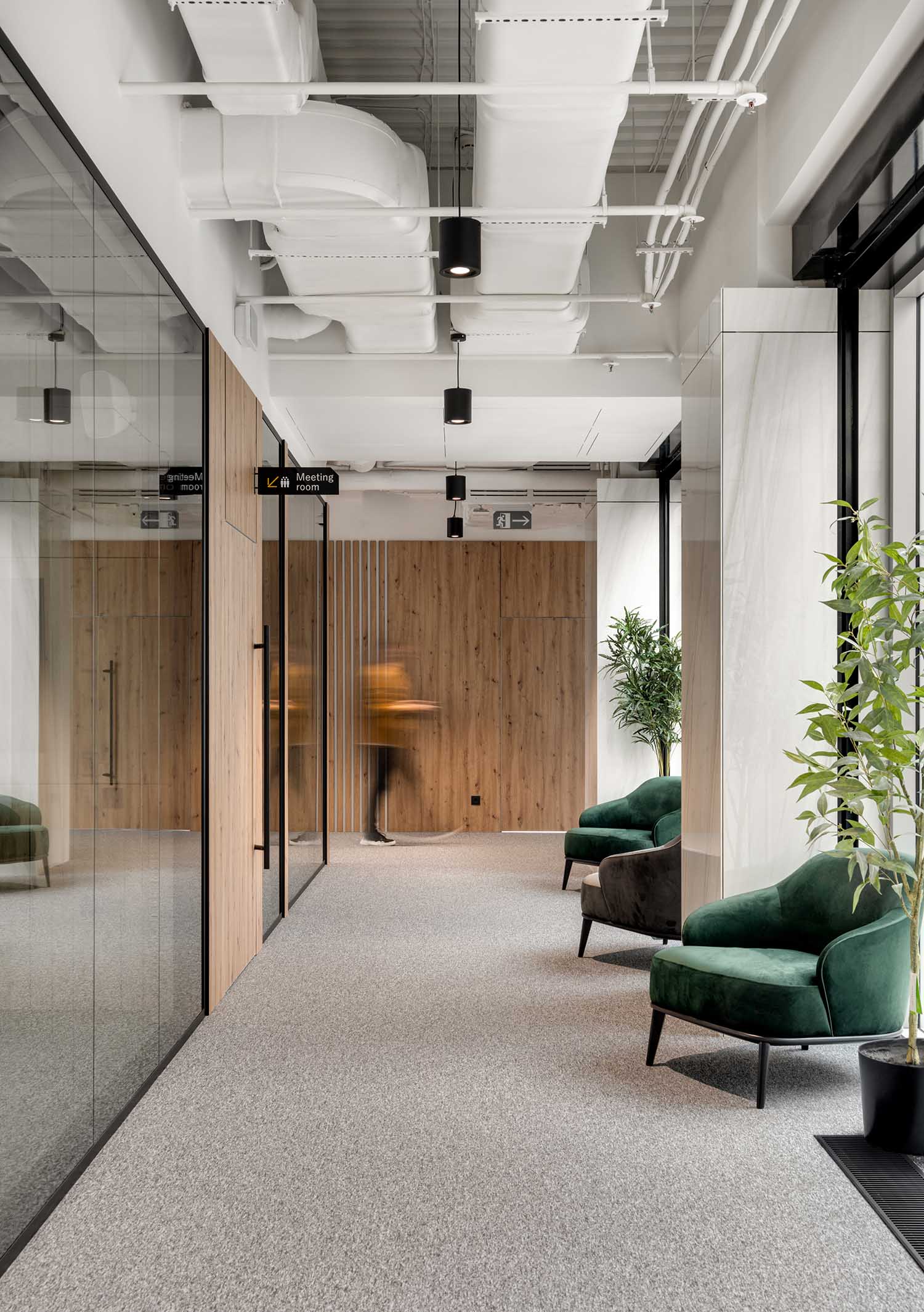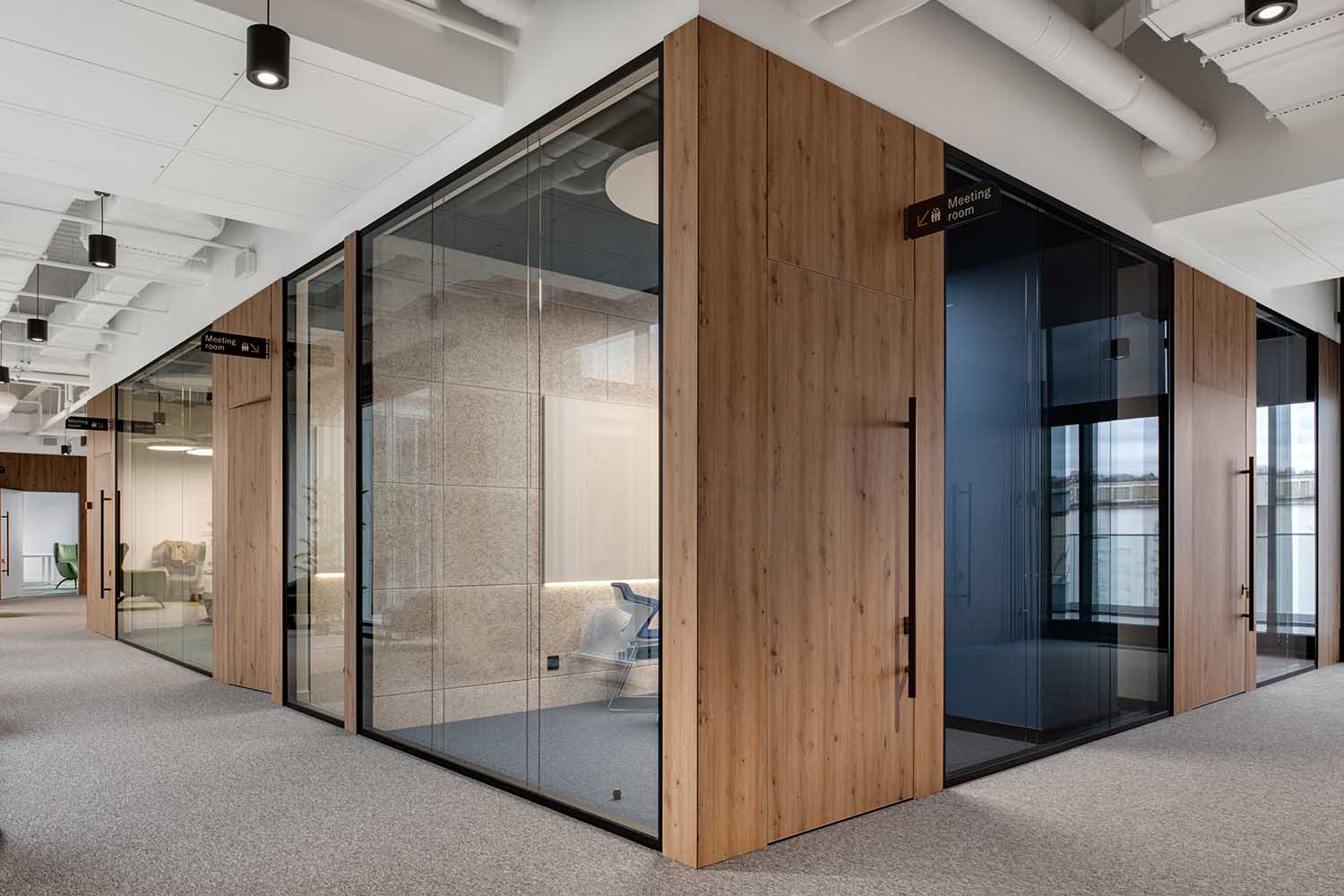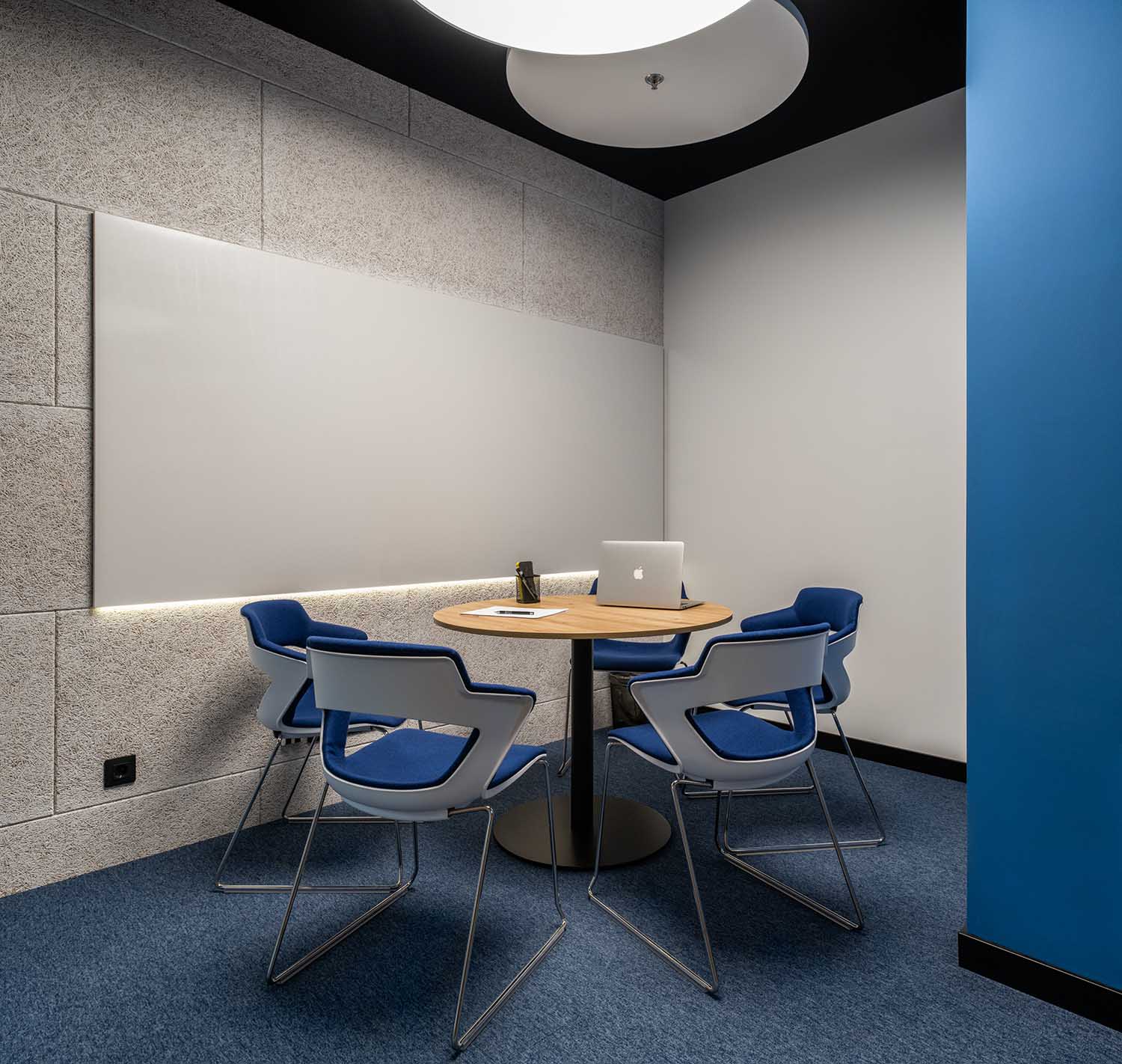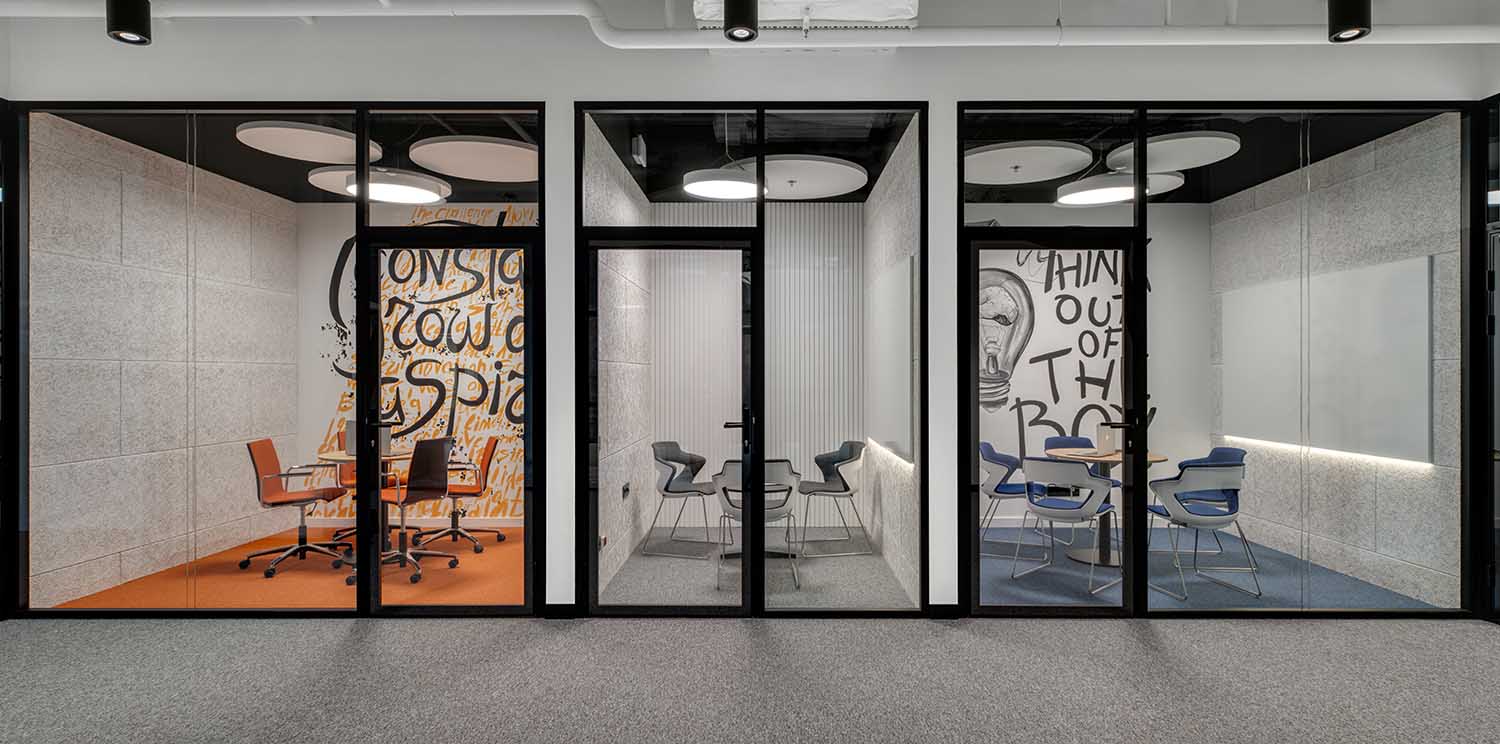 The office also boasts a spacious, modern kitchen with multiple seating areas, a coffee station, and state-of-the-art kitchen equipment. A smaller dining area, resembling a cozy restaurant, provides employees with dining choices that cater to diverse tastes and preferences. This emphasis on choice enhances employee satisfaction and, consequently, productivity.
To encourage relaxation and refocusing, attractive lounges are scattered throughout the office. Highlighted by wooden wall rails and lush green carpets, these spaces evoke the tranquility of a natural setting. Here, employees can take a break from work tasks and recharge in a serene environment.
The Genesis office has embraced the latest in smart technologies, including mobile workstations, facial recognition systems, collaborative tools, and smart lighting solutions. These innovations enhance employee comfort and contribute to the office's energy efficiency. The design of the light fixtures complements the industrial edge within a minimalist concept, while sound-absorbing panels reduce noise in open spaces.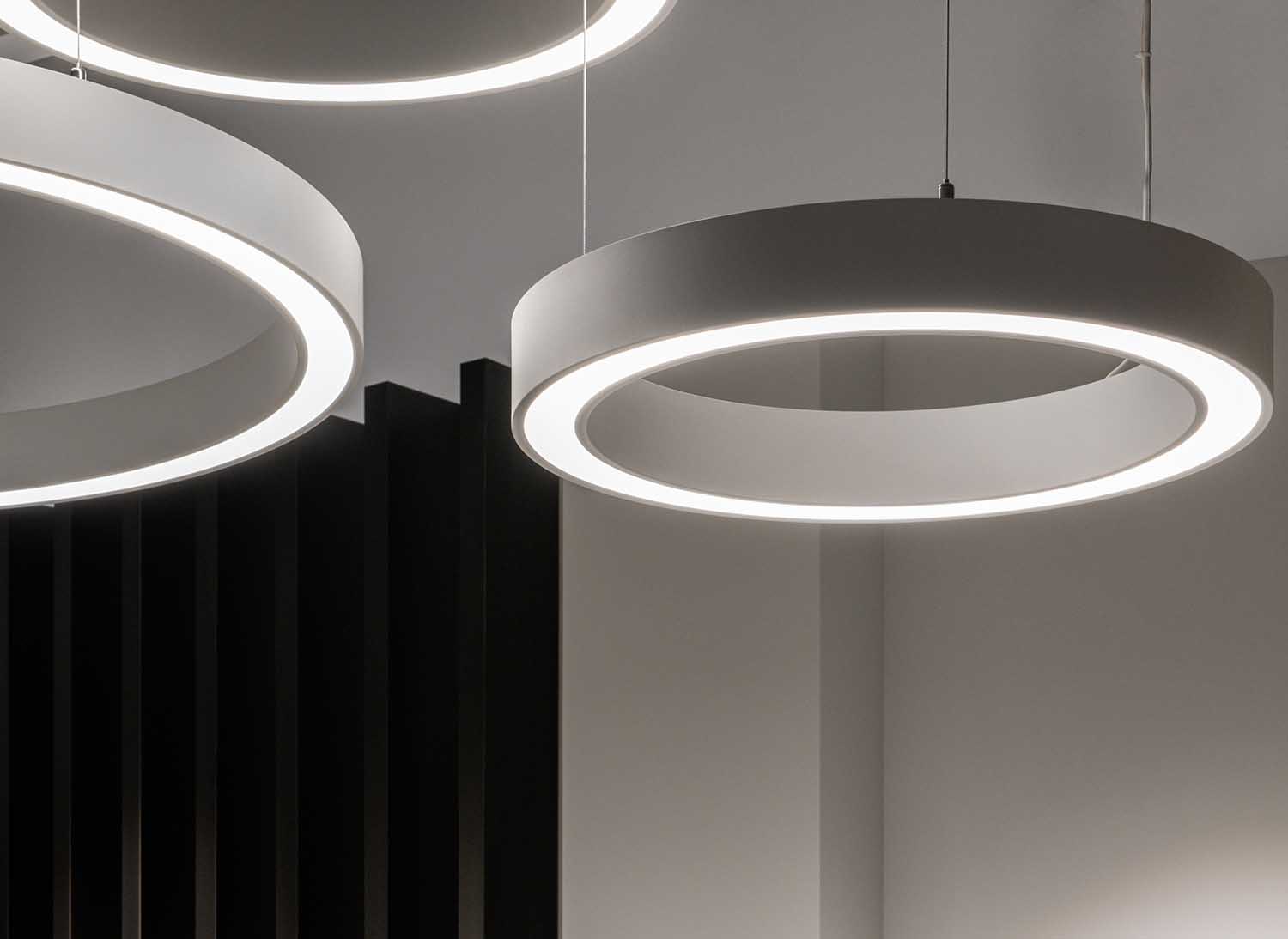 Clear and stylish navigation signs guide both employees and guests through the office, ensuring a seamless experience within the workspace.
In sum, the new Genesis office represents a modern, innovative, and efficient space that caters to employees' diverse needs. It offers a multitude of choices and incorporates cutting-edge technology, ultimately fostering a productive and inspiring work environment. With the space now fully realized, the Genesis team is already actively reaping the benefits of this forward-thinking workspace.
Project description:
Project name: Genesis office
Interior design: ZIKZAK Architects
Project team: A. Trofimenko, O. Kiyanko, Y. Karakozov
Principal architects: O. Konoval and A. Trofimenko
Design team: T. Panamarenko K. Yaroshenko G. Tynkaliuk, Y. Karakozov
Project location: Kyiv, Ukraine
Project area: 2500 sq m
Design year: 2022
Completion year: 2023
Client: IT company Genesis
Photo: Max Artbovich
Decor and plants: Altano outdoor concept, outdoor furniture store