The Paris head office of Le Betteravier Français, the trade publication for the sugar beet sector since 1952, have been completely reimagined by architect and designer Jules Brisson.
The space's limited use resulted from the fact that it was made up of small offices that led off a dimly lit hallway. The proposal was born out of a desire to eliminate these "boxes" and provide communal areas.
The magazine's editors felt a great distance from the beet fields they were writing about because they were occupying a portion of a 1970s building. Jules Brisson, who was greatly influenced by the commission, proposed redesigning the offices in a way that whimsically celebrates sugar beet: the floorboards are three different colors and resemble open fields; the textile wall coverings have a pattern inspired by views of the countryside; the mirrors and openings have organic shapes; the partition walls are curved like the horizon; the desks are pine trestle tables that resemble workbenches; and the tea corner is made of sheet metal and arm oured glass reminiscent of farm outbuildings.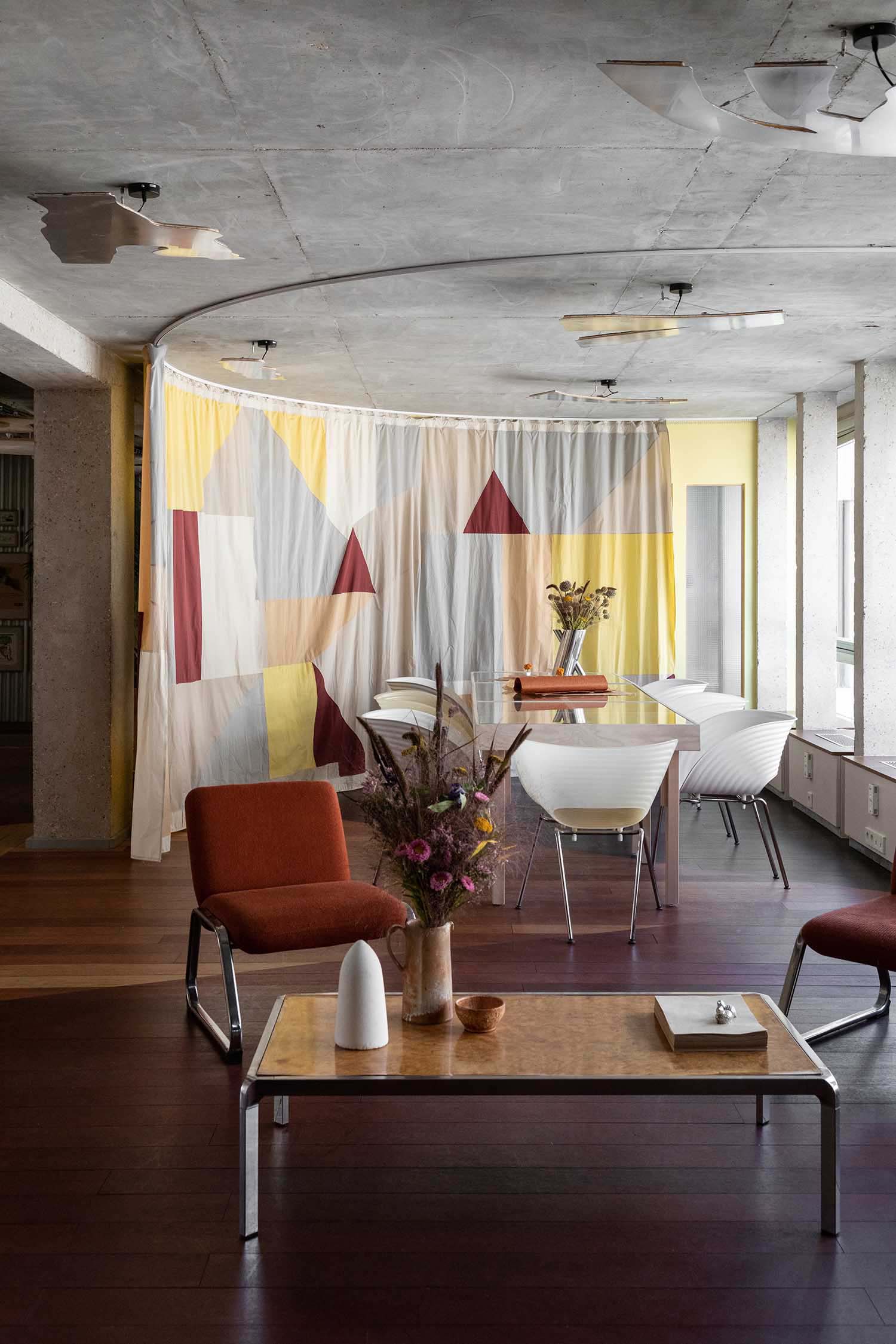 This unique space, created particularly for the editorial team, departs from the usual neutrality of workplaces and grounds itself in the distinctive heritage of beet cultivation. There are two elements to the fit-out. Semi-open offices look out onto the courtyard, while the conference room, kitchen, restrooms, printing station, archives, and reception look out onto the Rue de Naples. These functional spaces are joined together by the "landscape" floor motif.
Inside a building composed of unfinished concrete that has been left exposed, various materials, colors, and textures have been employed freely. The remodeling was done in response to the editors' new working methods, which include open-plan offices and spaces designated for staff meetings and informal socializing.
The offices are continuous floor-through spaces resembling fields, visual connections are made through "clouds" or reflections in lake-like mirrors, the partitions are curved like wheat in the wind, and the door handles have the firmness of a farmer's handshake. Jules Brisson has pushed the envelope even further. So for the editors, it's truly "back to the land"!
Project information
Name of project: Head office of Le Betteravier français, sugar beet industry trade magazine.
Type of commission: Complete renovation , Interior fit-out, Furniture design, Sourcing vintage furniture, Interior decoration
Architect, designer: Jules Brisson
Location: 45 Rue de Naples , 75008 Paris< France
Floor area: 215 sq.m.
Budget: 190,000€ + tax, 900€ + tax / sq.m.
Schedule: 2020-2022
Photos: bcdf studio
Find more projects by Jules Brisson: www.julesbrisson.com