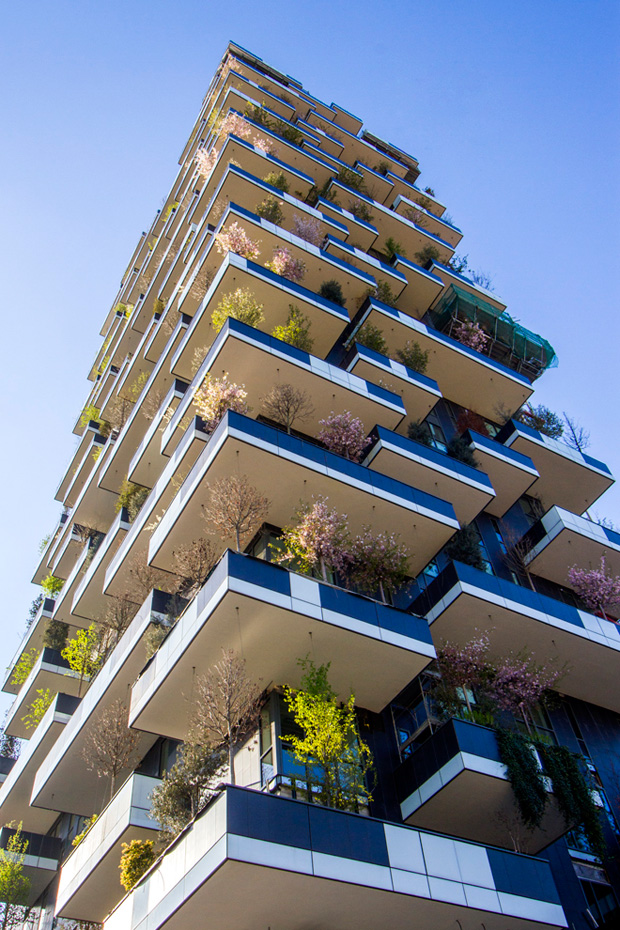 Bosco Verticale in Milan which changed the landscape of the famed city bringing a strong statement in its own right Wins The International Highrise Award. The project was designed by Boeri Studio and developed by Hines, this vertical forest consists of two residential towers which are 110m and 76m high. In total, 900 trees measuring between 3m and 6m have been planted, along with 5,000 shrubs and 11,000 floral plants on terraces up to the 27th floor.
"We are proud of having had the opportunity to work on a project where innovation has been developed in a completely new integrated way. The technical skills we can provide as Arup have been used to support an original idea, with the aim to improve the environment and the biodiversity in the very centre of a crowded city like Milan." — Luca Buzzoni, Project Manager, Arup Milan.

The project is set to create a new standard for sustainable housing and was developed with the help of our structural and geotechnical designs, together with consultancy services on acoustics, vibrations, ground-borne noise and tunneling. We are also providing advanced design solutions related to the effects of two existing railway tunnels under the site that required a dedicated design of a base-isolation system for the main buildings.
As a new growth model for the regeneration of the urban environment, the design creates a biological habitat in a total area of 40,000m2. The designers aim to inspire greater urban biodiversity in the face of Milan's challenge of increasing pollution.
The vast amount of greenery on the building encourages the production of energy. As well as creating oxygen and humidity, the plants also absorb CO2 and dust particles, which improves the environment. From compact two-room apartments to penthouses and duplexes, the main characteristics of the flats are the balconies, which extend 3.35m outwards to host the greenery. The design also includes photovoltaic energy systems to increase the degree of energetic self-sufficiency of the two towers.
The Bosco Verticale building is part of the Porta Nuova Isola complex. This project involves the redevelopment of an area historically dedicated to light industrial and craft activities. Following the proposal to create Bosco Verticale at the site, 70% of the area had been assigned as a public park. This new residential area includes five main buildings for public, residential and commercial use, and three underground parking levels.