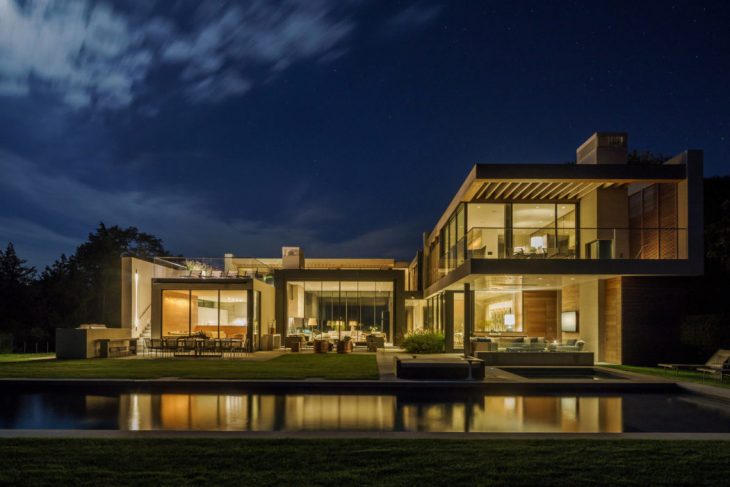 Blaze Makoid Architecture designed this contemporary two-story residence located in North Haven, Connecticut, in 2017. The House includes 8 bedrooms, eight and a half baths, a gym, office, family room and multiple outdoor spaces.Take a look at the complete story after the jump.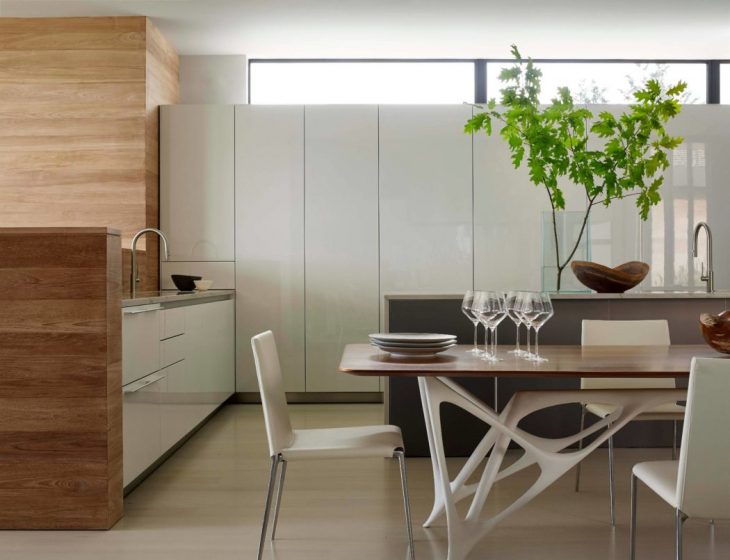 From the architects: The challenge for this 7,500 square foot home on a two acre, waterfront lot in North Haven was to create a design that would take full advantage of the views across Sag Harbor to the southeast, while drawing late day sun through the house and onto multiple outdoor entertaining spaces as long as possible.
Entry to the house is gained by passing under a second floor bedroom wing – the ceremonial 'threshold' – into an open air courtyard, at which point the first views through a 1 ½ story glass great room reveal the patio spaces, pool and the harbor beyond.
Floor to ceiling, wall to wall glass panels open on both sides of the great room to create a true, indoor/outdoor lifestyle and allow the courtyard to expand the entertaining space for large events. A roof deck and outdoor fireplace over the one story wing allows for late day/early evening sunsets without interrupting views from any second floor spaces.
The 8 bedroom, eight and a half bath house includes a gym, office, family room and multiple outdoor spaces and is clad in a combination of limestone panels, mahogany and glass.
Photography by Joshua McHugh
Find more projects by Blaze Makoid Architecture