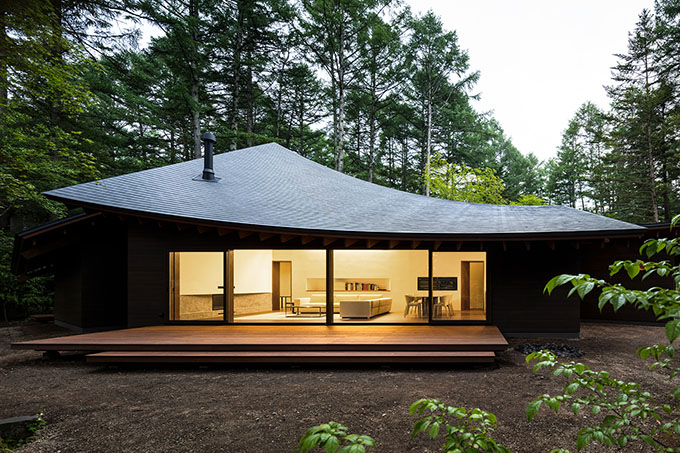 KIAS designed this inspiring 225 m2 private residence located in Karuizawa, Japan, in 2018, Take a look at the complete story after the jump.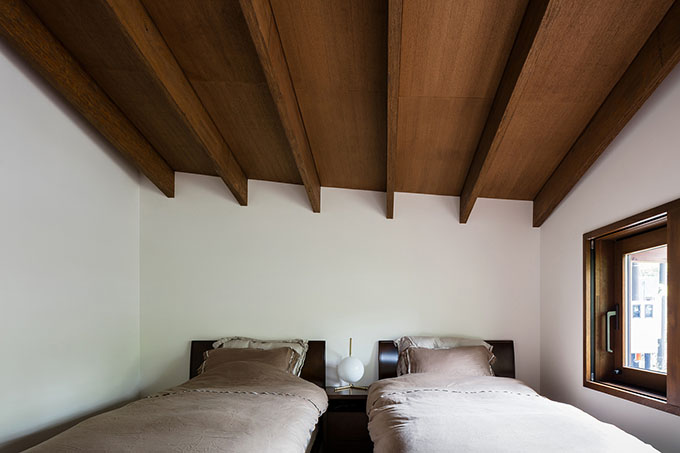 From the architects: The villa is located in a forest in Karuizawa, Nagano prefecture of Japan. The privately owned villa is designed to accommodate the owners and their friends in the rich natural environment at a mountain retreat 150 kilometers away from Tokyo.
In order to acquire specific natural scenery and light environment, each living function faces its own desired orientation. Living and dining space faces south-east for a brighter living environment while the master bedroom and bathroom face west offering private scenery of the forest. These compartments are assembled into three interconnected volumes that are placed on site among the pre-existing trees.
In order to form variable cross section suitable for each function, roofs were designed as curved surface like gently twisted leaves. Combination of a concave and a convex roof configures from a high ceiling expansive space to an introverted compact rooms. Every roof has been designed as a Ruled Surface in which straight Laminated Veneer Lumber joists are arranged continuously to form an organic geometry. A series of wooden joists is exposed on the ceiling highlighting the dynamic spatial characters of each living space.
The design process that responds to its environmental context has produced multiple organic roofs and established architecture as an aggregate of diverse living spaces. The appearance of the villa blends in harmoniously with the natural surroundings and is perfectly integrated to the local landscape.
Photography by Norihito Yamauchi
Find more projects by KIAS: www.kias.co.jp