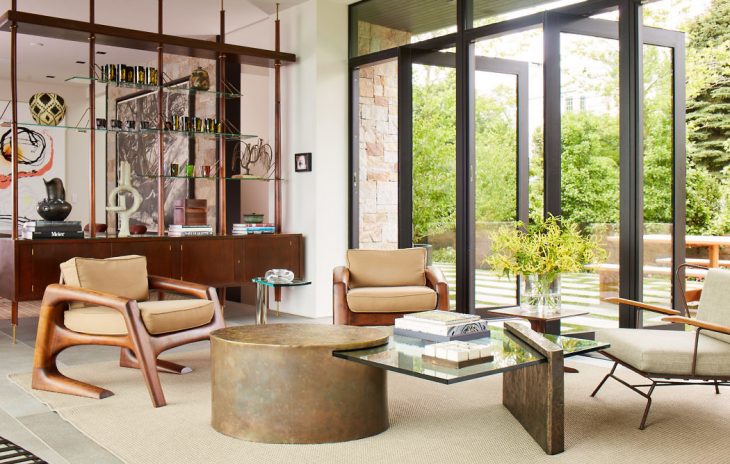 Blaze Makoid Architecture and Jon Vaccari designed this amazing private residence located in Sag Harbor, NY, United States. in 2016. Take a look at the complete story after the jump.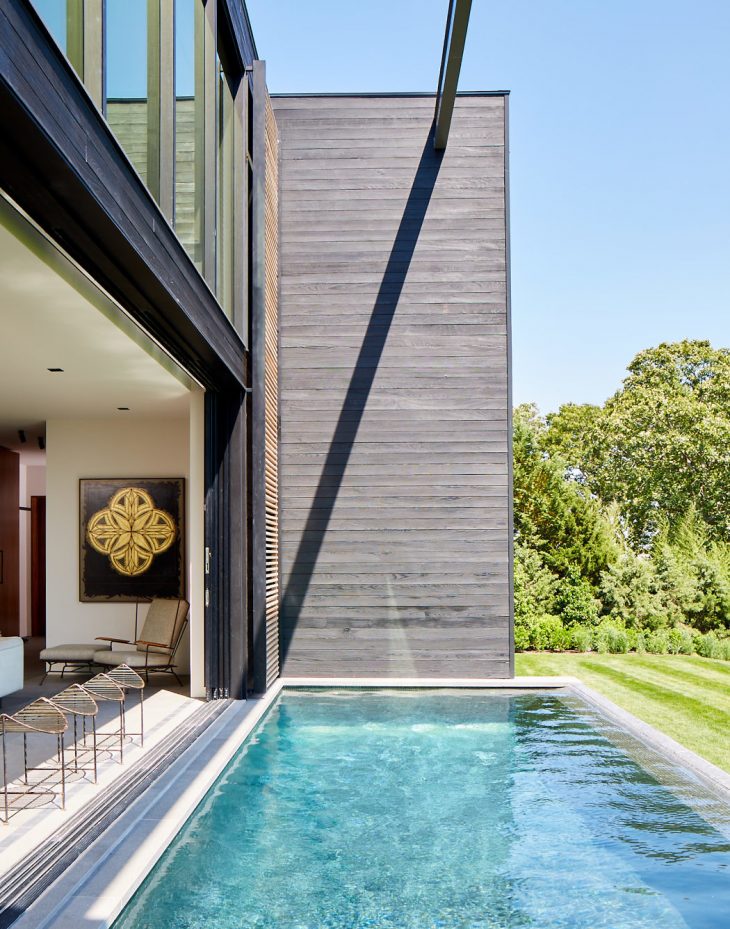 From the architects: Designed by Blaze Makoid Architecture, this North Haven, NY project is a 6,000 square foot home, spread across two, half-acre waterfront lots. As the homeowners often host family and friends, the goal was to create a design conducive to year-round entertaining, while taking full advantage of the sweeping views across Sag Harbor Cove, the village wharf and a small, salt water pond.
At the approach, the form of the house is presented as primarily a solid – simple and tight – the only interruption being a stone clad stair tower, while the water side of the house is a more complex, glazed composition – a series of stacked and shifted glass panels. Simple, timeless materials including wood, glass and stone were used throughout the home to give the modern aesthetics a warm, comfortable feel that would easily transition throughout the seasons.
To facilitate entertaining over the course of the day, Blaze Makoid Architecture designed the center of the house to open on both sides via floor to ceiling, wall to wall glass panels. The northern wall opens to an expansive front patio, while the southern wall retracts leading directly to the pool. This natural integration of indoor/outdoor living enables gatherings to seamlessly transition from waterside activities during the day to a quiet outdoor dining experience in the garden court in the evening.
Although this central space on the ground floor helps to define the separation between public functions such as living, dining and kitchen areas from the junior master suite, the family den on the second floor, is located directly above to create a common, 'joined' space linking the master suite and children's bedrooms.
The homeowners' significant collection of art includes works by Hunt Slonem, Stefan De Jaeger, Jon Pylypchuck, Luis Gispert AES+F, George Dunbar, Hernan Bas, Robert Colsescott, Ernesto Pujol, Ulf Puder, Bert Rodriguez, Marcel Eichner, Monica Zeringue, Marcel Delmotte, Susanne Coffey, Julia FullertonBatten and Blake Boyd.
Other home furnishings and resources include: B&B Italia, Poltrona Frau, Pace Collection, Hans Egner – plus many custom elements including dining tables and bedside tables by Jon Vaccari Design.
Find more projects by Blaze Makoid Architecture:blazemakoid-architecture.com