Eerkes Architects have recently completed works on the the Surly Crab, a modern beach house located on the Hood Canal in Seabeck, Washington. Surly Crab is envisioned as a hideaway where friends may come to observe this unusually rich natural area. It lies on the seashore and rises into the trees, offering mesmerizingviews of the mountains and Hood Canal. Discover more after the jump.
From the architects: Surly Crab is a modern beach house located on Hood Canal in Washington state. Views to the west take in the waterway and the Olympic Mountains. Inland from the home is a lush forest with ferns, native rhododendrons, madrona, and fir trees. Envisioned as a retreat where friends can gather and admire this particularly rich natural landscape, Surly Crab rests on the shoreline and rises into the trees offering both big view moments of the mountains and Hood Canal, and smaller scale, often missed delights.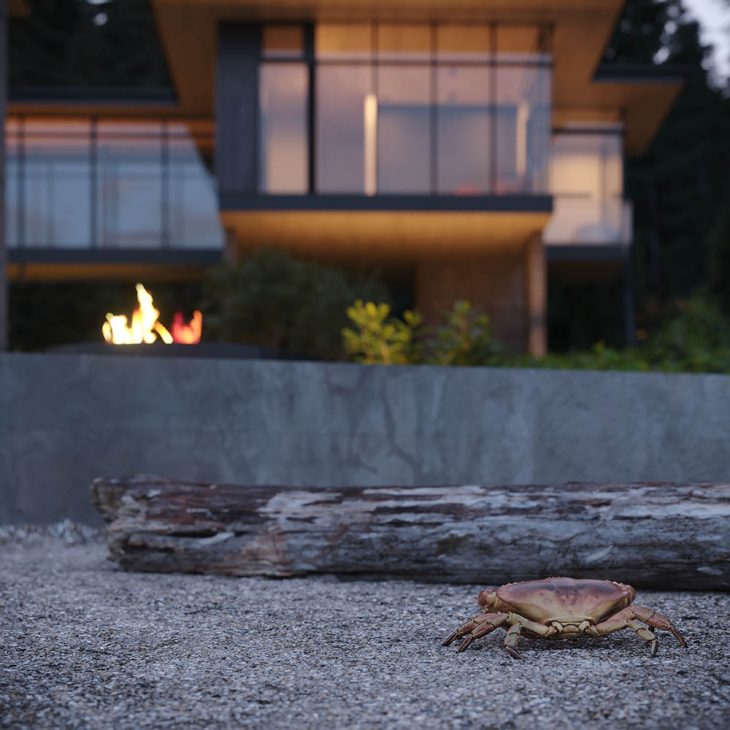 The house is partitioned into three structures. The two-story main living area adjacent to the beach is located on the footprint of an old fishing cabin. Further back, the guest wing and primary bedroom wing are elevated and hug the edge of the forest. Glazed hallways connect the structures and open to views both near and far, while transitioning from one part of the home to the other. By separating the program into three structures, the configuration results in a variety of relationships between the architecture and the surrounding landscape.
Eerkes Architects team
Les Eerkes, Principal Architect
Lauren Rist, Project Manager
Project consultant team
Eerkes Architects (architecture) @eerkesarchitects
Allworth Design (landscape architecture)
Quantum Consulting Engineers (structural engineering)
Fradkin Fine Construction (general contractor)
Renderings by Notion Workshop