French-Brazilian architecture practice Triptyque Architecture teamed up with Philippe Starck to design Villa, a mixed-use complex located in Boulevard Pasteur, in the Parisian borough of Montparnasse. The mixed-use building houses a Hotel by Paris Society, a coworking space, and a modern healthcare facility.
Take a look at the complete story after the jump.
From the architects: Designed by french-Brazilian Triptyque Architecture, with architectural design and art direction of the spaces signed by Philippe Starck, Villa M aims to create a new pact between cities, nature, and health.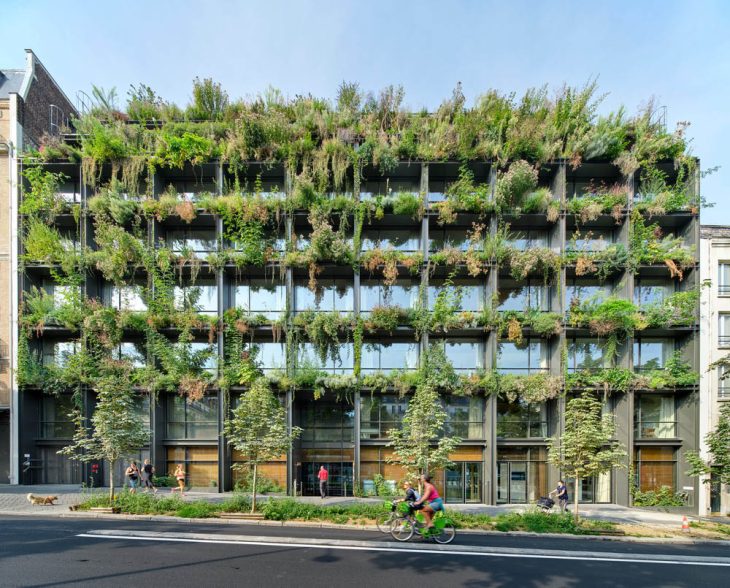 A naturalistic manifest: this is the definition of Villa M, a mixed-use complex located in Boulevard Pasteur, in the Parisian borough of Montparnasse.
"We designed Villa M as a naturalist architectural manifesto: that is, a building of a new era, where man is no longer opposed to nature and the living."
– Olivier Raffaëlli and Guillaume Sibaud, Triptyque Architecture, Architects and designers of Villa M.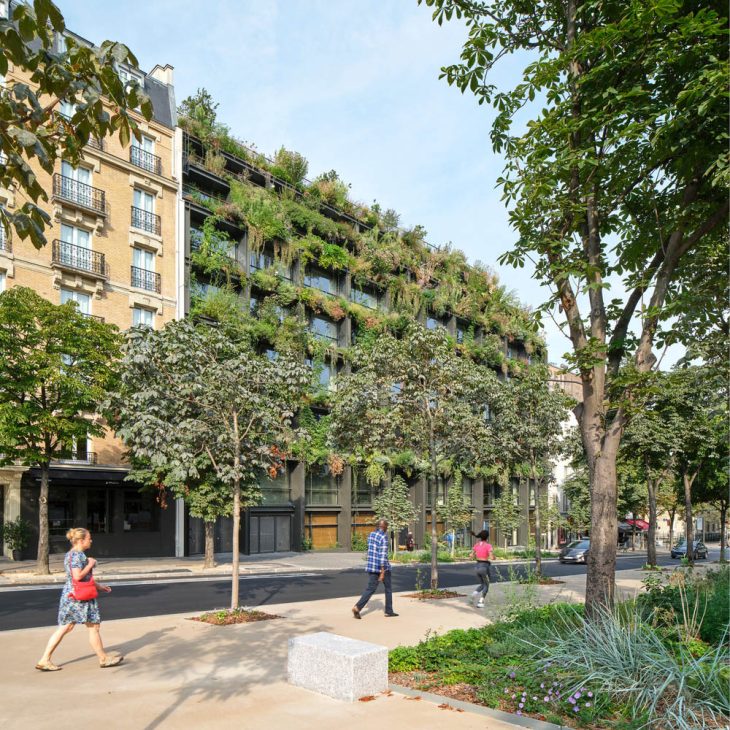 "Villa M is a bubbling, honest, and warm place, where life is good and beautiful, and where it is good to live and eat well. Throughout the restaurant and the bar, fertile surprises, hidden places, and mental games arouse curiosity and guide the gaze of visitors, reminding them that intelligence is one of the most beautiful symptoms of humanity."
– Philippe Starck, Architectural Design and Art director of the spaces of Villa M.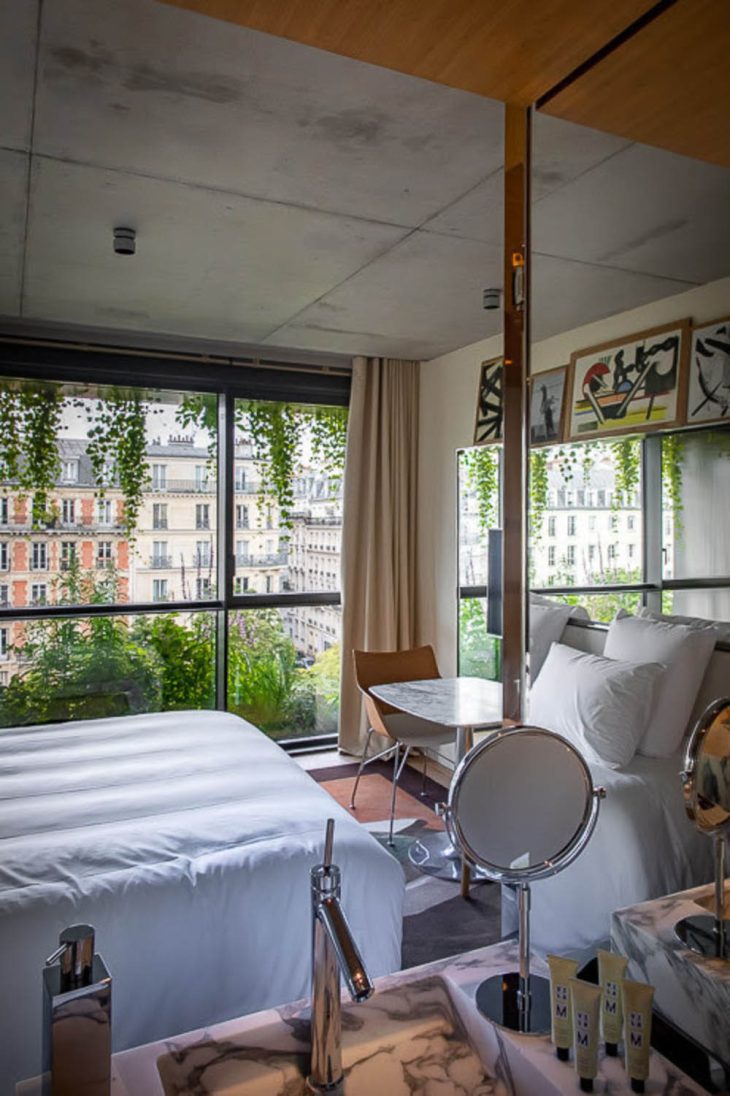 The program, imagined by Thierry Lorente and Amanda Lehmann of Groupe Pasteur Mutualité, is a mixed use building including a Hotel by Paris Society, a coworking, and a dynamic healthcare-focused center.
"We could not conceive a building dedicated to health and mutualism without including a notion of hospitality, welcome, hotel business. Mutualism implies sharing."
– Thierry Lorente, Villa M Concept Creator and CEO of Group Pasteur Mutualité.
"We are guided by the well-being of caregivers, to best serve these professionals who follow a vocation from the start, but who experience difficulties and suffering."
-Amanda Lehmann, Villa M Concept Creator and Joint General Director of Group Pasteur Mutualité.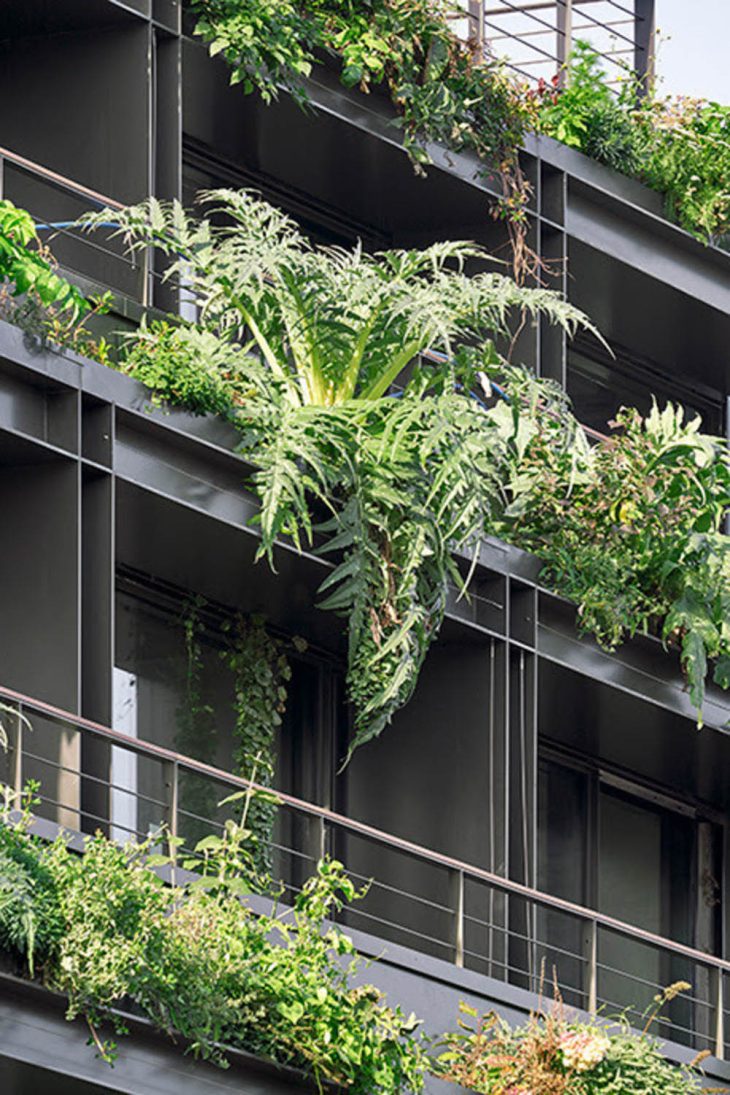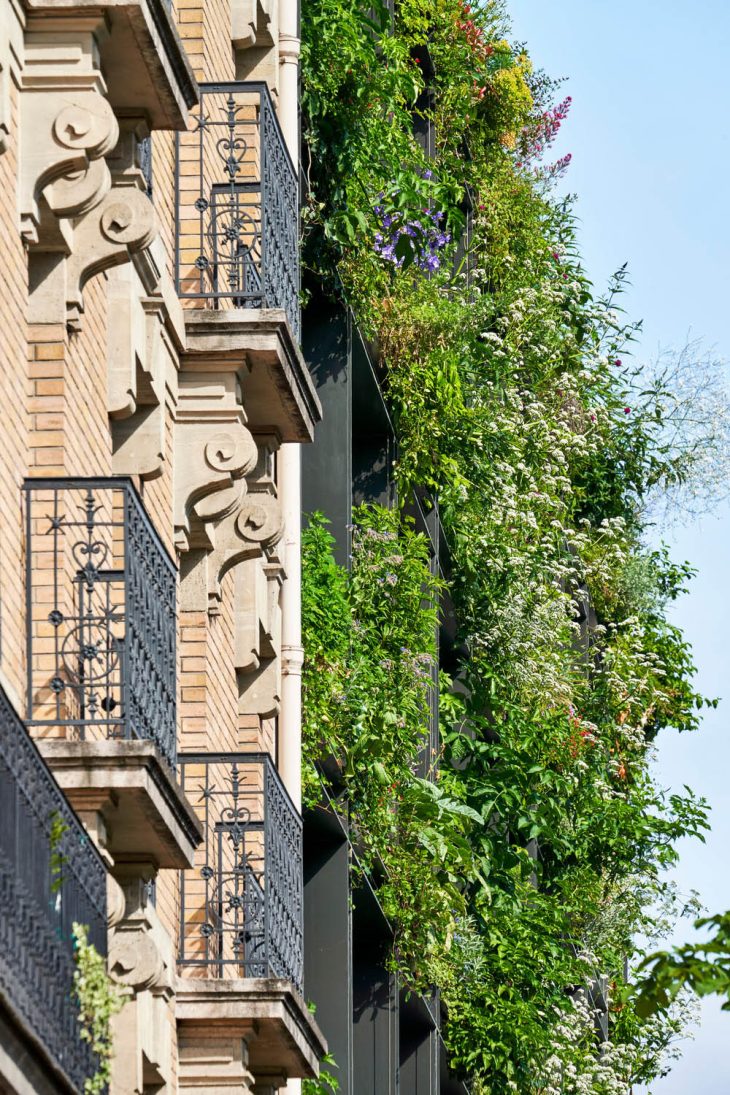 The practice adds talking about their latest Paris project: Its architecture stands out with its living building, whose geometry is formed by metallic structure beams, conceived to house medicinal herbal plants, fruit trees, and medium to large sized perennial species.
Designed as an exoskeleton, the building has a minimalist, light look, composed by prefabricated pieces as in a building game.
"The edifice itself is the support for this vertical garden, which will grow and occupy the entire façade, turning the building into a vertical, medicinal forest, and becoming the main architecture," explains Olivier Raffaelli, Triptyque partner and architect designer of Villa M.
In addition to the reintegration of nature to the city through architecture, the living-building contributes with sustainability, since it collaborates with the thermal comfort and, therefore, with the building's energetic efficiency.
"We have explored all of the available surfaces to potentialize the greenery and to avoid energy and carbon waste," explains Gui Sibaud, Triptyque partner and architect designer of Villa M. The environmental responsibility is also present in the basic and organic material choices, proposing a low-tech architecture.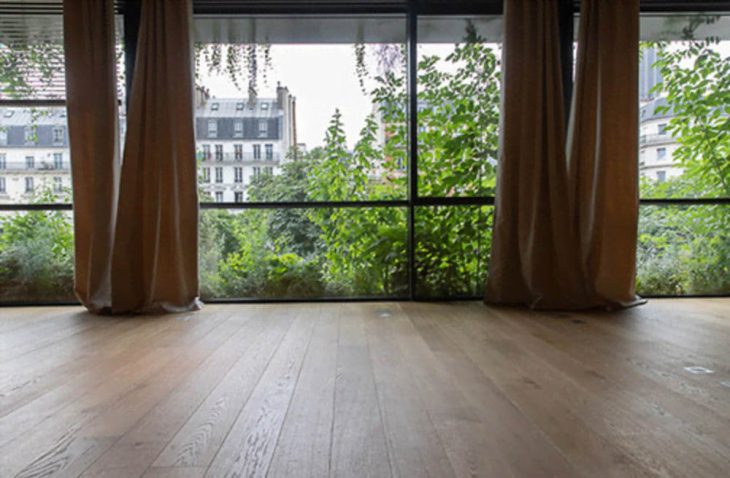 Villa M's design is intended for the architecture to bring nature back to the city, with the main goal to provide citizens with a new urbane experience with the advent of a "nature-city".
"Breathing, sunbathing, and connecting to nature are vital needs that the urban lifestyle is no longer able to guarantee," states partner Olivier Rafaëlli. "To resist the urban expansion – unsustainable by nature – the city must provide this experience in addition to stimulating the correlation between external and internal spaces in built areas."
The building's 8,000 m² occupation program also bring an innovative proposal: being a dedicated space for those who chose to help save lives – but open to everyone. The mixed-use complex holds a hotel, restaurant, bar, conference area, a check-up area, a co-working space, and a showroom for start-ups in the world of health to promote mixing, exchanges, and mutual aid between the different specialties and the different generations of health professionals.
Villa M, a Paris Society Hotel
The hotel is designed as an enveloping and relaxing cocoon, with breathtaking views of the City of Light. Its 67 rooms and 6 suites have been designed as green spaces. Some of them have a balcony or terrace to admire the Montparnasse and Invalides districts. And, above all, nestled at the corner of the seventh floor, there is the Pasteur Suite: an exceptional suite with large bay windows, a double green terrace, and a living room open to the capital.
"The traveler must feel at home, in calm, soft, and maternal rooms, pleasant to live in, so that the human being is always at the heart of the Villa M concept."
– Philippe Starck, Architectural Design and Artistic Director of the Villa M spaces.
In these spaces, guests will find noble and durable materials, organic colors, warm contemporary furniture, the play of mirrors, and eco-responsible products.
It also features the essentials of a high-end hotel – a boxing and fitness club, and yoga rooms – but also 20 open offices and co-working spaces.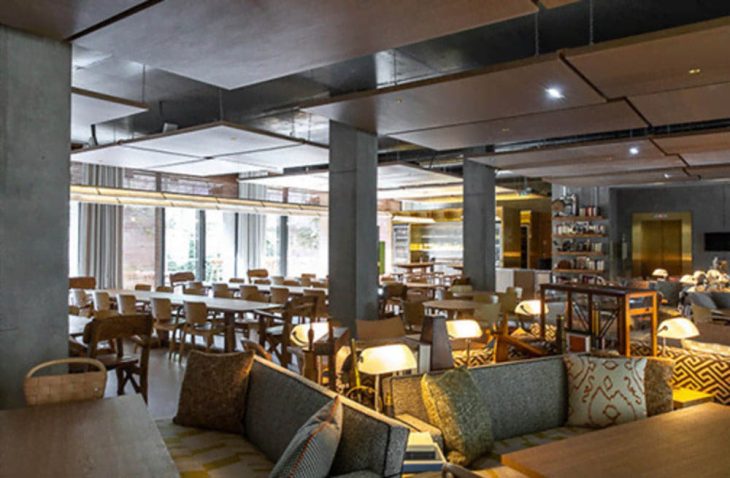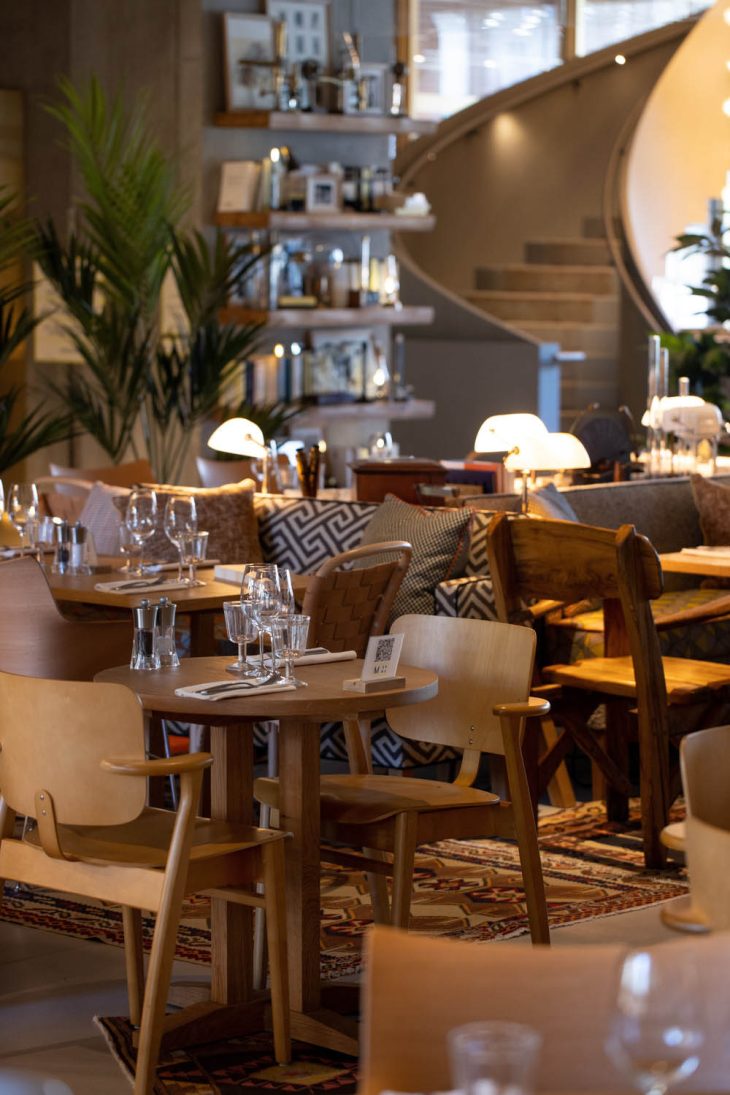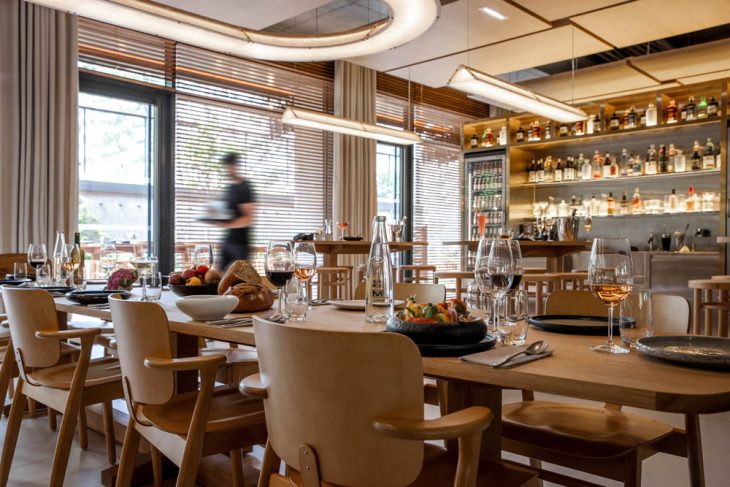 Good Living, Good Eating
A unique and timeless place for families and young people to lunch, dine, meet, and mingle around a generous and accessible menu.
Upon entering, the visitor is plunged into a place of life, energy, and benevolence: an Agora made of wood and concrete, vegetation, a friendly welcome, an open kitchen, all surrounded by a luxuriant terrace with trees. The décor evokes the playful and erudite spirit of the French Riviera, where one forgets time, and where we feel good.
The vast and luminous restaurant is highlighted by wood, leather, shelves of books, knick-knacks, mismatched furniture that seems to have a history, large armchairs, wide benches covered with cushions, and ludic surprises. A plural and joyful universe, and a signature of the Paris Society places.
The Restaurant
On the large outdoor terrace, under the shade of the fig trees in summer, five times a week, at nightfall, Villa M becomes one of the most festive places on the Left Bank, with a careful 100% live music program and cocktail menu.
In spring, weekends incorporate the sign of conviviality! Villa M puts brunch in the spotlight to treat late risers, families, friends, from the neighborhood and the whole of Paris, in a relaxed and warm atmosphere. The menu features varied brunch specials – pastries, eggs of all kinds, burgers or salads, pancakes – and a kids menu for the youngest. Special mention to the floor dedicated to children with an animator and games!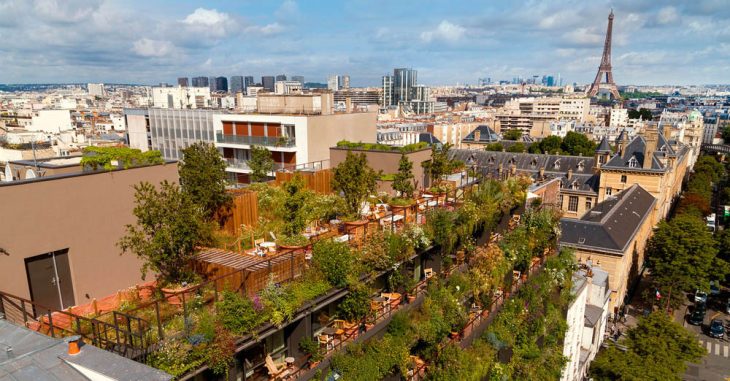 The RoofTop
On the top floor, the RoofTop, with its incredible view of the Eiffel Tower, the Dôme des Invalides, and the roofs of Paris, remains an unparalleled experience. A suspended oasis is composed of fruit trees and plants, with large wooden armchairs, Canadian gardeners, wicker lamps, and garlands guinguettes installed. One comes there to have a drink during the day and late into the night. Paris is a feast.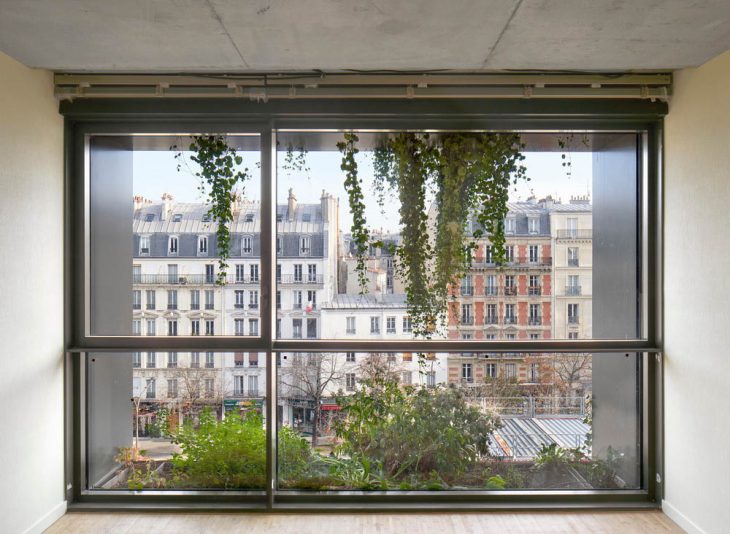 A Health oriented building
The health crisis has intensified, and accelerated healthcare challenges already known and geographic and urbanistic issues have started to figure as health issues as well. On the other hand, healthcare has exceeded the hospital walls, spreading around the city and creating a more open relationship between citizens and health professionals.
Designed before the Covid-19 pandemic, Villa M's groundbreaking program catalyzes the idea of opening healthcare to the city, and the city to healthcare.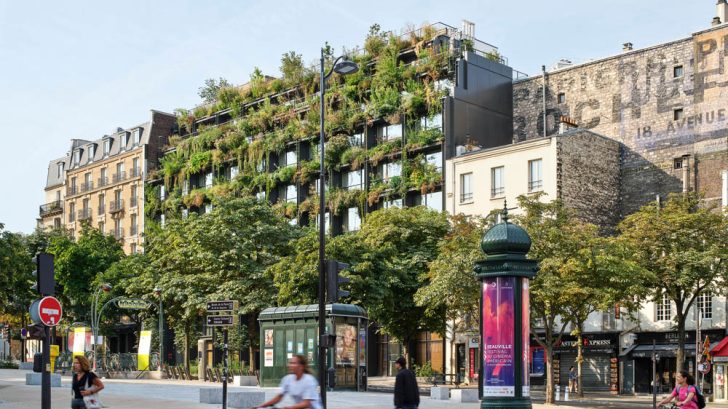 Villa M
24-30 boulevard Pasteur
Paris 15e
01706170 40
Access
Metro: Pasteur and Montparnasse stations
Technical Information
Date: 2015 – 2021.
Architectural design of Villa M: Olivier Raffaëlli & Guillaume Sibaud – Triptyque Architecture.
Architectural Design et Art director of the spaces of the Villa M : Philippe Starck
Client: Groupe Pasteur Mutualité (Thierry Lorente, General Director of Groupe Pasteur Mutualité e Amanda Lehmann, deputy general director of Groupe Pasteur Mutualité).
Assistant to the Contracting Authority:
SCPM Access, Guy Sanoian.
Landscaping: Coloco, Pablo Giorgef.
Building Company: Eiffage Construction.
Total area: 8 000 m².
Materials:
– Structure: Steel/ Concrete.
– Façade: Wood / Aluminum / Glass.