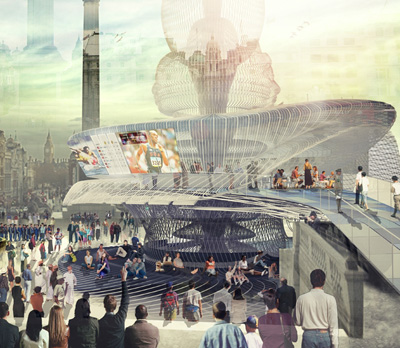 Project: London Olympics Kiosk
Designed by Warren Techentin Architecture
Location: London, United Kingdom
Website: www.wtarch.com
Talented creative at Warren Techentin Architecture come with an idea of an Urban Sofa while designing the proposal for London Olympics Kiosk. For more of their solution continue after the jump:
From the Architects:
The Trafalgar Square Information Pavilion simultaneously embodies the athletic vigor of the Olympics, introduces the design traditions of the host country, incorporates the use of recyclable materials and leverages the participatory potential of new media in the experience of sporting events. Drawing on sources of British design as varied as lamps, bird cages, green houses, athletic equipment and other traditional forms from British furniture design, this proposal is a "mash-up" – like the popular music style – of gestures, spaces, and programs into a form that invites visitors to wander in and around the booth and offers a varied set of experiences and spectacles depending on your position in the square. A giant Urban Sofa was incorporated at the base as an essential feature to the required programs, counterbalancing media and retail by nurturing a communal physical experience amongst visitors.
The structure is comprised of a series of steel rods bent with a computer controlled manufacturing process. Steel imparts the small structure with strength, economy, and an ease of recycling. The surface is finished with a metallic, "Olympic white" paint.
The repetitive steel rods form a series of silhouettes which morph through a series of British dignitaries encouraging a cinematic effect and movement around the structure. Dignitaries will be selected via an online "am I hot or not" style format. Silhouettes shown in the image are a couple of the probable winners: Queen Elizabeth II and Daley Thompson.
The rain cover is made of an epoxy impregnated cardboard that will last through the summer.
A large, circular desk combines all requirements for Information Services (25m), Café (75m), and Souvenirs (50m). On a second, raised level accessed via a bridge from the top of the steps.
A 14m x 4.5m digital screen partially wraps around the upper structure allowing people to assemble from the steps of the National Gallery around to Nelson's column.
The continuous screen will allow for multiple video formats to be achieved as well as interactivity with hand-held devices.
The wire mesh canopy flares southward to provide shade to summer visitors who use the Urban Sofa.
Smaller screens can be manipulated by hand held digital media and allows selection from all media feeds broadcasting.
The Urban Sofa is approximately 100m of additional programming at the level of the square for people to take in the event of the Olympics. It is an essential feature in nurturing a communal experience amongst visitors.