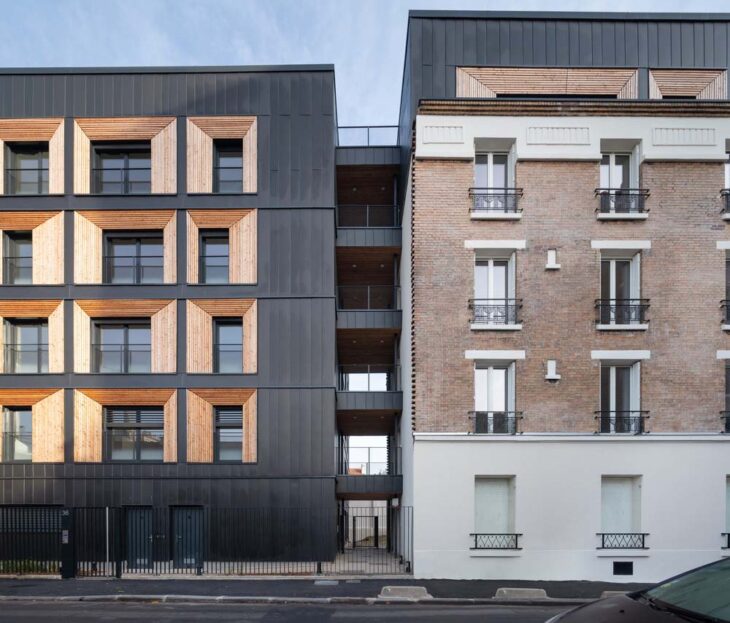 PietriArchitectes designed a brand-new housing project for the city of Aubervilliers – 36 Ferragus. The project is part of an effort to requalify the Aubervilliers downtown districts. In order to meet the needs of the project and its surroundings, the studio decided to create the expansion using wood construction and a prefabrication approach. requirements.The project delivers the city of Aubervilliers 15 social housing units. Each apartment is flooded with light thanks to the double orientation and spacious bays of both buildings. Residents of the apartments may look out into a green space from the courtyard, which is also visible from the street.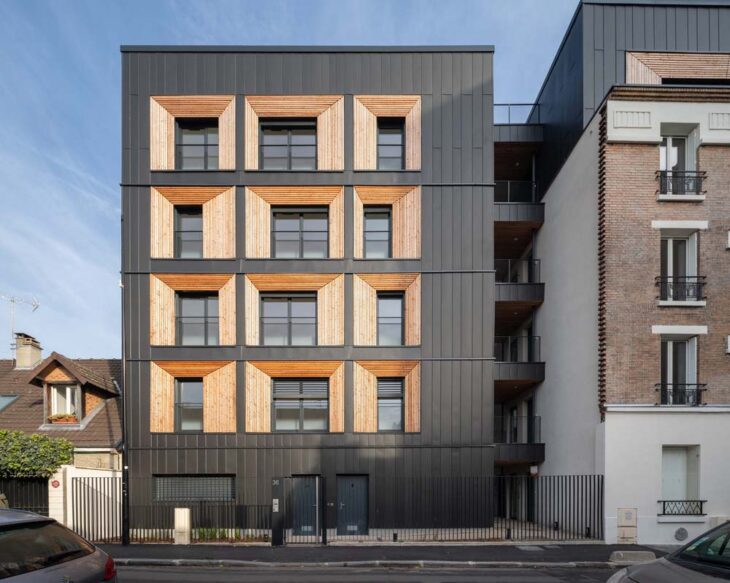 The 36 Ferragus project is a component of a sector that is diverse and consists of both group housing and single-family homes. A house and garage from the early 20th century once stood on the little site. Instead of maintaining the garage, it was decided to preserve the structure and add a new portion to it. The project's core is the opposition between the old and the new. The expansion is set back from the original building on the street side, giving residents room to approach the buildings. Halls and walkways have been built into the space between the two buildings to create a true physical connection between them.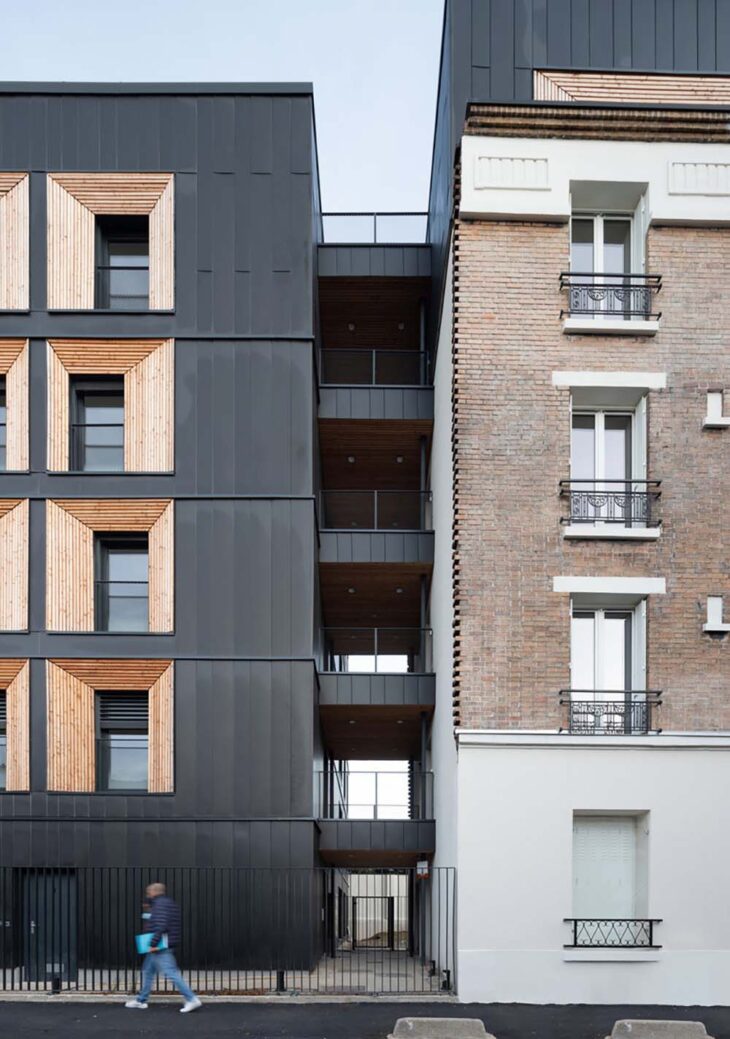 The existing structure has undergone a thorough renovation while maintaining its original look. To assure the stability and safety of the structure, the cellar was lowered and all floors were modified. The main structure has a one-story elevation that mimics the extension's and is constructed with similar aesthetic and technical standards.
The project, which was carried out on a tiny plot of land in a short street, was designed with an emphasis on prefabrication, with wood construction which enables the establishment of a low-noise construction site for the neighborhood and expediency in execution.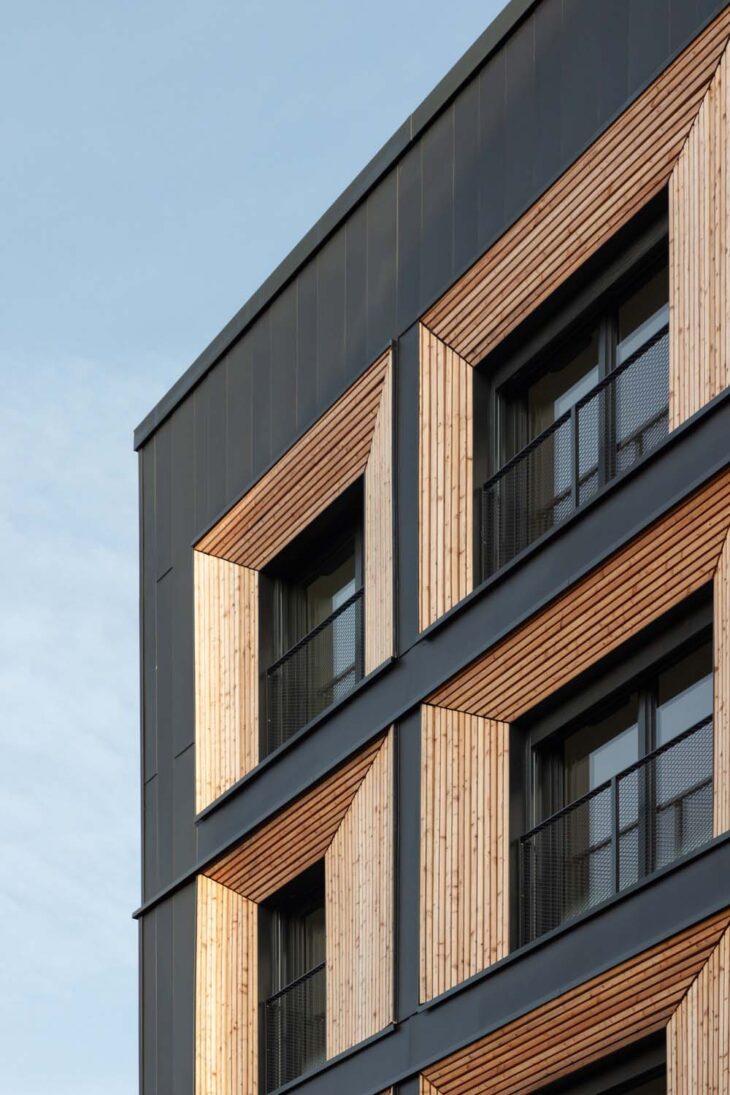 The rehabilitated building has one apartment per level and a stairway. The last level has a wooden elevation made of prefabricated CLT wood that is identical to the annex in every way. An outside footbridge connects the two major structures. The extension's street front was created as a graphic tableau that contrasts with the simplicity and sobriety of the existing structure and its original brick face. In this way, the anthracite zinc and the slatted wood play a game of material, of contrast between hollow and full, forming crooked frames around the bay windows. In stark contrast, the two facades complement one another and communicate with one another through the connecting bridge.
Project information
Project: Construction of 15 housing units
Client: I3F/Bati Plaine
Urban planner: Deltaville
Technical Engineering Agency: COTEC
Landscape designer: Atelier Jour
Environmental Certifications: H&E
Area: 970 m²
Completion: 2021
Find more projects by PietriArchitectes: www.pietriarchitectes.com