PRADA worked on the new address for the iconic Pasticceria Marchesi in the prestige via Monte Napoleone in Milan where in charge of the design were Roberto Baciocchi Architects. This is the first expansion for the Pasticceria Marchesi which is a symbol of excellence in the city, with 191 year old tradition the pastry shop is synonymous to excellence.
Therefore architect Roberto Baciocchi and his team had to take in account the Marchesi tradition while shaping the design of the new shop. They have emphasized the classic atmosphere and took on the sentiment originally present in the Via Santa Maria alla Porta address of the pastry shop.
Spread across 120 square meters the space and its furniture are drawn with an air of refinement. From the street, the stone façade features an inlay of Marchesi's classic gold leaf logo and white awnings over two glass windows filled with product that allow for unobstructed views into the bright space, recalling the atmosphere of Marchesi's landmark site. Marble walls in the entryway, inspired by traditional elements of Milanese interiors, are the backdrop for the display niches of the main wall. The central marble-topped bar with cherry wood and glass cabinets, the mirror-backed shelf displaying an array of classical aperitifs and the pastry display cases with curved glass hinge-tops – a heritage from Marchesi historic shop – are reinterpreted in a new, modern and refined ambient. Dark brown marble covers the floors underfoot while the beamed ceilings, featuring a peculiar lighting system, create an elegant graphic effect. While the restricted size of Marchesi's original location allowed for standing service only, the new shop presents two intimate seating rooms which are characterized by marble topped tables, soft green velvet armchairs and sofas and are completely wrapped in a green floral jacquard silk wallpaper. – from PRADA
The menu while taking on the traditional Marchesi list is also specially modified for the new location.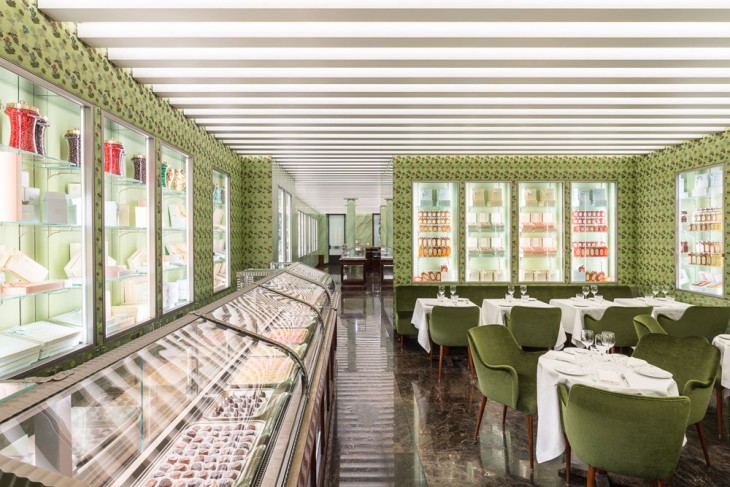 Address: Pasticceria Marchesi, via Monte Napoleone 9, Milan
All images courtesy of PRADA – www.prada.com