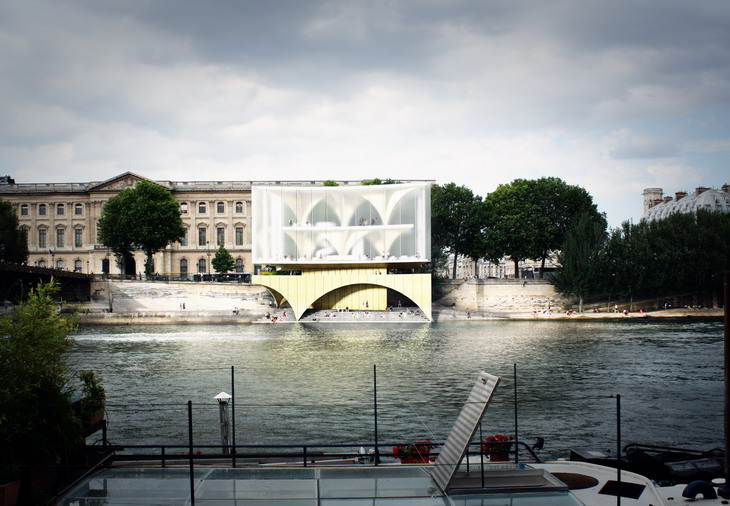 [AC-CA] hosted competition for the design of a River Champagne Bar in Paris is now over. The selected winning design comes from talented architects based in Portugal, Pedro Manuel Araújo and Michaël Oliveira. Discover more of this rewarded project after the jump: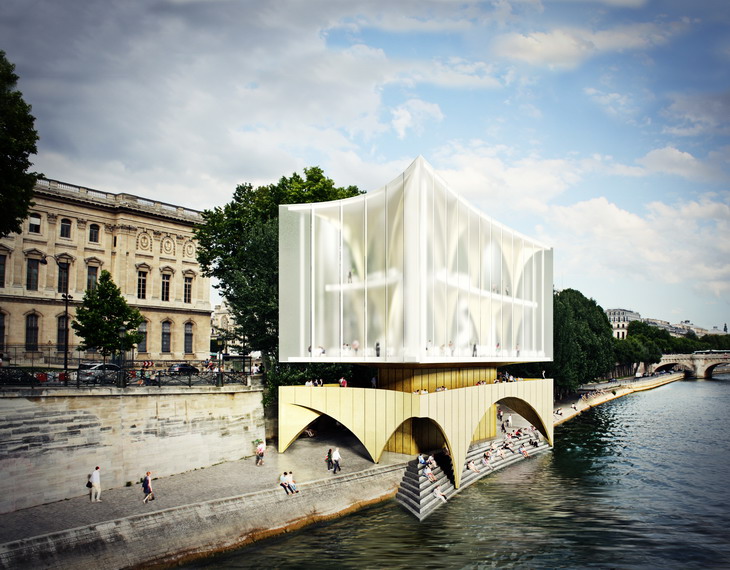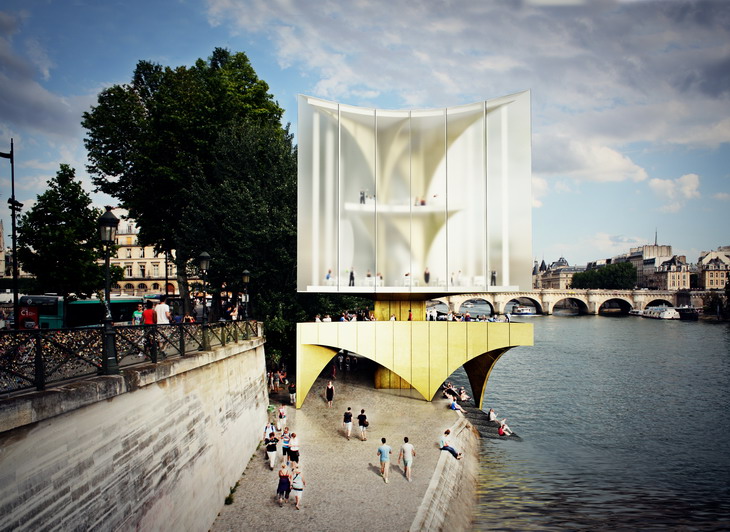 From the Architects:
The proposed building for The River Champagne Bar is intended to suggest an approach that endorses continuity offering acts of cultural and geographical recombination. The Building is an elegant contemporary response to Paris urban setting and natural entourage set in between formality and informality. Formally, the design highlights Paris classical Beaux-Arts palaces, and informally, it draws the lightest of breezes dancing through the river. Paris owes its motto to the Seine, and in a way, the Seine tells the story of Paris. It begins as a whisper, a promise, in which the breeze became a wind following the Seine through the heart of Paris.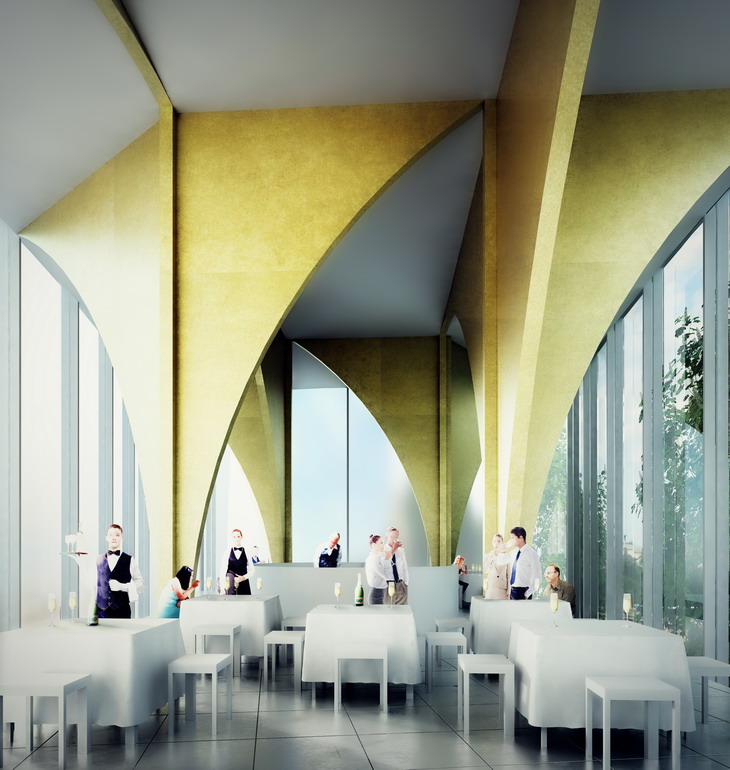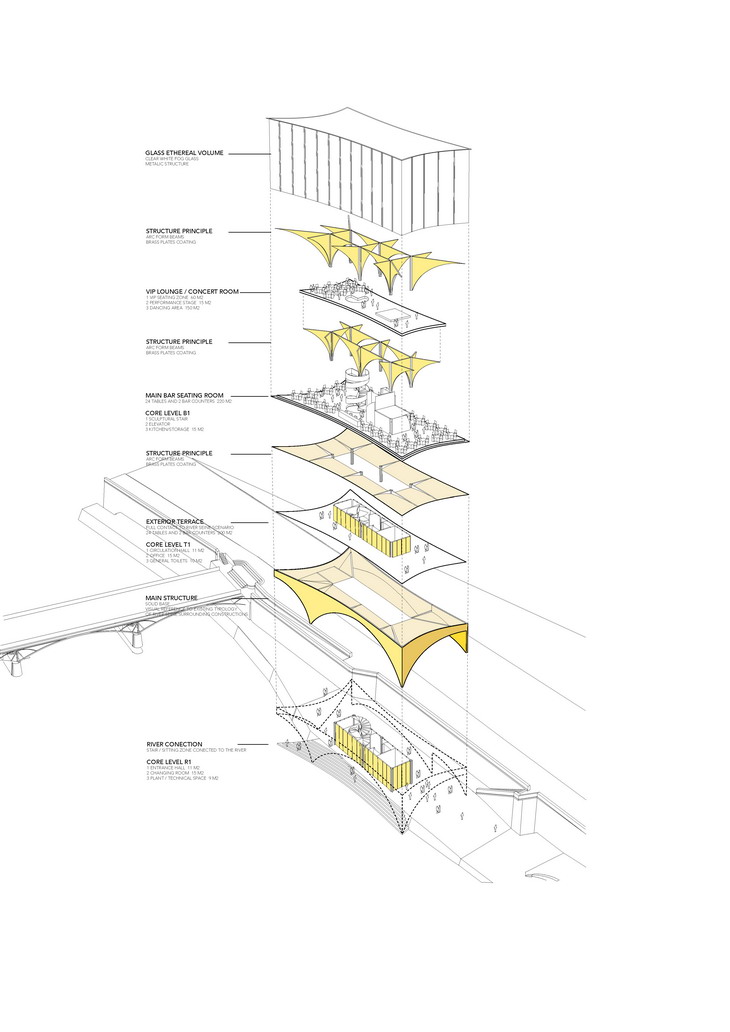 Throughout the arch of the bridges you'll catch sight of the new building, people animating the space over the levels, like the Louvre playing hide and seek with the monuments of the city. The approach of the project is a compact volume, which limits its contour impact to take full advantage of solar and local wind as it is, reducing the functional areas in order to enhance the fruition of space. The structure combines the use of forms and spaces that constitute an idea of historical sensitivity and awareness with contemporary technology by employing arches as beams, shapes as materials, touch, light, and sounds, both emotive and selective for a comfortable and pleasant atmosphere totally integrated in its environment and to the idea of what could be a champagne bar. The curving perimeter geometry created clearly acts on its relation to the smoothness silhouette of the tangent trees existing on the plot. The building is not however limited to its shape but also defines a number of ways to relax or appreciate the buzz of activity along the levels. Primarly, access is achieved trough the ground floor, by a spiral stair and an elevator situated under the golden brass arch base along the quayside, which on a sunny day you can catch the southern exposure on a walk around and underneath it, or sitting above the water-stairs connected to the river, appearing as a type of mirror in which the building finds its own reflection. Aboard the continuous terrace, you get full contact to Seine's scenario, standing briskly, sauntering lazily, At the main bar seating room, on the ethereal cleared foggy glass volume, you can chill or dance, exploring an area between two levels, taking a champagne cup looming up to the sound of a musician playing a violin and, in the distance, looking out and enjoy the view. As such, Le Palais du Champagne appears in the most powerful expression as the affirmation of an Informal Classicism.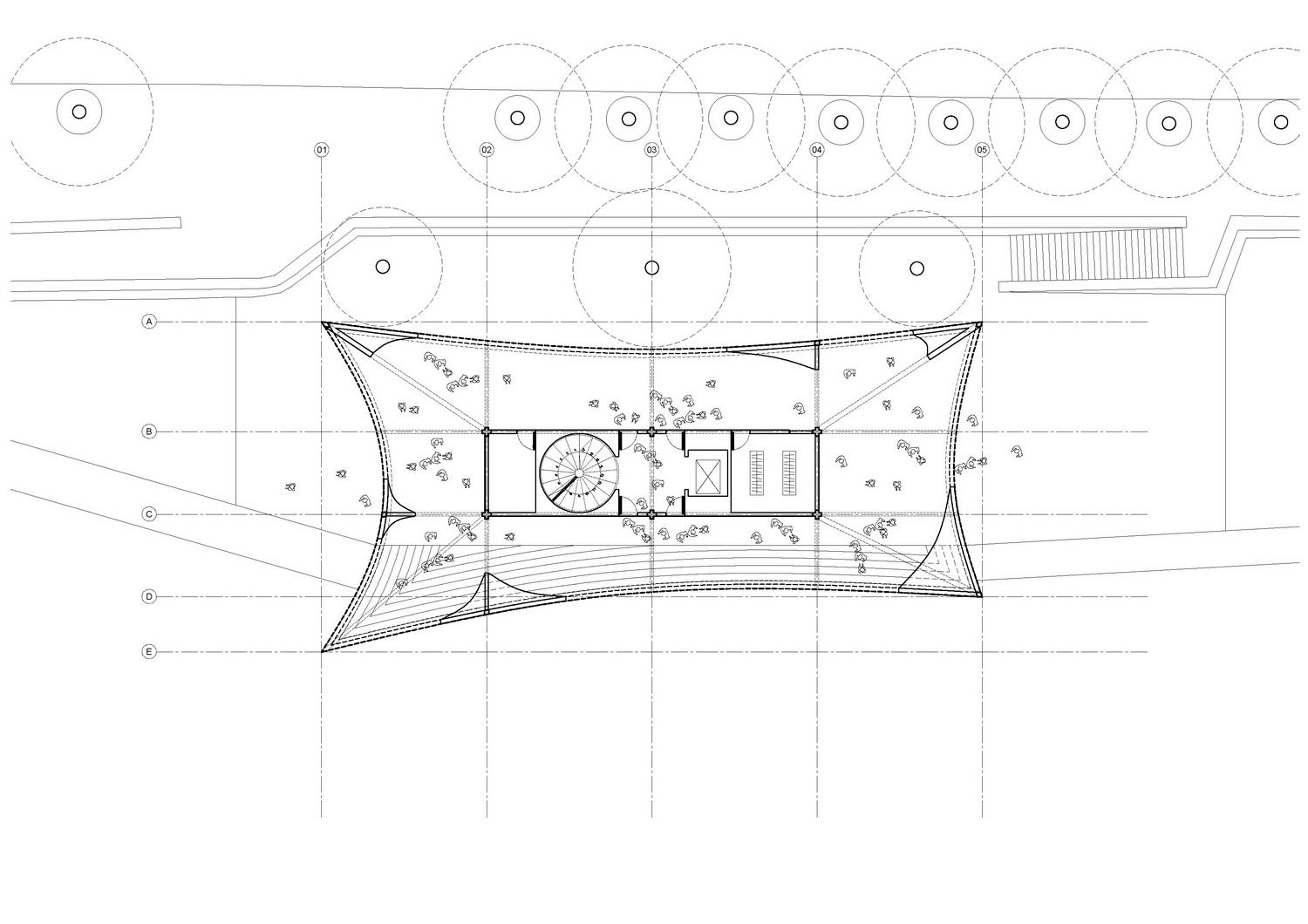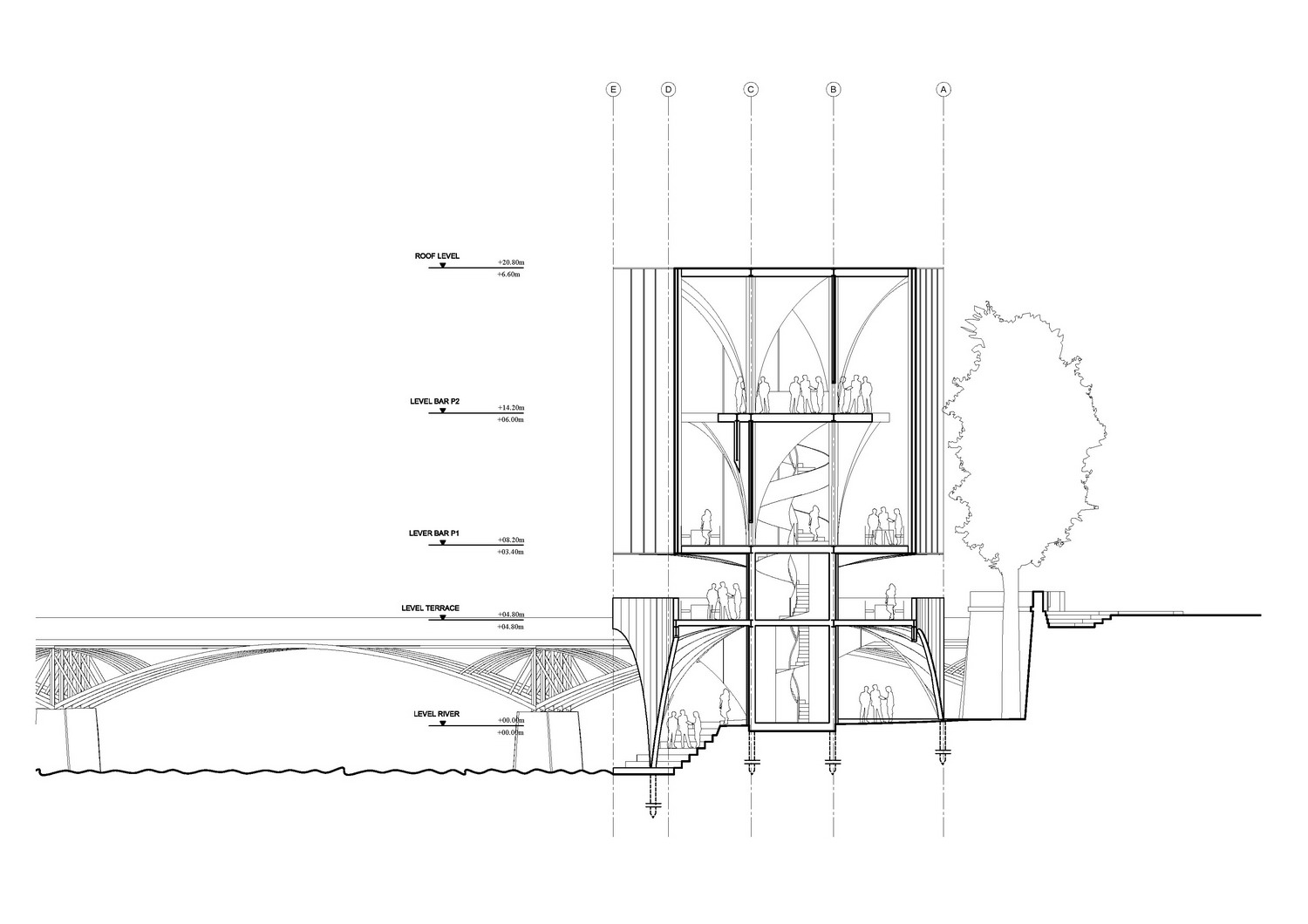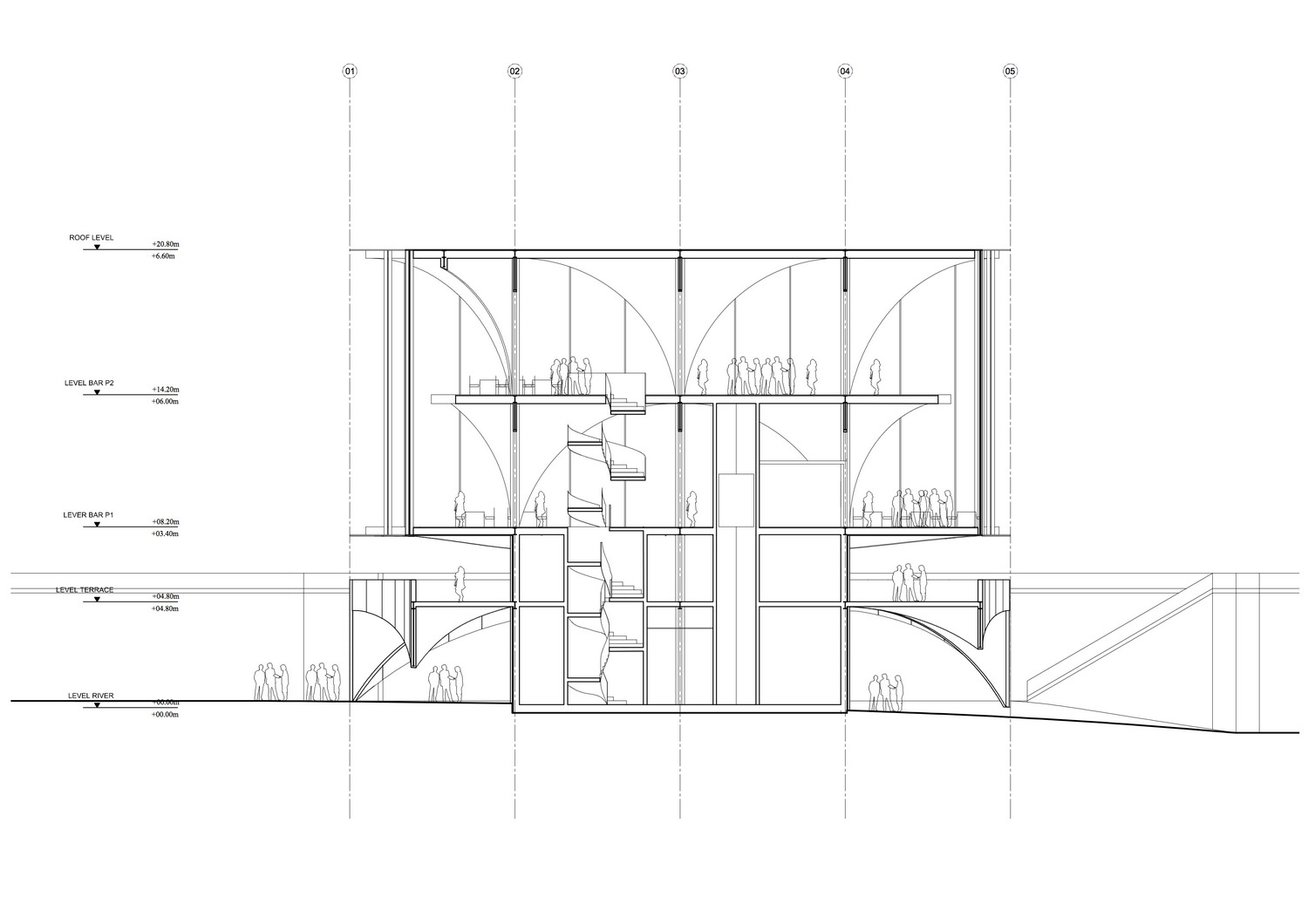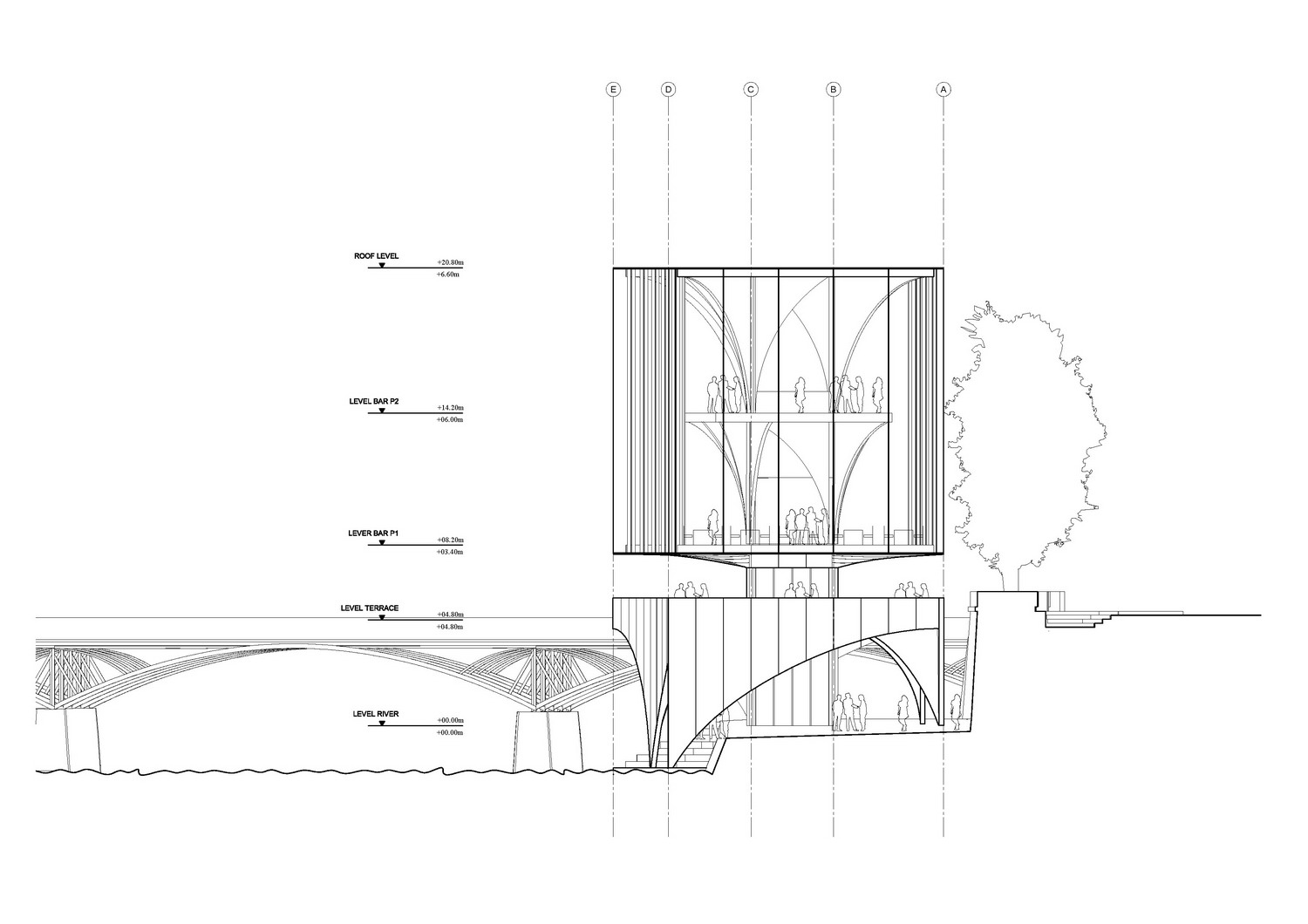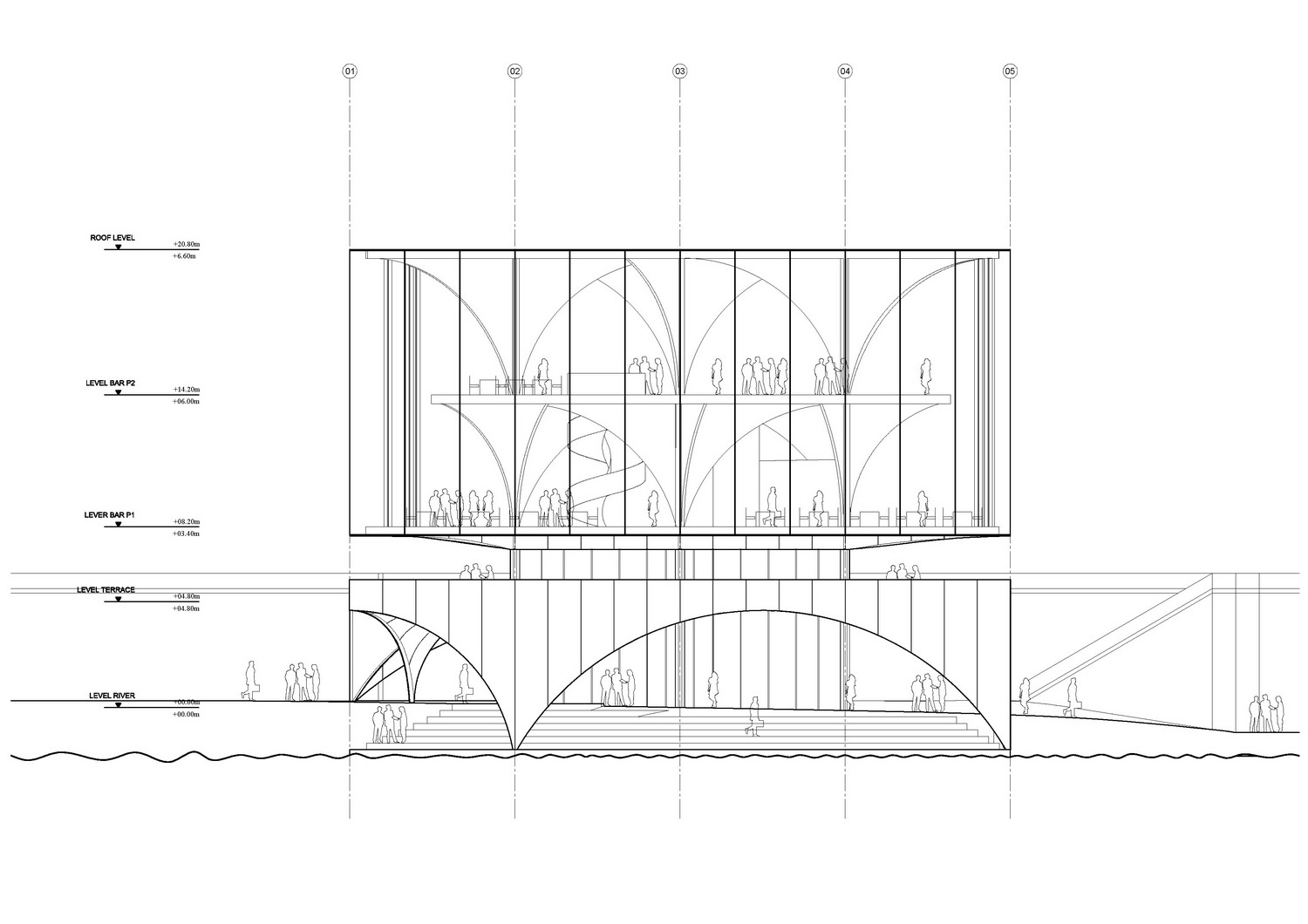 Project: River Champagne Bar
Competition Organized by [AC-CA]
Designed by Pedro Manuel Araújo, Michaël Oliveira
Country: Portugal
Location: Paris, France
Website: www.ac-ca.org