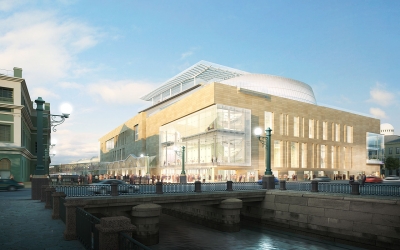 Project: New Mariinsky Theatre
Designed by Diamond and Schimitt Architects
Location: St. Petersburg, Russia
Website: www.dsai.ca
Design for the new Mariinsky Theatre in St. Petersburg coming from the drawing board of Diamond and Schimitt Architects.
From the Architects:
The design of the New Mariinsky Theatre will be a contemporary expression of the existing historic urban form. The height of the fenestrated masonry base will be consistent with the existing buildings of historic St. Petersburg and will create a continuous streetscape similar to the streets of the old city. Large bay windows will provide panoramic views of the city and the adjacent historic Mariinsky Theatre, fulfilling the role of the historic colonnaded porticos.
Above the base of the New Mariinsky Theatre will be a gently curved metal roof enlivened by a glass canopy. The contrast in form, material and colour between the building's base and its roof will give the building a contemporary identity rooted within the context of St. Petersburg's exceptional architectural heritage.
The New Mariinsky accommodates a 2000-seat opera and ballet house with six stages and six rehearsal rooms as well as dressing rooms and other support facilities. The auditorium will be carefully designed with respect to acoustics, sight lines and audience comfort in keeping with the international stature of the Mariinsky Opera, Ballet and Orchestra.