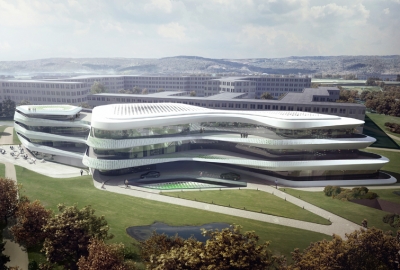 Project: Green Climate Fund Bonn
Designed by LAVA
Area: 13 000 sqm
Location: Bonn, Germany
Website: www.l-a-v-a.net
Green Climate Fund headquarters building design created for a location in the City of Bonn comes from LAVA architects.
From the Architects:
The Federal Republic of Germany's proposal to host the Secretariat of the Green Climate Fund in the City of Bonn includes LAVA's design for the headquarters – 'an ecological model project'.
Described as 'architecturally appealing' and 'environmentally friendly with functional spaces that foster working productivity' the new Green Climate Fund building in Bonn will offer ideal working conditions for approximately 300 Green Climate Fund officials. The headquarters will be located on a 13,000m2 site in a new building.
The vision for international climate protection will be realised in the building itself. It will comply with the latest energy and building ecology standards, meeting the highest demands in terms of sustainability (German gold certificate), ecology and energy efficiency (net zero energy).
Besides functional offices with state-of-the-art office technology, planning includes an access and logistics area with security controls and a visitor reception zone, an auditorium, a conference room, a canteen/cafeteria and an underground car park. The Fund will provide input on the functional division of areas to create optimal working conditions.
The future Green Climate Fund building is situated in an idyllic setting along the Rhine River, within walking distance from several Federal ministries, including the Federal Ministry for the Environment, Nature Conservation and Nuclear Safety and the Federal Ministry for Economic Cooperation and Development.
The premises will meet the high-security requirements of an international facility and have excellent transport connections.